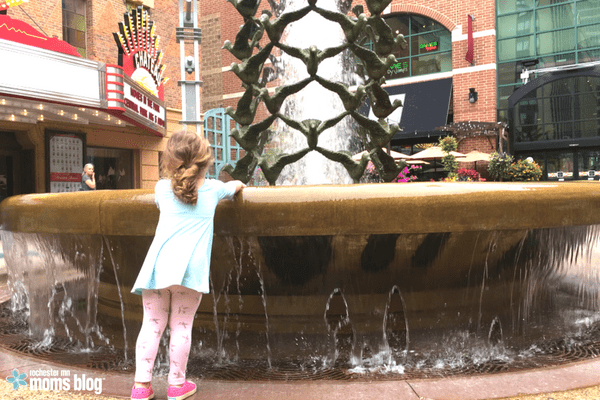 The Past
I remember the days when the Peace Plaza in downtown Rochester, MN was limited to only the east side of 1st Avenue SW and had sunken and tiered seating. Our famous Peace Fountain was still the centerpiece and the Chateau marquee welcomed visitors inside where a Barnes and Noble Bookstore used to be. One summer during college, I was employed by Mayo's summer program. During my lunch hours, I used to make my way down to the Peace Plaza to snooze in the sun. I was joined by many from the Mayo Clinic employee brigade doing the same on their lunch hours…we all cozied into our spots, crossed our arms and stretched out our legs for a community nap session.
It might seem far-fetched but I think this is when I first fell in love with downtown Rochester, MN. The act of coming together with so many others from so many walks of life to join in on a collective experience made an impression on young, impressionable me…even if it was just a quick lunch-time snooze.
Fast forward several years and my love of downtown has grown exponentially. My sense of community and my draw to this special area of our city has not only grown, but become part of my family's collective story. Here's why I love it:
For my Kids
One question we hear a lot at Rochester MN Moms Blog is "Downtown for kids…? Really?" Yes! Really! Off the top of my head, I can list 5 things we love to do with our kids downtown: the library (including our summer fave – the bookworm walk…hopefully it will be back next summer!), watching construction on the new hotel in the skyway, getting ice cream, looking at the "big buildings" in Annenberg Plaza (don't forget to stop by and say hi to Old Abe and his amazing bike coffee cart!), and the "Peace Pwaza" (according to my three year old), and the Farmers Market. Each of these places is a true delight to my kids and has provided our family the opportunity to make some very treasured memories. There is nothing like the joy on your kids' faces when they are playing in the Peace Plaza fountain on a hot, summer day!
With My Friends
Girl's Night Out anyone? Downtown Rochester, MN is where my friends head when we're looking to really let our top-knots down and trade in our yoga pants for skinny jeans and (sensible) heels. The options for a fun night are endless…we love any place that provides a patio! Porch and Cellar, Salute!, Pasquale's…all fab places to catch up and chat about our three-nagers, relationships, and what kind of moms we're going to be in 10 years. How about catching a show or a lecture for a fun evening steeped in the arts? Also the shopping…so much to choose from when looking for comfortable every-day pieces to match our busy mom-on-the-go lifestyle as well as those pieces for an upcoming special event, date, or gala…downtown Rochester, MN has a *ton* of options to choose from. I love that there are some lovely speciality shops as well for those truly unique pieces…you can guarantee you won't be matching the mom in the next mini-van over in school drop-off line! If you're looking for a fun Girl's Night Out where you can combine fun and see all the fashion downtown has to offer, don't forget to check out the STYLE Fashion Show! Also, how great does it feel to support LOCAL? So many of these businesses featured are small businesses…owned and operated by Rochester residents. ??
For Me
When given the rare opportunity for some time to myself or a date with my hubs, we find ourselves completely drawn to downtown. Regardless of the fact that both of us work downtown out of the Conley-Maass building, we find ourselves gravitating to the place we have found to be the very epicenter of ideas, art and energy. There is something so palpable about spending time downtown Rochester, MN: how privileged are we to dine al fresco in the shadow of buildings where literal lives are being saved every day! We have always found fun places to eat…there is a long list to choose from: our favorite Bleu Duck Kitchen to the brand-new Damsy Restaurant. We love to explore all the offerings depending on our mood. We almost always take a stroll around downtown to see what's going on. Oftentimes, we can find an art show or exhibit or an event or show to peek in on. Eventually, we end up at Café Steam for a little coffee and conversation to end the night.
Looking Ahead
From those sleepy lunch-time naps to creating memories by splashing in a fountain with my kids…the story of downtown Rochester, MN is the story of the people that visit (either resident or visitor) the heart of our city each and every day. As our families continue to grow, the city will grow. Each of us have the opportunity to contribute to the Rochester story as we experience downtown Rochester, MN with our families.