I played the snowboarding "mom" to some 36-year-olds last weekend when I dropped Sean (my husband) off at Welch Village. I tried snowboarding once when I first moved to Minnesota, but the sensation of falling off a hill, not knowing how to stop myself in a crowd (without using other humans as my brake), and ending the day with a faceplant wasn't for me.
That didn't stop me from going to Welch as I was excited to check out what Welch has to offer and it's a perfect little day trip from Rochester!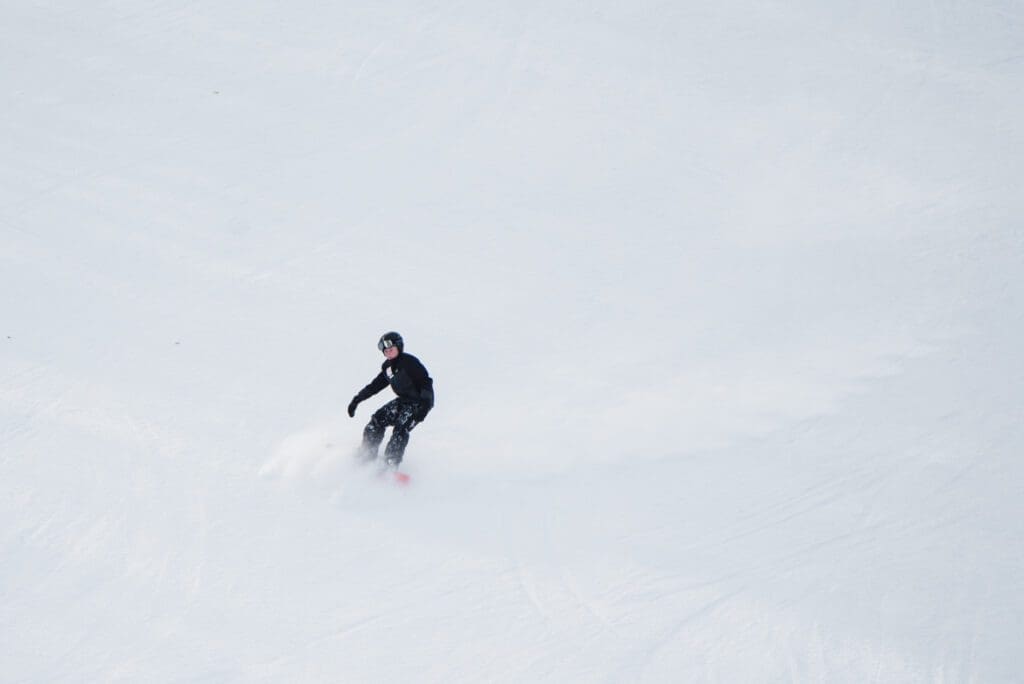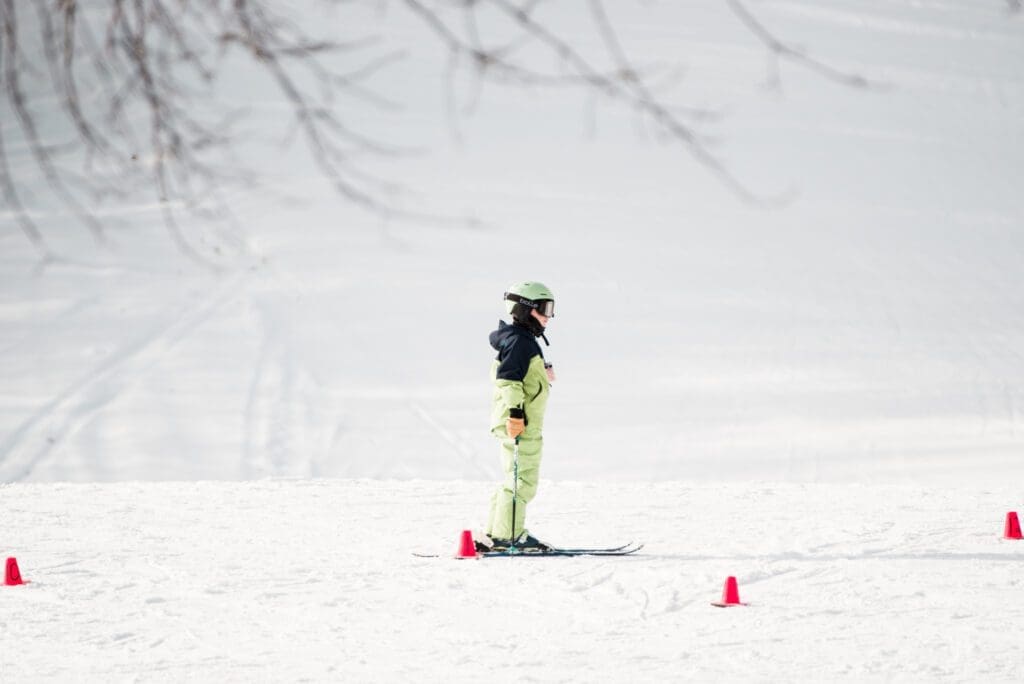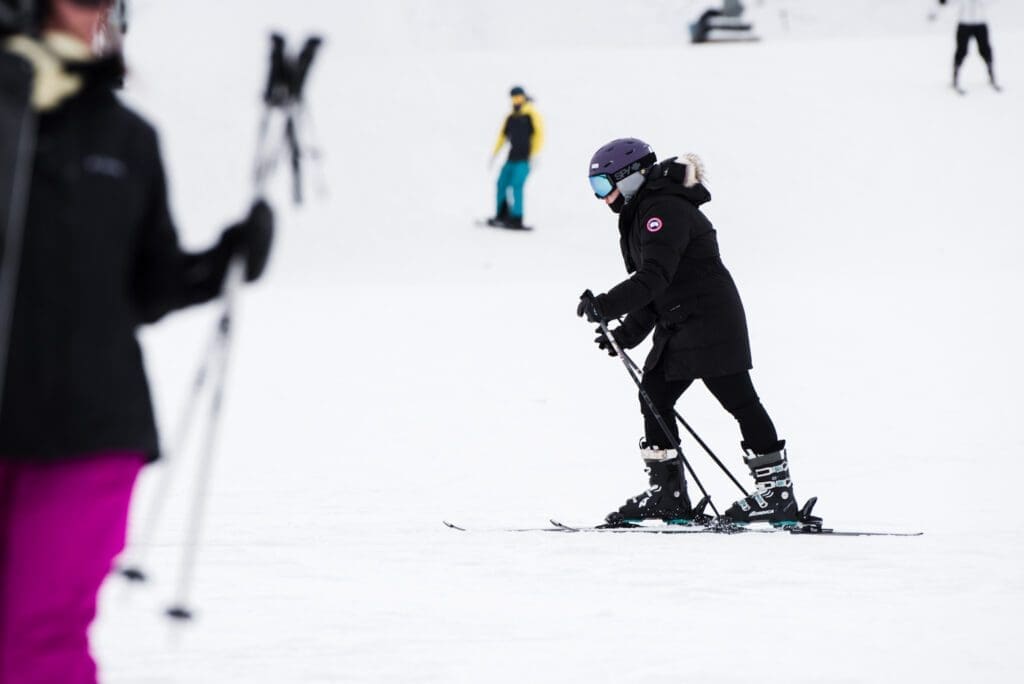 One of the biggest attractions in Welch. Welch Village offers 140 acres of skiable terrain with 50 trails to choose from. It's also located 40 minutes from Rochester and the Twin Cities, making it a perfect meet-up spot if you have friends in the metro! Welch Village also offers skiing or snowboarding lessons, which I should have signed up for. There is also a Saturday Night Beginner Special that includes a beginner lesson (4:00 – 5:30 pm), equipment rental, & lift ticket for $65!
Not skiing? Madd Jaxx is the food and beverage area in the east chalet at The Welch Village, they have live music every Saturday starting at 4 pm (check their schedule here)!
Lift Tickets & Rentals Must Be Purchased Online.
Check Welch Village hours before going. 
---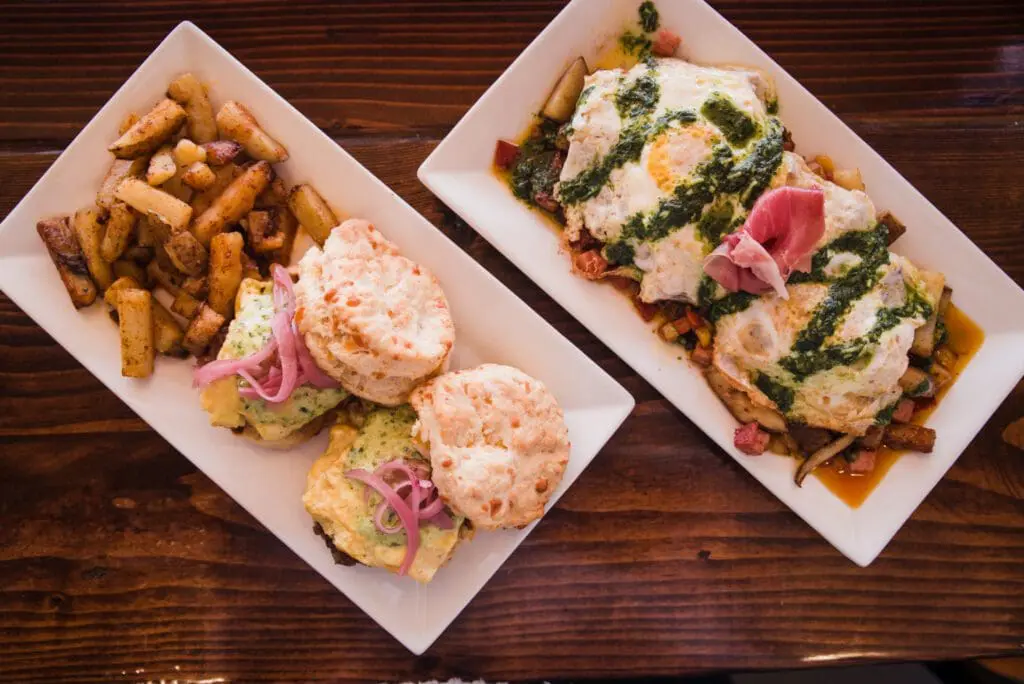 The perfect brunch spot. Since I'm not a skier, and crowds overwhelm me, I decided to explore off the beaten path. I can't remember where I had heard of The Bleu Dog Cafe, but I think it's from a farmer friend of mine. The Bleu Dog Cafe is located in a small historic building that used to be a bank only 2 minutes' drive away from Welch Village. Open only on Friday, Saturday, and Sunday, The Bleu Dog Cafe serves up delicious brunch featuring locally sourced ingredients.
The house-made chipotle cheddar biscuits, breakfast sausage patties, and the YAK burger certainly caught my attention. The Italian Meatball featuring Cannon Valley Ranch beef, pork, bacon, house-made marinara, basil, parmesan, and house-made hoagie bun also had my mouth watering while reading the menu. I also really wanted their breakfast taco with house-made carnitas.
I was alone, so I ordered two items after consulting the server — The Biscuit Sliders and Italian Hash. Both were delicious, and you could tell the potatoes were freshly prepped. The biscuit was light and flakey; the hash was full of flavor.
Other worthy mentions on the menu are gluten-free pancakes, and lemon stuffed brioche french toast if you've got a sweet tooth! I'm a savory breakfast person myself. I'm excited to return and try all the other food I mentioned.
The Bleu Dog Cafe has limited space and capacity, so reservations are highly recommended, especially during the summer months. Check their website for hours, menu, and updates!
---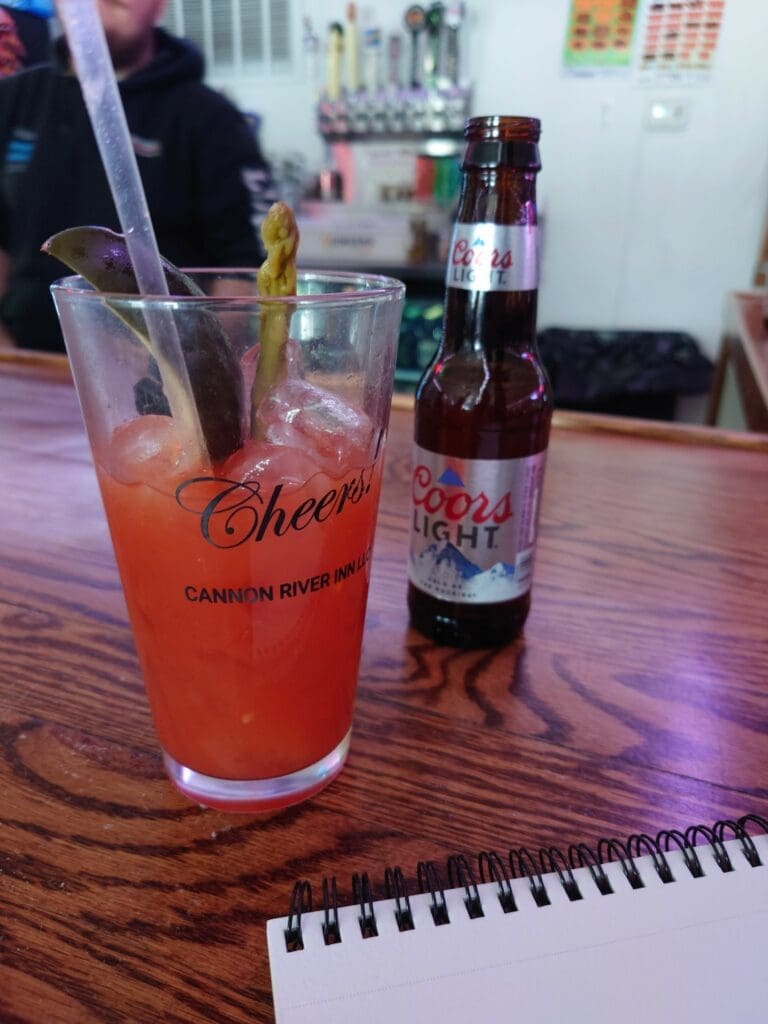 I had time to kill after my brunch at The Bleu Dog Cafe, so I walked across the street to check out Cannon River Inn and ordered a bloody mary. Not expecting much from a little bar and grill in Welch, I was pleasantly surprised when they asked if I wanted my bloody with vodka, spicy vodka, BBQ whisky, or cucumber vodka. I chose spicy (like I always do) and the bartender pulls out a bottle of vodka filled and infused with fresh chilis from behind the bar. I'm impressed. The bloody mary is then filled with a house-made bloody mix, and loaded with a pickle spear, pickled mushroom, pepper, asparagus, and a stalk of celery. I wished I wasn't as full as I was!
I later learned that Cannon River Inn is family owned and operated by a mom and her two kids, and the building has historically been a bar since the 1920s. It's possible that the information isn't 100% accurate as I overheard it while the owner was telling another customer about it — the best way to find out is to visit Cannon River Inn and find out for yourself!
People came together from all surrounding areas to the Cannon River Inn: Hastings, South St Paul, Red Wing, to Rochester.  They skied, or they rode to Welch on a snowmobile, or they were locals looking for a place to enjoy a cold beer and some snacks. Or "Ski moms" like me…hang out and wait for their kiddos to be done playing. (The owner asked if I was waiting for my kids to be done skiing. Yes! My 36-year-old kiddo.)
Cannon River Inn also has specials almost daily. They offer a Bloody Mary bar for $10 on Sundays with $5 Hamm's Pitchers and $2 Schmidt cans. Check out their Facebook page for more details.