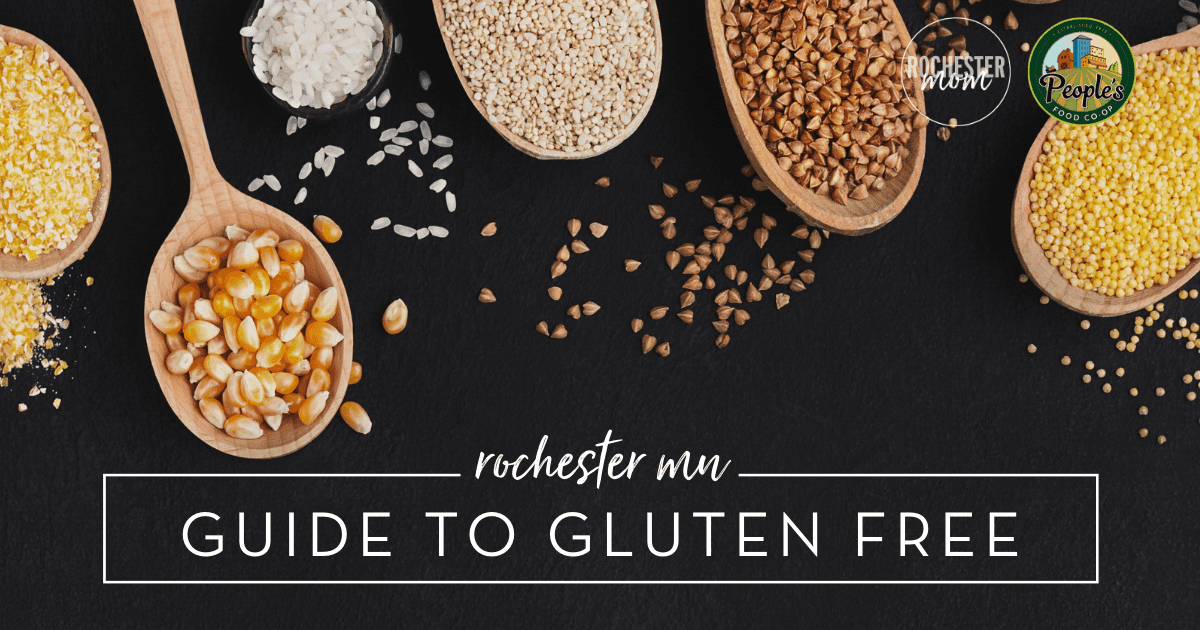 Food allergies and food sensitivity are estimated to effect nearly 32 million Americans.  From life altering to life threatening, food allergies change the way people go about daily life. Many feel they have to rely completely on food prepared at home to ensure safe consumption. But for those in Rochester, MN with celiac disease, non-celiac gluten sensitivity, or wheat allergy there are numerous opportunities to live life to the fullest, whether dining out, grocery shopping, or catering and private dining. Read on for the amazing companies and individuals paving the way for more accessible, more affordable gluten-free living.
**This post was last updated on November 4th, 2021
People's Food Co-op's response to our shoppers' gluten-free needs is a good example of how we do business. As a co-op, we are here for you, to provide you with the best, safest food choices possible. Part of our co-operative mission is to respond to our community's food needs. Take a walk through the PFC's grocery aisles. On practically every shelf in every category you will see little blue tags under many, many products. These are the "gluten-free" tags that are used throughout the store. Every little blue tag on all those shelves says, "We're listening."
People's Food Co-op Gluten Free Information and Services
Grocery
People's Food Co-op has made a strong commitment to supply the best gluten-free items for our shoppers. Salsas, pastas, nut butters, jellies, breakfast cereals, chips, gluten-free flours, even brownie mixes – all of these products and many more are available and clearly marked with a transparent blue tag for the gluten-free shopper.
Bakery
People's Food Co-op bakery makes gluten-free chocolate chip thumbprint and pecan thumbprint cookies. These are available in the fresh bakery case. The bakery is not certified gluten-free, so they cannot guarantee there would be absolutely no gluten contamination in these house-made products. People's has other packaged items in the bakery department, however, including bumble babies, yum bars, crispy bars, and cranberry almond power bars that are produced in gluten-free facilities for your selection. People's Food Co-op also happily takes special orders for gluten-free items.
Wellness
The Wellness department at People's Food Co-op abounds in gluten-free items. It's a flurry of blue-tagged, gluten-free products. If anything, Wellness has more gluten-free items than grocery. Vitamin supplements, essential oils, protein mixes, and many more are all available gluten-free.
Generally, nearly all the wine at People's Food Co-op is gluten-free. PFC also has a selection of gluten-free beers from Omission Brewing and from St. Paul's Burning Brothers brewery. Please ask the Wine, Beer, and Spirits associate for help with gluten-free product recommendations.
Wine, Beer & Spirits
All of the ciders at People's Food Co-op are gluten-free as well. They carry Hoch Orchard cider from La Crescent that is gluten-free & very tasty as well as cider from Minneapolis' Sociable Cider Works.
People's Food Co-op carries two types of gluten-free vodkas, Tito's of Austin, Texas, and a brand new Minneapolis distillery called BET Vodka – made from Minnesota-grown sugar beets.
Bulk Department
People's Food Co-op's Bulk Department has been organized to help people on gluten-free diets find what they need quickly and safely. There are 17 kinds of gluten-free flours for you to choose from! People's Food Co-op carries Bob's Red Mill products, rice flours, tapioca flour, and many types of gluten-free nuts and beans and snacks. They strive to keep the gluten and gluten-free bulk items as separated as possible from the traditional gluten products.
Restaurants
Rochester has a growing number of restaurants offering menu items that meet specific dietary requirements. Twigs restaurant not only has the most extensive gluten-free menu in Rochester- they have their own gluten-free kitchen.  Owner, Michelle Salz, was diagnosed with Celiac Disease, and rather than stepping back from the restaurant, she took the dining experience in a whole new direction.  All gluten-free meals are prepared by their specially trained staff in a separate kitchen area with dedicated equipment to help prevent cross-contamination.  For simplified ordering, there is a separate menu with gluten-free renditions of traditional menu items, as well as items not found on the regular menu.  Local favorites include: the Babcock Pulled Pork sandwich, Thai Cream Scallops, and the Parmesan Polenta with Egg and Jalapeño Cream Sauce.
Elsewhere, gluten-free dining has become easier in Rochester. More restaurants are offering "GF" options and are willing to make adjustments for patrons who need a meal without wheat. Here are a few other local places to check out.
*Disclaimer: Not all restaurants listed use separate grills, utensils, equipment, etc. for their gluten-free foods, so there is the potential risk for cross-contamination. Always call ahead to check if the restaurant can make accommodations if you have Celiac disease or are extremely sensitive to gluten.
Twigs restaurant not only has the most extensive gluten-free menu in Rochester- they have their own gluten-free kitchen. All gluten-free meals are prepared by their specially trained staff in a separate kitchen area with dedicated equipment to help prevent cross-contamination.
Victoria's Ristorante & Wine Bar is known for its huge menu of authentic Italian fare. Select pastas, sauces, salads, and even bread are available as gluten-free!
Bleu Duck Kitchen is a fantastic location for a night out or a private event, with gluten-free options available in this made-to-order classic dining restaurant.  Inquire about current availability.
Hefe Rojo offers "creative Mexican food" and has several gluten-free appetizers, mains, and salads to choose from!  Several of their signature tacos are also gluten-free.
Pasquale's Pizzeria offers authentic New York-style pizza while giving back to the community. Their dough is made fresh daily and they are more than happy to build the pizza of your choice with a gluten-free crust!
Drift Dough is a cool place to grab a coffee and fresh in-house donuts, including vegan and gluten-free options! (Now closed, but will be moving to Old Abe's Coffee Co. soon!)
Broadway Bar and Pizza has an extensive "gluten-friendly" menu with items like Italian cheese bread and amazing sweet potato fries. Of course, they've even perfected a gluten-free pizza crust with fresh mozzarella and your choice of toppings.
People's Food Co-op takes eating local to the next step with their in-house bakery and deli. PFC's deli offers taste sensations from around the culinary world, with familiar favorites like homemade chicken and tuna salad to Greek feta salad, garlic lover's pasta, handmade salmon cakes, blackened tofu steaks, and grain salads like barley almond. See daily fresh offerings for gluten-free options.
Fiddlehead is so much more than just a coffee shop! With a world-class pastry program to compliment the coffee roastery, patrons can enjoy healthy lunch and dinner offerings with beer, wine, and cocktails all dedicated to showcasing ethically sourced, hyper-local ingredients. The best part? They are Gluten-free friendly!
Old Abe & Co. is a popular vegan cafe in Rochester, MN. Conveniently located near downtown on Cooke Park is the city's Design District, Old Abe & Co. is Rochester's only vegan-dedicated menu that is also Gluten-free friendly. Drift Dough will be moving to Old Abe's Coffee Co. soon!)
Hot Chip Burger Bar Gluten-free? Simply ask for a gluten-free bun and no fry spice on any burger! (fryer does come into contact with gluten products).
CRAVE is one of Rochester MN's newest restaurants.  With a beautiful dining room (and retractable roof in the summer), CRAVE is a special place to dine.  Their menu has several gluten-free items, be sure to inquire with your server.  Additionally, they have an extensive sushi selection.
Sweet House Bakery is Rochester's newest bakery. Located on 2nd street across from St. Marys Campus, you can find several gluten-free baked good options.
The following grocery stores have gluten-free sections and selections:
Aldi is hailed by many as Rochester's favorite discount grocer has made a huge commitment to the "G-free" community by packaging their own line of products called LiveGFree, found at either of their two locations and categorized by frozen, pantry, and snacks and sweets.
Hy Vee is a regional chain committed to being a friendly face and a helpful smile in their infamous "employee-owned" stores. Rochester is lucky to have four locations for easy access no matter where you live or work. Conveniently located within the stores are their Health Market sections with products clearly labeled and organized by dietary needs and ingredient details.
Natural Grocers were founded in the 1950s as the original owners sought a means beyond medicine to ensure health. Now, with over 150 stores nationwide, Natural Grocers takes the details of healthy food to a new level by selling 100% organic and GMO-free produce, pasture-based dairy, and antibiotic and hormone-free meats. Their gluten-free offerings range from in-store finds to online recipe recommendations.
Fresh Thyme  One of Rochester, MN's newer grocers offers smaller, farmer's market-style shopping while specializing in offerings tailored to customers following vegan, paleo, keto, vegetarian, or wheat- and gluten-free diets.