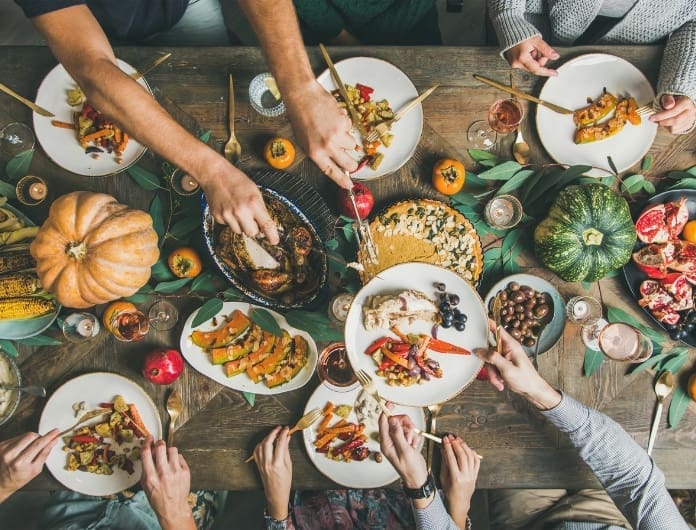 Don't feel like cooking?  Don't have the time?  Would rather enjoy delicious food prepared by someone else?  Check out our guide to Thanksgiving Takeout!
---
Thanksgiving Takeout
Check out People's Food Co-op for a full Thanksgiving takeout dinner or to order sides and/or pies to go (gluten-free pies are also available).
PFC offers fresh Ferndale Market (located in Cannon Falls, MN) turkeys. There are birds from 10lbs to 24lbs!
Order a Traditional Thanksgiving Meal for $129.99 which includes all your Thanksgiving fixings except turkey and pies for 4-6 people!
Looking for an individual Thanksgiving meal? PFC has individual sides and herb-roasted turkey breasts for sale!
Pies can also be ordered individually. Pies available are apple, apple-cranberry, blueberry, cherry, pecan, and pumpkin!
Order online by Friday, November 18 at 6 PM.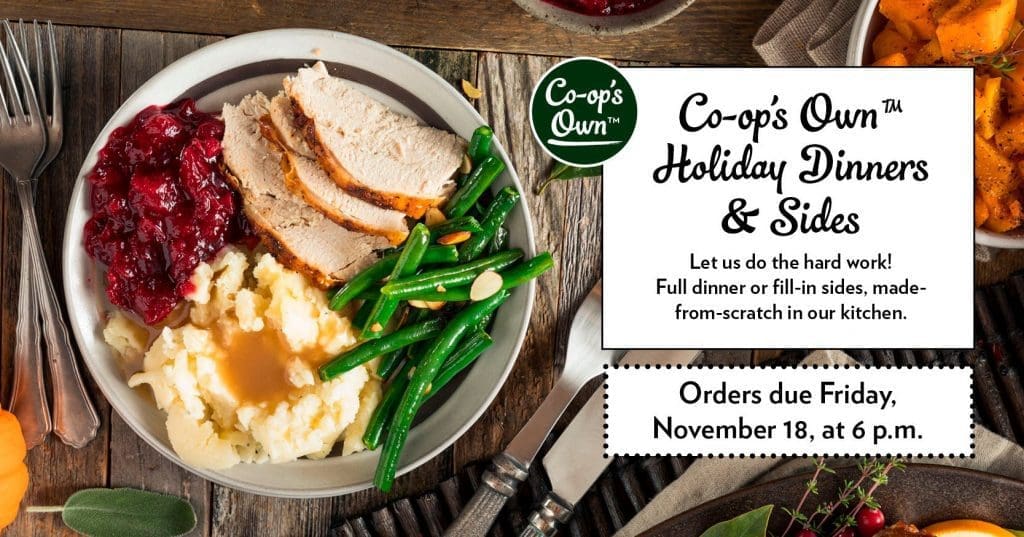 ---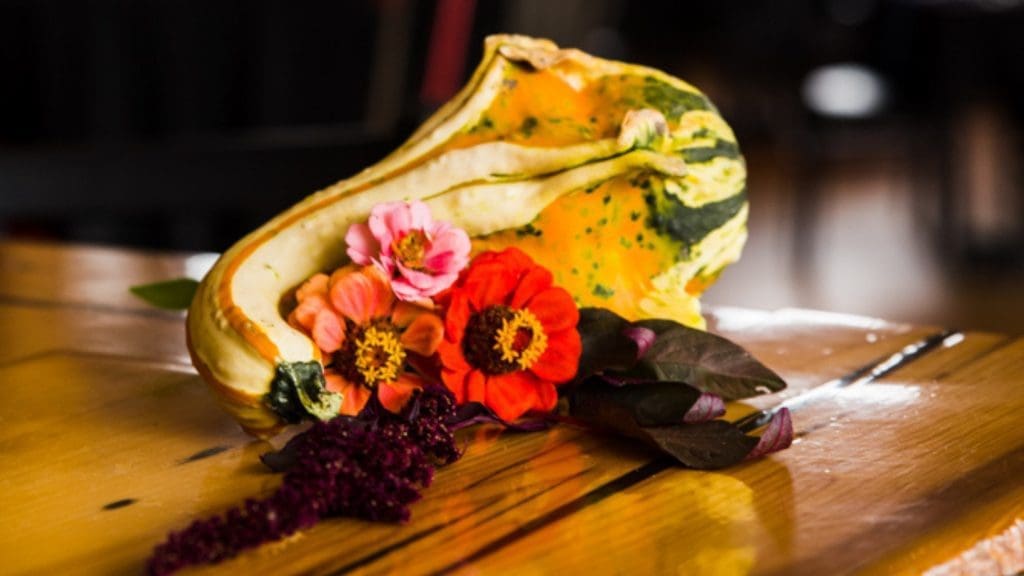 Bleu Duck Kitchen is offering Thanksgiving take-and-bake meal options to be picked up Wednesday, November 23th, 11 am-4 pm or Thursday, November 24th, 10 am-1 pm.
The Thanksgiving takeout meal serves 4-4 people and is $180 per family.
All food will be fully cooked through and labeled with reheating instructions.
Thanksgiving meal includes:

Cider Brined Turkey Breast & Turkey Thighs ~ Gluten Free
Herbed Turkey Gravy
Dinner Rolls with Whipped Butter
Cranberry Chutney ~ Gluten Free
Mashed Potatoes ~ Cream Cheese & Roasted Garlic ~ Gluten Free
Sausage Stuffing ~ Cornbread, Italian Sausage & Sage
Mac & Cheese ~ Smokey Cheddar Sauce, Bread Crumb & Parsley
Brussels Sprouts ~ Parmesan Cream & Bacon Crumb ~ Gluten Free
Roasted Carrots ~ Maple Butter, Pecans ~ Gluten Free
Pumpkin Bread Pudding

You can also add Oysters by the Dozen!
Orders must be placed online by Friday, November 18th. 
---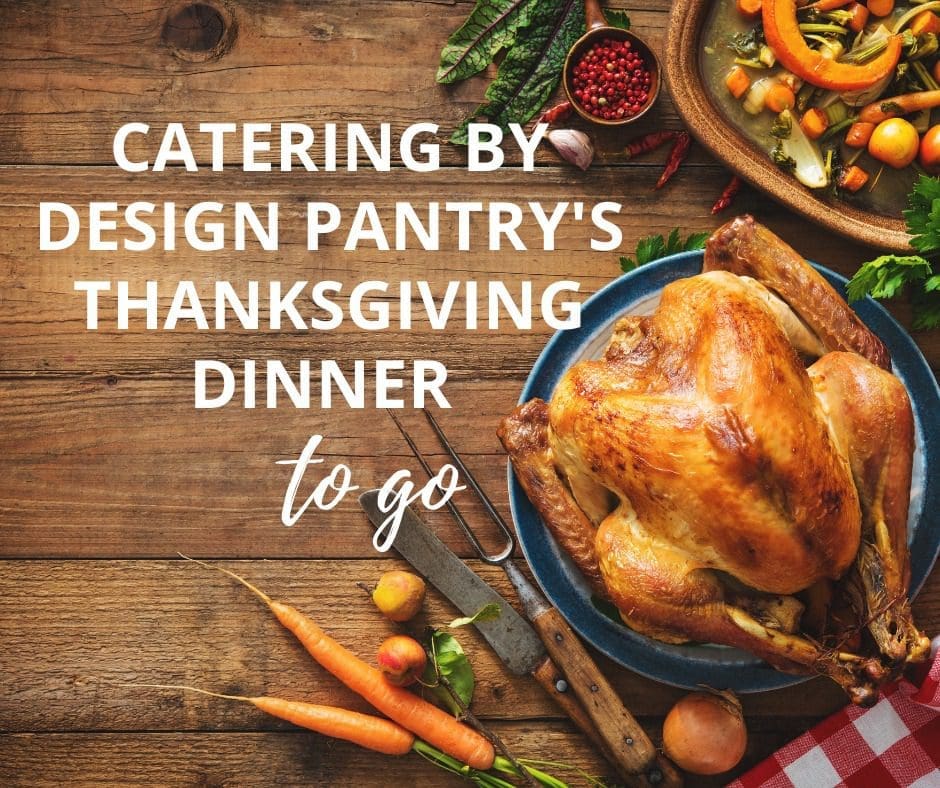 Catering By Design is offering Thanksgiving takeout meals ordered to your specific tastes. Choose your meat, side, and dessert to make your Thanksgiving dinner complete. You can build your meal according to the size of your gathering and what you'd like!
Turkey and Ham are offered at variable sizes depending on how many you would like to serve.
Mashed potatoes, turkey gravy, classic herb stuffing, maple whipped sweet potatoes, cranberry sauce, yeast dinner rolls, asparagus with citrus butter, wild rice, and butternut squash soup
Pies can be purchased whole or 2 slice increments-pies available are pumpkin, french silk with sea salt and caramel, and double caramel drizzled apple pie.
Other items that can be ordered for snacks or appetizers include cranberry salsa, hummus, pepita brittle, spinach and artichoke dip, marshmallows, and chocolate almond-dipped toffee.
Order online by Friday, November 18th.
---
Canadian Honker is offering fresh and hot Thanksgiving takeout meals ready ONLY on Thanksgiving Day. Pre-order for Thanksgiving Day Pickup! All meals will be available for pick up at Powers Ventures Catering Location at 2112 2nd St SW Rochester.
The regular menu will not be available this day, only the special pre-order Thanksgiving meals.
Meals are sold and served individually; however, if you order 5 or more meals, they will be packaged family-style.
Meal includes: roasted turkey, stuffing, mashed potatoes and gravy, scalloped corn, cranberries, dinner rolls, and garlic toast. You also have a choice of coconut cake or pumpkin pie.
Order online.
---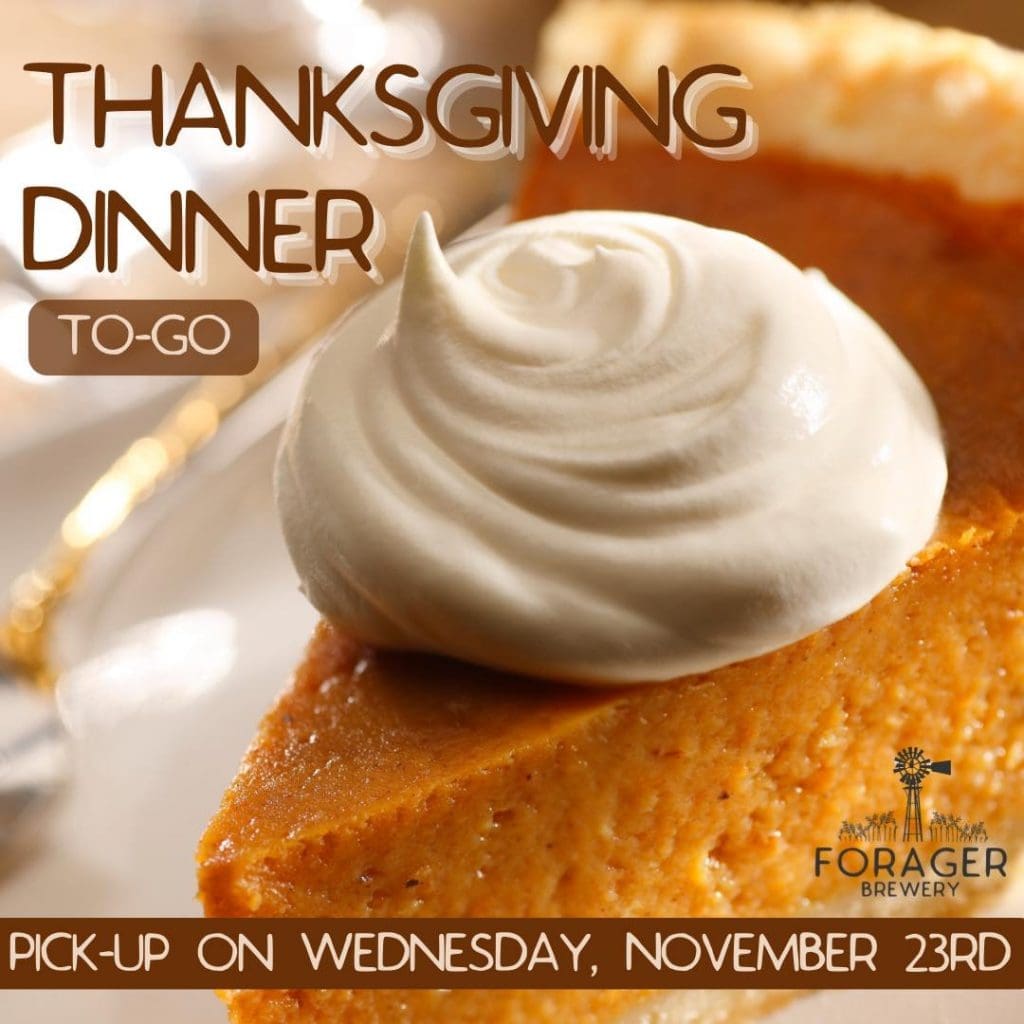 Thanksgiving is just around the corner and the Forager culinary team is here to make it a little less stressful for you!
They'll do all the prepping for your Thanksgiving takeout meal and all you need to do is heat it up in the oven! #thatwaseasy Instructions for re-heating all of the items will be included.
 THE MENU
SAGE AND MAPLE GLAZED TURKEY
– Turkey rubbed in sage butter and roasted in the oven with a maple glaze (turkey is off the bone) and accompanied by maple glaze on the side
SCALLOPED POTATOES
– Scalloped potatoes with onions, cheddar, gouda, and scallions
TRADITIONAL STUFFING
– Forager house-made croutons and a blend of herbs and poultry
GREEN BEAN CASSEROLE
– Fresh-cut green beans, cream of mushroom, fried onions
BAKED SOFT ROLLS
– Fresh-baked white dinner rolls
PUMPKIN PIE
– House-made pumpkin pie with whipped cream
Cost: $130
Each meal serves 4 people. (2 Meals serves 8 people, etc..)
Pick up is Wednesday, November 23rd (the day before Thanksgiving) from Noon to 9 pm at Forager Brewery.
*Limited quantities available.
Thanksgiving Dinner (To-Go) can be ordered here: https://www.universe.com/events/forager-brewerys-thanksgiving-to-go-meal-tickets-V6JKDP
---
Gleason Catering is offering a Thanksgiving take-home meal kit.
Take-home meal kit is designed to serve 4 people for $56. However, meals for larger groups can also be ordered.
Meal kit includes turkey and dressing, mashed potatoes and gravy, green bean casserole, cranberry fluff salad, and 6 fresh baked dinner rolls.
Optional Dessert – Pumpkin Dessert 4 for $8.
Please call (507) 533-7858 to order by November 18th. 
Let Merge Food Truck take care of your holiday meals! Turkey Day orders are accepted until 11/18. Order your Smoked or Roasted Turkey accompanied by holiday classic sides.
Contact for options and pricing!: mergefoodservice@gmail.com
Menu: Roasted or Slow-Smoked Turkey with Classic Sides: Cornbread Dressing, Greens, Mac and Cheese, and Sweet Potatoes. Desserts: Banana Pudding and Pumpkin Cheesecake. *All dinners come with complimentary cranberry sauce and dinner rolls
---
Pappy's Place is ready to provide individual turkey TV dinners!
Turkey TV Dinner $15 includes: roasted turkey breast, sage dressing, mashed potatoes, super sweet corn, gravy, cranberry sauce and a slice of pumpkin pie.
Call to order by November 20th (507)258-4550.
---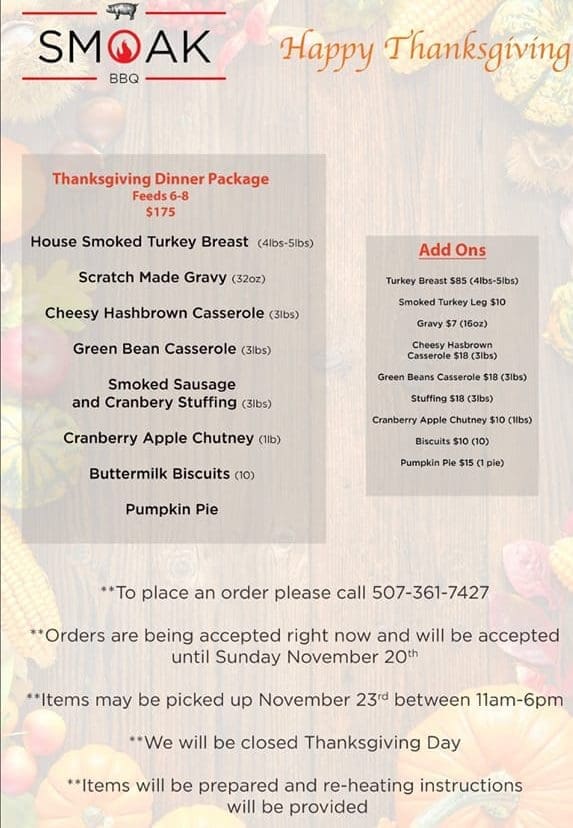 Check out Smoak BBQ for your full Thanksgiving meal or sides and add-ons!
Thanksgiving Dinner Package that feeds 6-8 people for $140: includes house smoked turkey breast, scratch-made gravy, cheesy hashbrown casserole, green bean casserole, smoked sausage, and cranberry stuffing, cranberry apple chutney, buttermilk biscuits, and pumpkin pie.
Add-ons are also available if you would like more of a specific piece of the meal or order separately.
Find more details on Facebook here.
Call to order by Sunday, November 21. (507) 361-7427
---
Thanksgiving Restaurant Dining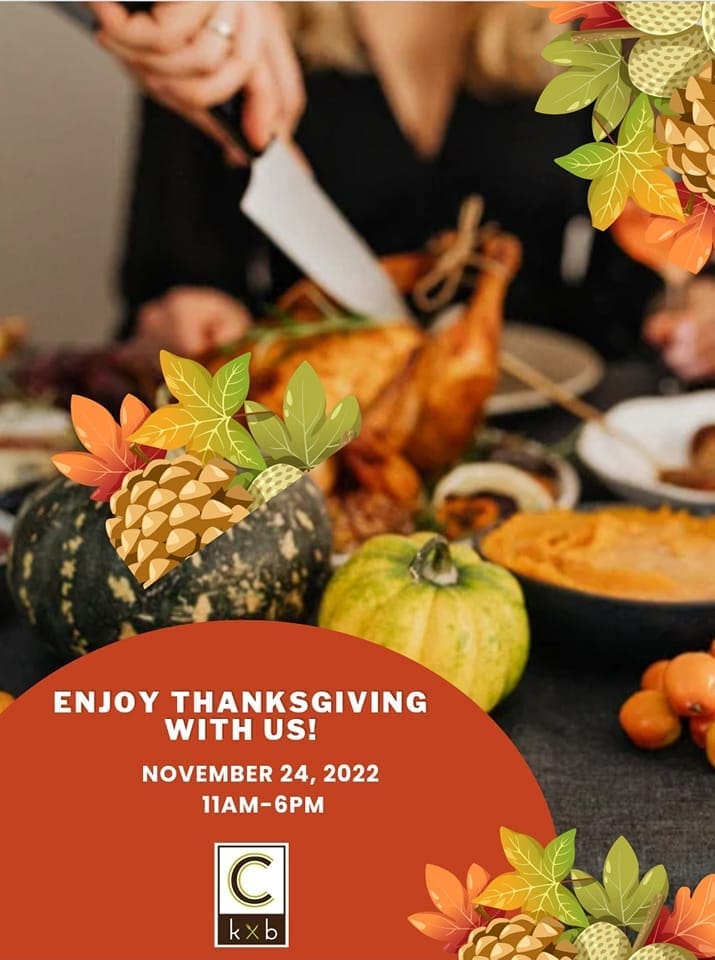 Join Chester's for Thanksgiving! | 11 am-6 pm
Full menu and a Thanksgiving Meal for 4 people for $70. Make reservations at
www.chesterskb.com
. The menu includes:
2 lbs of sliced rotisserie turkey
cranberry sauce
good juice
dinner rolls
choice of three sides: mashed potatoes, sweet mashed potatoes, cornbread stuffing, green bean casserole, parmesan broccoli, seasonal vegetables, gouda hash browns.
Dessert will be pumpkin cheesecake and can be purchased for $8 serving.
Additional sides can also be purchased: (Turkey – $12, all other sides – $6)
---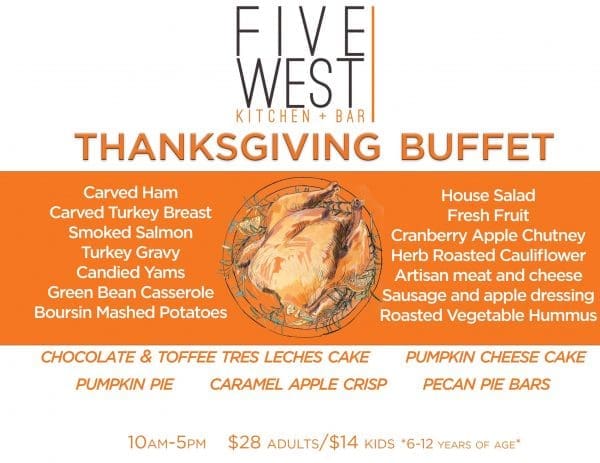 Five West Kitchen and Bar will be offering a robust Thanksgiving Day buffet this year. Open 10 am – 5 pm on Thursday, November 14th.  The cost is $28/adult and $14/child (6-12 years old).  The buffet menu includes:
carved turkey
carved ham
smoked salmon
turkey gravy
candied yams
green bean casserole
boursin mashed potatoes
house salad
fresh fruit
cranberry apple chutney
herb roasted cauliflower
and much more!
Call to order or reserve spot (507) 361-5555