If you can sew on a button or use a hot glue gun, you can make this super easy, do-it-yourself magnetic fishing pole game. Even for the craft-impaired, I promise, it won't take more than an hour. If you have older kiddos, have them help you create this perfect busy activity for your little ones.
What you'll Need: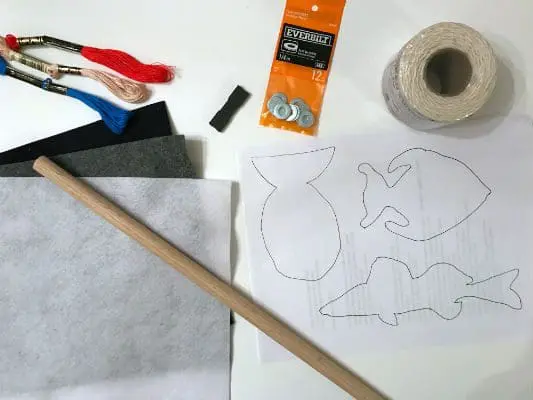 1/2 inch dowel cut to your preferred size. They come in 3′ or 4′, but at Home Depot, they'll cut it to whatever size you want. You could also use a yard stick, or a PVC pipe.
Heavier String. I used home and garden string.
3 Sheets of Felt. You could also use a cardstock paper, but they may not last the test of time.
Flat washers. 
Magnet. I literally took one off of my refrigerator.
Needle and Thread or Hot Glue Gun
Paper
Sharpie
Scissors
What You'll Do:
Step One: Make Your Fish
The easy way would be to just go at it and cut fish shapes out of your felt or paper. If you want to get a little fancy and make specific fish (I HAD to make a walleye), you could easily make a template. Search online for fish outlines (this Pinterest board has great ideas) and either trace the outline onto a piece of paper by putting the paper directly on your computer screen and tracing or print out the outline. Don't forget to scale it to your desired size.
Cut out your template, trace onto your paper or felt, and cut out. You could also decorate the fish. Use stickers or googly eyes, or if you're a brave one, glitter!
Next, you'll need to attach one washer to each fish. I did a few stitches and sewed mine onto where the mouth would be, but feel free to get out the glue gun! Now you have a bunch of little fish just waiting to be caught!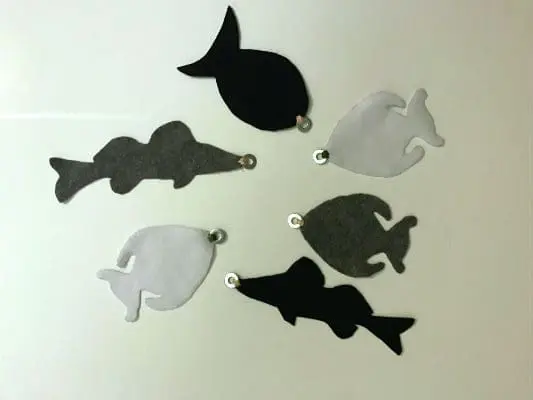 Step Two: Make Your Pole
Cut your string to be a good length. Make sure it's not too long that it drags as they try to catch the fish. Tie one end to the dowel and one end to the magnet as the hook. You have yourself a fishing pole!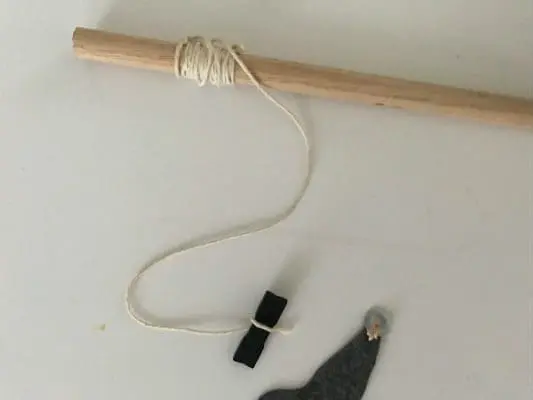 And that's all there is to it! This busy game has saved many dinner time scrambles (you know my feelings about making dinner). As we have two of each kind of fish, it's perfect as a matching activity for my two-year-old. For variation, you could make shapes or letters instead of fish and use it as identifying activity. Happy Fishing!