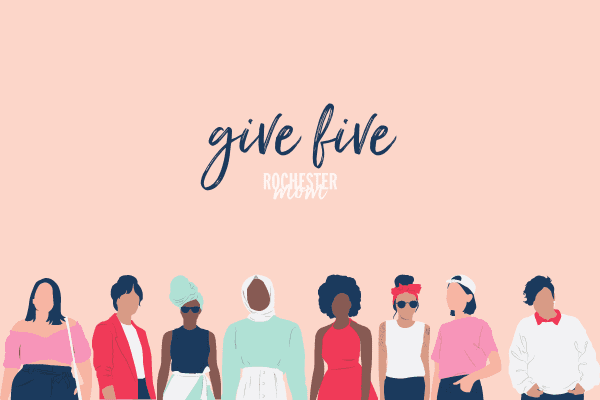 Rochester Mom is starting a brand new resource series called Give Five. The idea of Give Five is simple. We are inviting you to Give Five minutes to read through each of these posts. The series will provide you with ideas, resources, lists, and suggestions on specific topics. We acknowledge that giving five minutes is just the start…a small step in a bigger journey we can all take to become allies to our BIPOC friends, family, and neighbors.
This series is intended to be a resource for YOU and your families. Topics will vary but all will be helpful as we work towards anti-racism and expand and diversify our understanding of race and diversity. Some resources will be collaborative with Rochester Mom writers, and for others, we'll look to YOU! We want to know what you have learned on your own journeys and what resources have helped you along the way. Our goal with this series is to be a conduit of information: pulling together resources to help one another. We are learning ourselves and it's been a challenging yet beautiful process. Will you join us?
---
This year we've been at home with our families a lot more than normal. The weather is getting colder and we'll soon be forced to spend more of that time indoors. Many of us turn to the TV for entertainment, and let's be honest…to give ourselves a break. Just know that THIS IS OK! 
While we teach our kids to get along with others and be inclusive of those that are different from them, it's important to make sure the content our kids view on television is held to this standard too. Think about the shows your kids watch. Do the characters have different ethnic backgrounds, neighborhoods, family units, and abilities? Having discussions about what they're watching is also a good idea. It's great for kids to see their own reality on TV, but to also see people and communities different from their own. It's so important to teach them that our differences are something to celebrate.
We've compiled a list of TV shows to get you started:
For your preschoolers to age 5:

Bookmarks
Ages: All ages
Short episodes of prominent Black celebrities and artists reading books written by Black authors about the Black experience. After each story the narrator asks a few important questions that you and your kids can reflect on and discuss. Stories include I Love My Hair, Sulwe, and Anti-Racist Baby, and are read by Common, Karamo, Lupita Nyong'o, and more. This show will diversify your children's watch list and bookshelf.
Where you can watch it: Netflix
Dora The Explorer
Ages: 3+
Dora is a favorite in many houses. Her books are great too!  Dora is a seven-year-old Latina girl. In each episode Dora goes on a quest accompanied by her talking Backpack, Map, and her friend Boots the monkey.  Along the way she comes upon different obstacles where she has to solve puzzles.  One great thing about the show is that it's interactive. Dora is always asking the kids to help with the puzzles. In 2019, Paramount Pictures made it into a movie: Dora and the Lost City of Gold.
Where you can watch it: Amazon Prime Video
Doc McStuffins
Ages: 4+
This show is so cute! It features a six-year-old Black girl named Dottie "Doc" who cares for the stuffed animals and toys in her clinic, which is conveniently located in her backyard playhouse.  She gets some help from her other stuffed animal friends. In 2015 the show won the NAACP Image Award for Outstanding Children's Program.
Where you can watch  it: Hulu, Disney+
Motown Magic
Ages: 4+
You gotta check this one out!  Each episode uses an iconic Motown song for the inspiration of the story. How cool is that!? The show follows a young boy who uses his magic paintbrush to bring to life the street art that decorates his city.
Where you can watch it: Netflix 
Molly of Denali
Ages 5+
This show follows 10-year-old Alaska Native Molly Mabray. Her family runs the Denali Trading Post. Follow Molly on her adventures as she uses various informational texts like maps, field guides, and charts, along the way. The show highlights strong, positive aspects of the Native Alaskan culture. If your kids like the show, they're bound to like Molly's podcast too!
Where you can watch it: PBS Kids
Arthur
Ages: 5+
In it's 23rd season, Arthur is just as entertaining as it used to be. Arthur and his friends deal with real-life issues like homework and bullies. The show is great because it portrays different family types and neighborhoods. In 2019, Arthur's teacher Mr. Ratburn, came out as a gay man, and married the love of his life…way to go PBS!
Where you can watch it: PBS Kids
For your school-aged kids:
Craig of the Creek
Ages: 6+
In this series, a Black boy named Craig and his two friends explore the wilderness of the creek, in which tribes of children reign over dirt bike ramps and tree forts. The show celebrates the Black experience, and has kids of various backgrounds and friend groups. Craig's mom is caring and his dad bonds with the kids. He also has the best (worst) dad jokes.
Where you can watch it: Cartoon Network

Just Roll With It
Ages: 6+
In this show, the newly blended and multiracial Bennett-Blatt families navigate the ups and downs of adolescence and family-life. You may think this is your typical family comedy, but at numerous points in each episode a foghorn sounds and the studio audience votes on which of the three scenarios they would like to see take place next. The cast has to "just roll with it" by using their improv skills to keep the story moving. Think, a kid-friendly version of the show "Whose Line is it Anyway?"
Where you can watch it: Disney+
The Proud Family
Ages: 7+
This hilarious show follows Penny Proud, your typical pre-teen who is trying to gain her independence as she goes through middle school. This TV show not only has relatable stories, but portrays positive Black role models.
Where you can watch it: Disney+
Raven's Home
Ages: 8+
Remember the Disney Channel show That's So Raven? Well, Raven and her best friend Chelsea are together again and raising their children. Like the original, Raven catches glimpses of the future but this time, she's not the only one. Her son has the same ability. This show is great because it portrays different family units, tackles sensitive topics, and embraces all body types.
Where you can watch it: Disney+
Diary of a Future President
Ages: 10+
This show premiered in 2020. It follows Eleena, a twelve-year-old Cuban-American girl as she navigates her way through middle school and begins her journey to become the future president of the United States. This show motivates young girls to become strong leaders, and even grow up to be the president if they want to be!
Where you can watch it: Disney+
For your Teenager+:
Everybody Hates Chris
Ages:  12+
Based on comedian Chris Rock's life growing up in Brooklyn, NY in the 1980s trying to survive his own family drama all while attending a majority white school.
Where you can watch it: CBS, Hulu
Born This Way
Ages 12+
This Emmy-winning docuseries follows seven young adults with Down syndrome as they pursue relationships, careers, passions, and friendships.  Not only does the show give people a glimpse into the lives of those living with a disability, the cast is also racially diverse. The show also allows you to hear from the cast's parents as they share their hopes and dreams for their children. This show is great for adults too!
Where you can watch it: A&E, Hulu

One Day at a Time
Ages: 12+
This show follows a multigenerational Cuban-American family as they deal with the everyday struggles and joys that range from voting, multicultural living, immigration, mental health, LGBTQIA, socioeconomic differences, and more.
Where can you watch it: Netflix
Atypical
Ages: 13+
This comedy follows Sam, a teenager on the autism spectrum. He has decided that he's ready for romance. Throughout the show, he attempts to gain independence which is hard for his mom too. The whole family must explore what it means to be "normal" and understand each other.
Where you can watch it: Netflix
Moesha
Ages 13+
We couldn't help but throw in a blast from the past, streaming now!  Moesha is a teenager who is learning to get along with her father's new wife while juggling her own. The show dealt with social issues like race and drug use, and also average teenage issues like romance and school. Moesha showed young girls that you can be yourself and don't have to conform to what everybody else is doing.
Where you can watch it: Netflix
On My Block
Ages 14+
Set in a predominantly Hispanic and Black neighborhood in South Central Los Angeles, this comedy follows a group of friends as they make their way through high school. Their surroundings are challenging yet painfully realistic with frequent gunfire, drug dealers, and gang violence. Emphasizing the importance of solid friendships, the series shows that no matter what the situation, strong relationships will help you get through.
Where you can watch it: Netflix
Grown-Ish
Ages 15+
A spin-off of the TV series Black-ish, this show follows daughter Zoey as she heads off to college. According to the show's creator and executive producer Kenya Barris, the series portrays "that in between place where you're not quite an adult but facing grown world problems for the first time." This show is edgy but also realistic, showing natural consequences like hangovers and making mistakes you regret later.
Where you can watch it: ABC, Hulu
This isn't a comprehensive list, but it's a good place to start. Share with us in the comment section below, what are your kids watching?
Age ranges were found on Common Sense Media.