This post is sponsored by Bluestem Center for Autism
Bluestem Center for Autism
Inclusivity, empowering families, advocating for individual learners, and educating the community–these are the key pillars of care at Bluestem Center for Autism. We are located in the same building as the Bluestem Center for Child and Family Development, and are excited to be joining the Rochester, MN community! 
Researchers from the Minnesota Autism and Developmental Disabilities Monitoring Network (MN-ADDM) found that 1 in 44 8-year-old children was identified with autism spectrum disorder (ASD) in Minnesota, which is higher than the national average of 8-year-old children identified with ASD (1 in 54) in the United States. At Bluestem Center for Autism, we aim to support as many families and learners as possible, from initial diagnosis through high school graduation. We believe in providing holistic, individualized treatment for everyone, and offer a range of different options to suit your family's needs.
What kind of therapy do you offer?
We offer applied behavior analysis (ABA) therapy, which is a comprehensive, evidence-based therapy that can occur in group settings or one-on-one. ABA is used to increase socially significant behaviors or skills, and to decrease behaviors or skills that impact your child's ability to participate in the home, school, or community. 
Wait…I've heard that ABA is harmful and dangerous. Is this true?
Although treatment options for individuals with ASD were not always safe or effective, the current field of ABA is not harmful or dangerous! Common misconceptions about modern-day ABA include thoughts that it is punishment-based, that it is only focused on strict, table-time work, or that its goal is simply to "train" a child to act without thinking. 
In reality, ABA breaks down complex behavioral tasks into simple steps, focuses on reinforcement-based learning, and uses a wide range of play-based strategies to approach learning. All strategies implemented in ABA therapy have strong, scientific evidence to support them, and therapy is individualized for each learner.
What goals can ABA therapy address?
ABA can target skills in communication, behavior reduction, cognitive functioning, social interaction, daily living, adaptive functioning, and other crucial domains. Examples include:
Helping your child learn to utilize verbal or non-verbal communication

Assisting your child in gaining independence in toilet training, eating, and dressing

Working on appropriate social skills such as parallel play, peer or sibling play, greetings, and eye contact

Targeting challenging behaviors and encouraging replacement behaviors

And so much more!
What are your program options?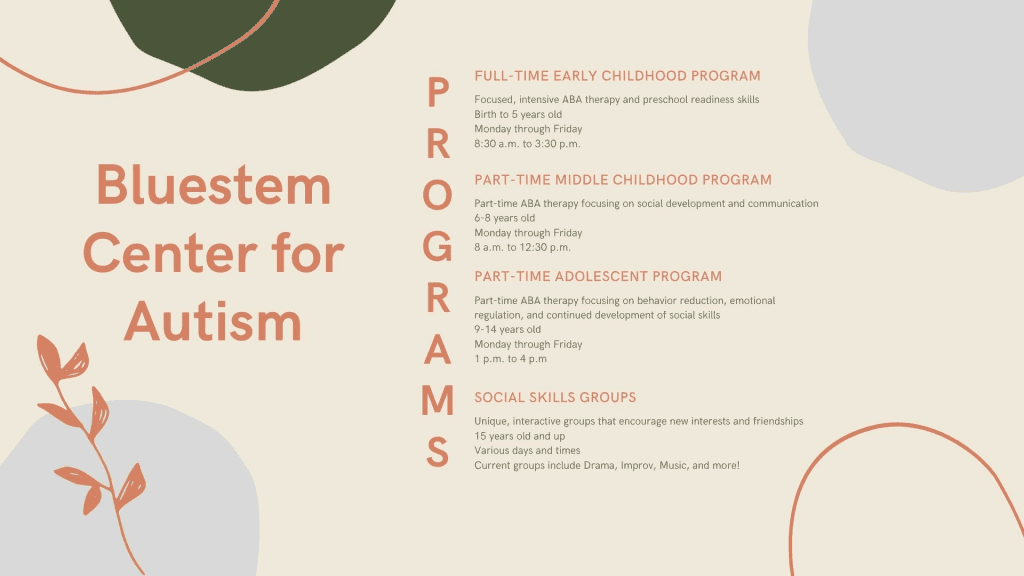 At Bluestem Center for Autism, learners of all ages and abilities are welcome! We offer four primary options, detailed below:
Full-Time Early Childhood Program:

This program is open to children from the initial diagnosis to 5 years old, and runs Monday through Friday from 8:30 a.m. to 3:30 p.m. This program centers around intensive ABA therapy (30 to 40 hours per week) that focuses on establishing a communication system, reducing challenging behaviors, and preschool readiness skills. Many children in this program also work on basic self-care skills such as toilet training or eating. 
Part-Time Middle Childhood Program:

This program is open to children ages 6 to 8 years old and runs Monday through Friday from 8 a.m. to 12:30 p.m. This program utilizes ABA therapy to continue to develop communication systems and reduce challenging behaviors while focusing on social interactions and classroom skills.
Part-Time Adolescent Program:

This program is open to children ages 9 to 14 years old and runs Monday through Friday from 1 p.m. to 4 p.m. In this program, ABA therapy addresses all skills mentioned in the above programs (as needed), and places an emphasis on emotional regulation. This program is ideal for children who need assistance in transitioning to full-time classroom learning.

Various Social Skills Groups:

These groups occur weekly for periods of 8- or 10-week sessions and are available to ages 13 years old and up who no longer require 1:1 support. Program options include social skills groups centered around improvisation and drama, music, gardening, cooking, and more, depending on the season! Behavior technicians and local high school volunteers will assist your child in exploring new, unique interests and engaging with peers.
What about family guidance or caregiver training?
We believe that family and caregiver engagement is a crucial part of care, and require that all families involved in our part- and full-time programs participate in at least 2 hours of family guidance per month. Depending on the family, this may look different for everyone! Some families prefer to meet virtually to discuss concerns, while other families prefer hands-on guidance in the home.
We also believe in forming a community and offer a variety of parent events for ALL parents–regardless of whether your child accesses services with us or not. For example, we run a Parent Book Club on the third Saturday of every month and Parent Yoga on the first Sunday of every month. We also offer a range of parent support groups and date night care on specific dates throughout the year.
Who will be working with my child?
We employ qualified behavioral health professionals, including Registered Behavior Technicians (RBTs) and Board-Certified Behavior Analysts (BCBAs). Your child will work directly with RBTs throughout the week, and a BCBA will monitor your child's progress and perform regular assessments. All staff is certified in Pediatric CPR/First Aid/AED by the American Red Cross, trained in de-escalation and crisis management techniques, and adhere to ethical codes of conduct set forth by the Behavior Analyst Certification Board (BACB). 
What if my child doesn't have a diagnosis yet?
We offer diagnostic evaluations through Bluestem Center for Child and Family Development. You can reach out to us directly via email to request a diagnostic evaluation, and we can work with you to determine the next steps for your family.
Where can I get more information?
If you have questions or concerns, please contact our Co-Founder and Clinical Director Meg Pittelko at 507-299-0984. For information regarding enrollment in part- or full-time programming, registration for social skills groups, or involvement in any of our parent groups, please contact autism@bluestemcenter.com. You can also find current information about upcoming events or parent groups on our Facebook page.

Upcoming Events
Grand Opening Celebration: We are partnering with Little Thistle Brewing in Rochester to celebrate our grand opening in a safe, inclusive way! This free event will take place on October 10th from 12 pm to 7 pm at Little Thistle (2031 14th St NW) and will feature a food truck, face painting, sensory crafts, informational booth, and a quiet sensory-friendly space indoors.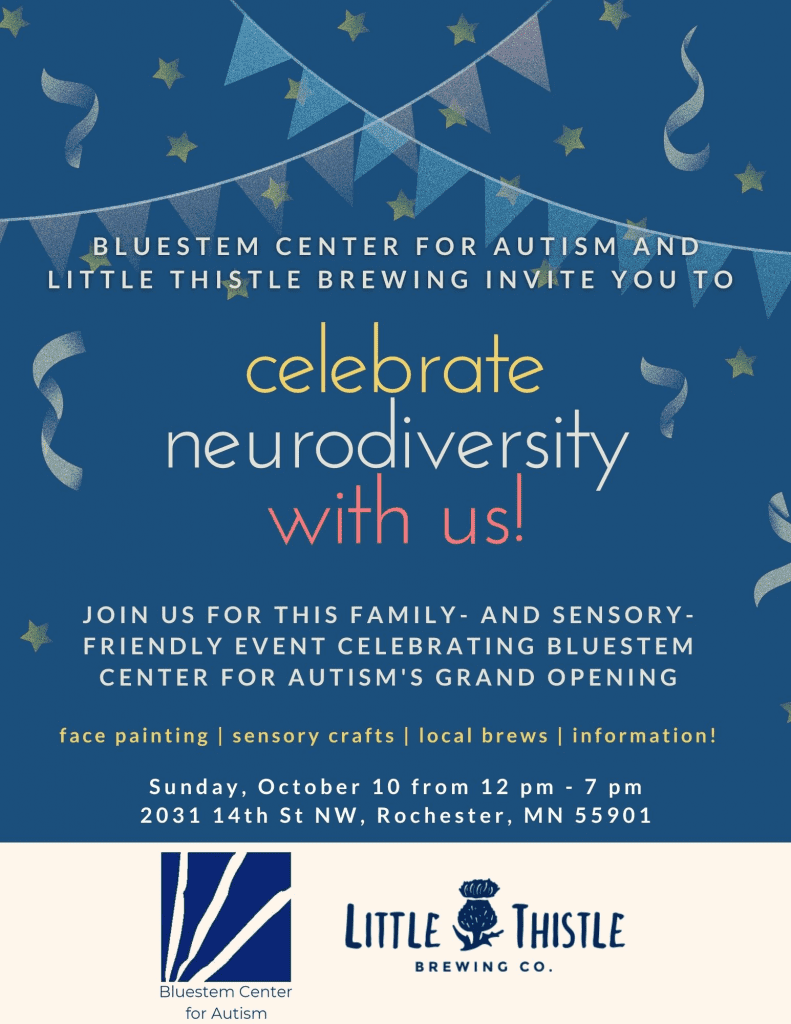 Parent Book Club: Our first Parent Book Club meeting will take place on October 23rd at our facility (124 Elton Hills Lane NW). The book will be announced on our Facebook page during the first week of October!
Additional #RochMN Resources
Bluestem Center for Child and Family Development
RT Autism Awareness Foundation
Children's Developmental Disabilities unit at Olmsted County