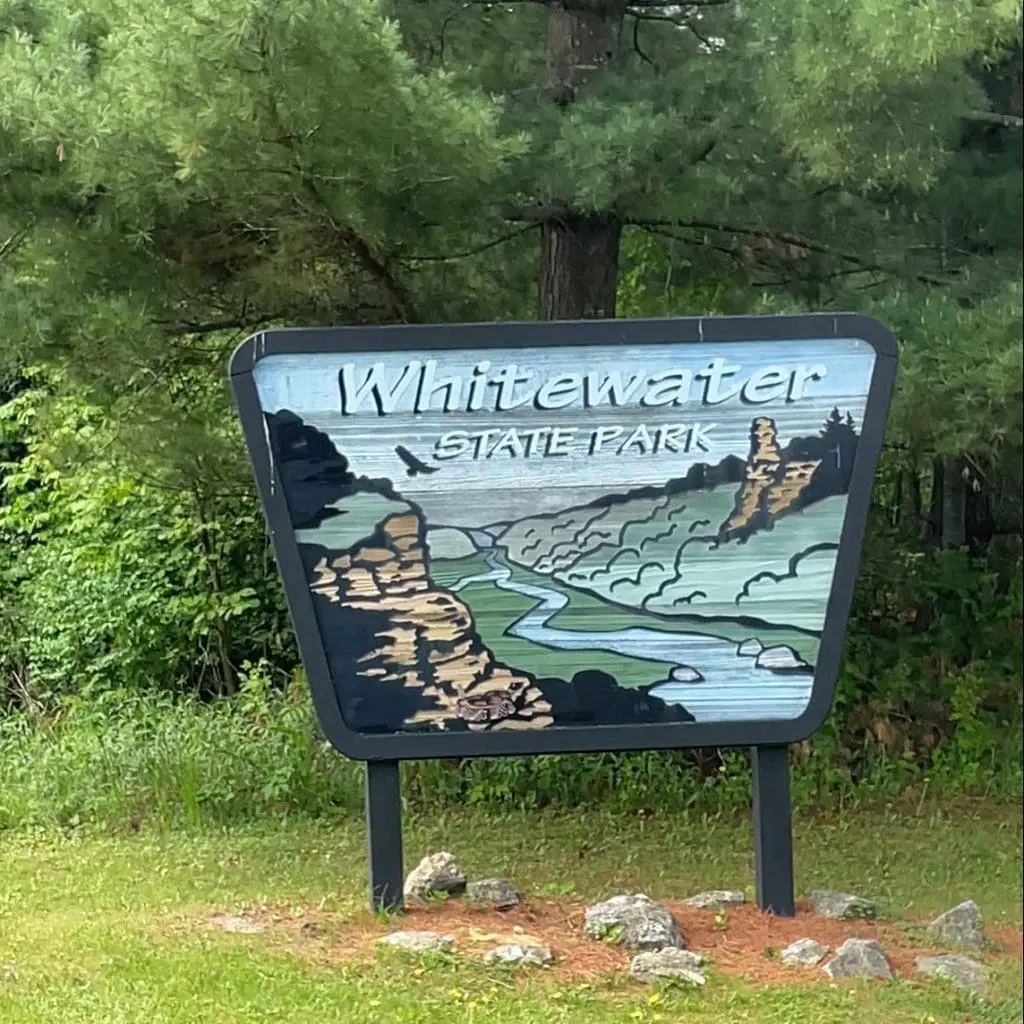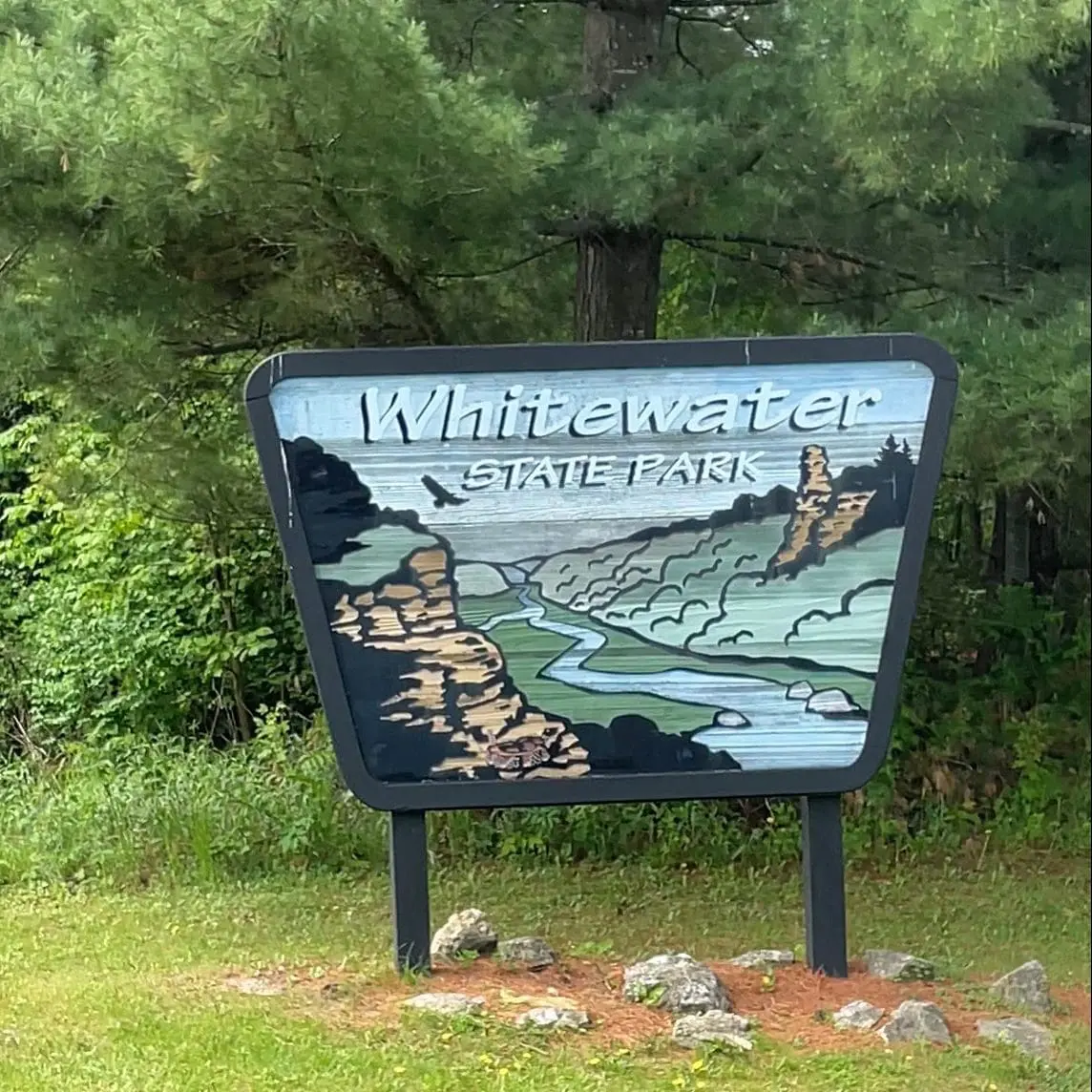 Whitewater State Park is one of many state parks within driving distance of Rochester, MN. You'll reach Whitewater State Park by driving approx 30 minutes east on highway 14.
Location: 19041 Highway 74, Altura MN, 55910
Hours: 8 AM – 10 PM
Admission: $7 for a daily vehicle permit or $35 for a yearly permit
Visitor Center Hours: Monday 9am-6pm, Tues/Wed 9am-4pm, Thursday 9am-6pm, Friday 9am-9pm, Saturday 9am-8pm, Sunday 9am-6pm.
Park Overview
Whitewater State Park is popular for many reasons including its giant limestone bluffs and deep ravines. This is also a great fishing spot for many anglers featuring brook, brown, and rainbow trout in the spring-fed Whitewater River and Trout Run Creek. In addition, there is a sandy beach at the oxbow of the river, a year-round visitors center, hiking trails ranging from challenging to hard, and so much more. Make sure to reference the events calendar for ongoing and special events throughout the year!
History
The Dakota people originally named the area Minneiska, meaning "white, water" as they saw how clay deposits turned the river a milky white color in the spring. In 1851, a treaty opened up most of southern Minnesota for white settlement, including the Whitewater area, displacing indigenous peoples. Settlers removed much of the native vegetation in order to farm and graze the land. in 1900, flooding related to improper land use began. in 1919 citizens from southeast Minnesota succeeded in lobbying the legislature to establish Whitewater State Park. Devastating floods continued to plague the region until the 1940s when efforts to conserve and restore the area began in earnest. In 2007, a major, historic flood engulfed much of Whitewater State Park.  It leveled much of the infrastructure and changed the course of the river. It took many years of clean-up to restore the area. This informational video explains more about the flood.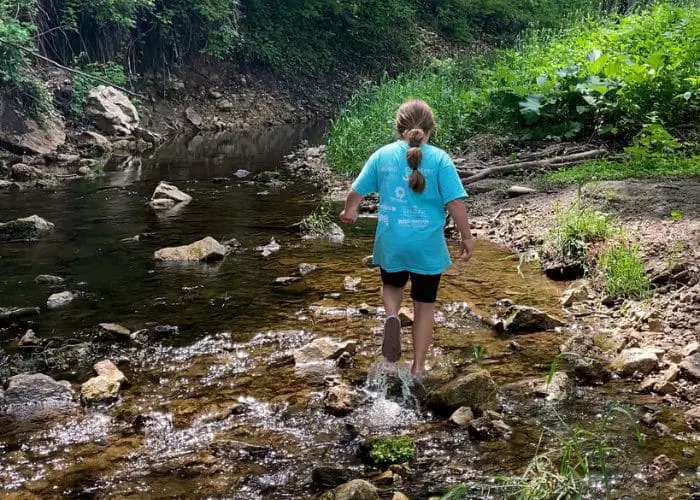 Camping
Whitewater State Park has a noticeable lack of mosquitoes. This is because mosquitoes need stagnant, warm water to breed.  Whitewater's rivers and creeks are cold spring fed and always moving. This will make your camping experience that much more pleasant!  You'll find drive-in camping sites, electric sites, pull-through sites, wheelchair-accessible sites, cart-in sites, group campsites, as well as a group center that's available year-round with winterized cabins.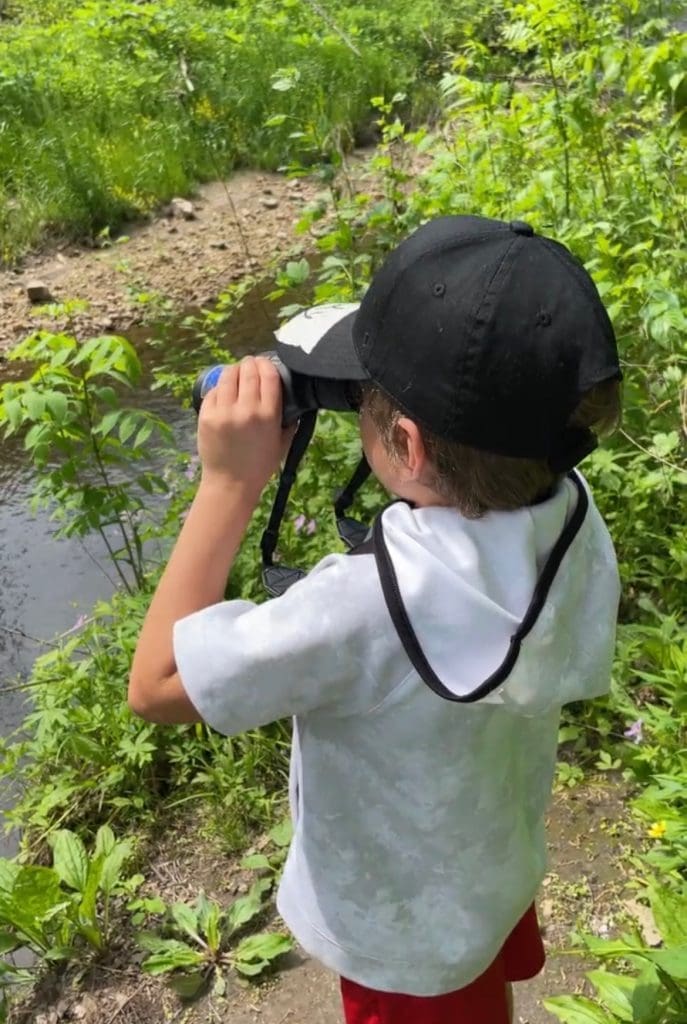 Discovery Room
The Discovery Room is full of nature-oriented displays, hands-on exhibits, and a bird-feeding station. It features games and activities for children and an interpretive exhibit about the geology of the area as well as what lead to the area being flood prone in the early 1900s and subsequent efforts to restore the river valley. This is a great way to introduce children to the area and help build excitement for exploring different areas of the park. The Discovery Center is located in the Visitor's Center (located at the north end of the park) and is open 9 am – 4 pm, daily.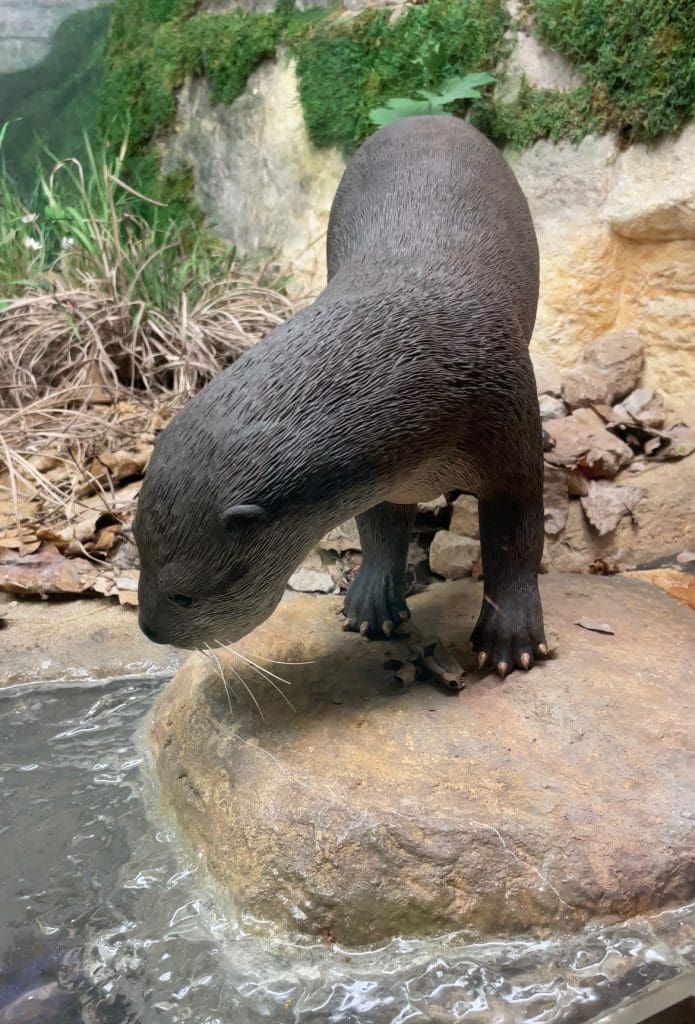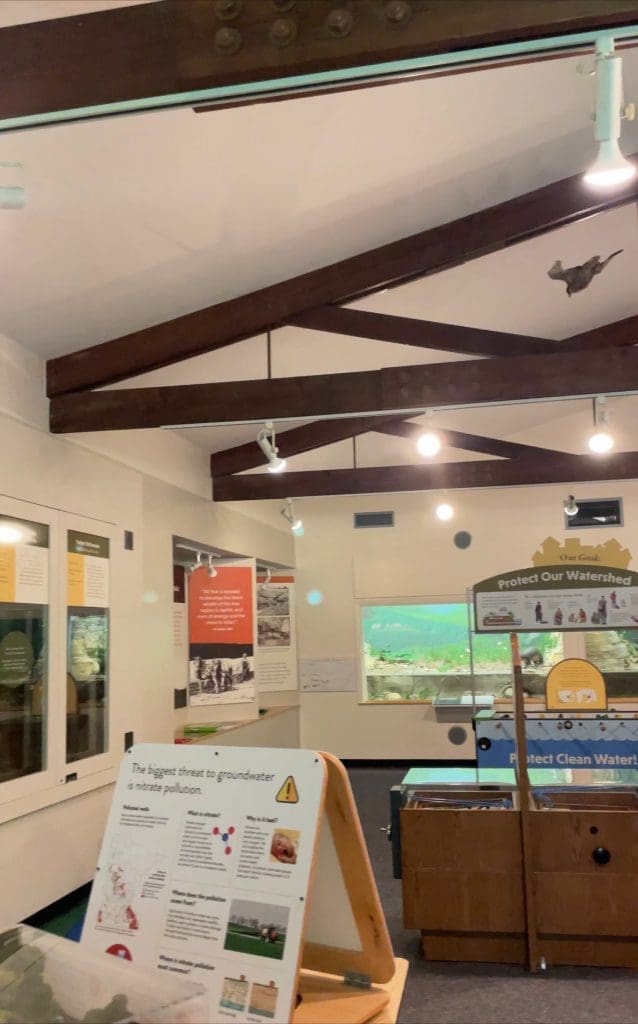 Family-Friendly
This is a great place to hike with your family or if you have young kids. There are noticeably fewer mosquitoes due to the cold, always-moving water. Additionally, the Trout Run Creek trail has lots of wonderful spots for you to splash around and wade into the water. For this reason, we recommend waterproof shoes such as Crocs, Natives, Keens, Tevas, etc. If you need to completely cool off at the end of a hike, head to the swimming beach! Meadow Trail is an easy 1-mile hike that stays very close to the water.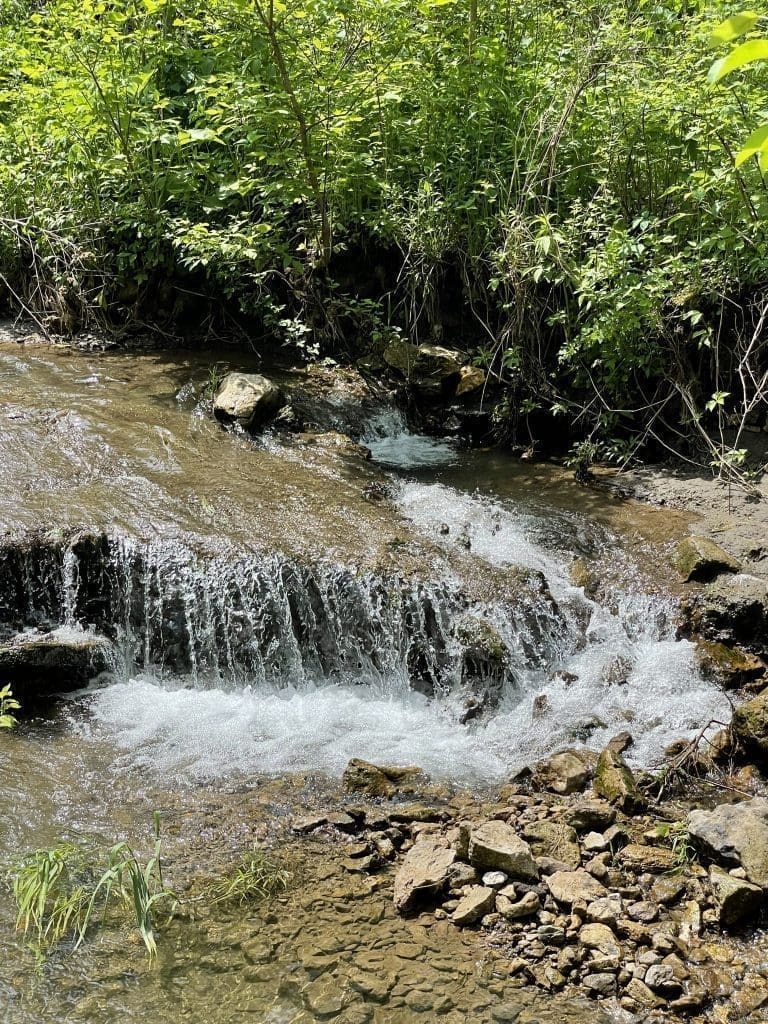 Fun fact: The bathhouse at the swimming beach was constructed by the Civilian Conservation Corp in 1934. It was built with limestone from the area. Other structures built by the conservation corp include picnic shelters, the dam, drinking fountains, footbridges, entrance signs, a pump house, retaining walls, and a caretaker's cabin. Many of these are still in use today.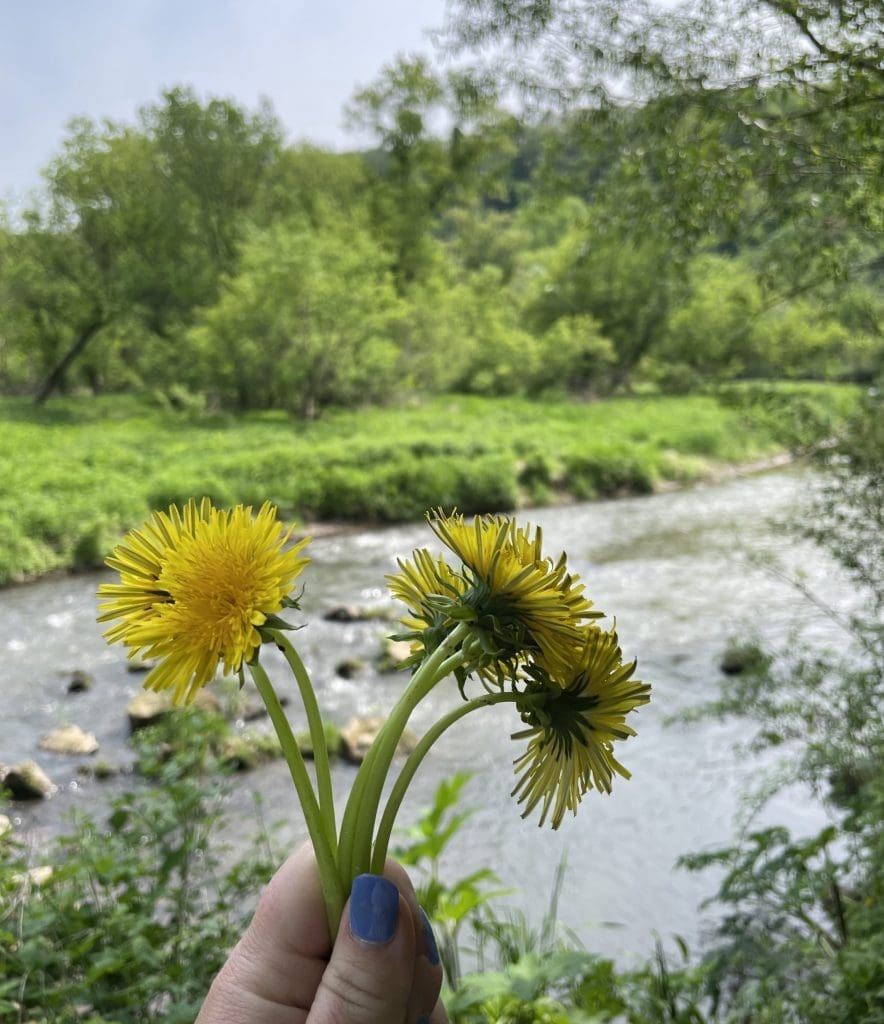 The Discovery Center is a great place to start your time at Whitewater. While there, explore the building and don't miss the awesome activities available to use during your time in the park. You can check out bird-watching kids, geocaching supplies, fishing kits, and other discovery kits.
Pack a picnic to enjoy while you're there. The park has several great picnic areas for you to enjoy a bite to eat including the South picnic grounds, the beach, and the Main Picnic shelter.
Hiking
The hiking is truly wonderful at Whitewater State Park as it offers something for everyone. There is an easy-to-use hiking map to help you decide where you want to start. From challenging to leisurely, you'll find a trail to suit your desired activity level.
If you want a short challenging hike, check out the stairs to Chimney Rock found along the Trout Run Creek Trail. It's easily recognizable as it stuck up above the forest and seems to come out of nowhere! Another challenging hike is Coyote Point Trail.  You'll need a couple of hours to hike this trail. Come prepared! The switchbacks are more strenuous than they look.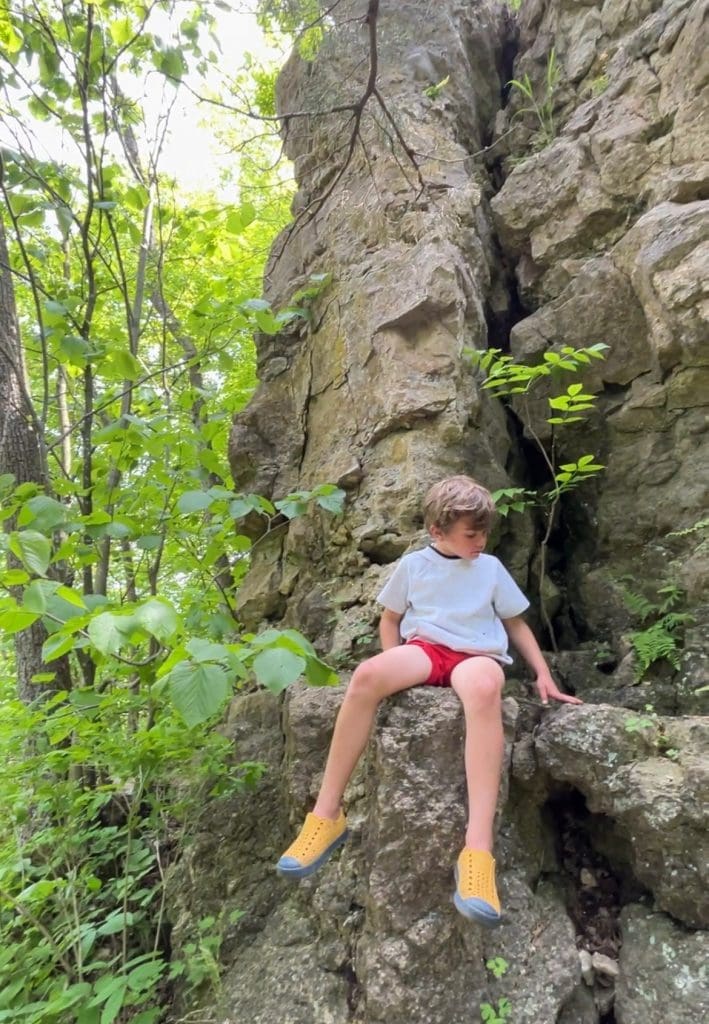 Easy hikes include the popular Trout Creek and Meadow trails. These are perfect for families and will allow for opportunities to see wildlife.
Elba Fire Tower
The Elba Fire Tower is a short drive from Whitewater State Park and is another great opportunity to view the surrounding landscape of the Whitewater River Valley.