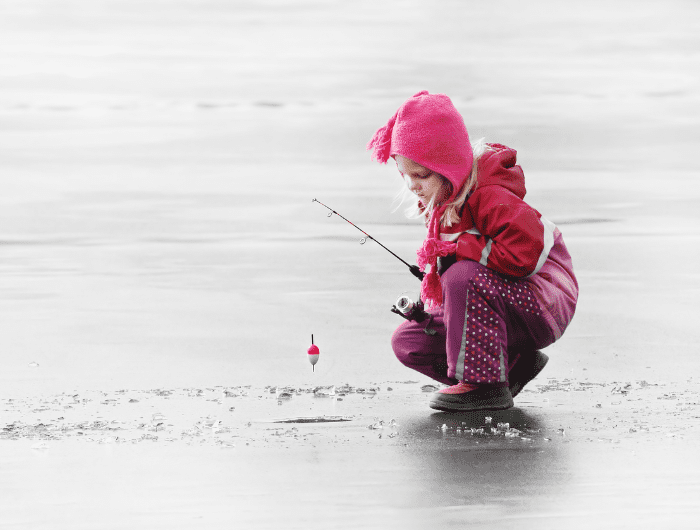 Ice Fishing is a popular winter activity for a lot of Minnesotans.  No, really!  If you're not originally from Minnesota, we can understand why the idea of waiting for fish to bite while staring into a hole while sitting on ice doesn't sound super appealing.
Before you go, hear us out! Ice fishing can be a great way to get out and enjoy what Minnesota has to offer in the winter.  Like we love to say at Rochester Local…find something you LOVE to do in the winter, and winter won't be so long and terrible!  For many, ice fishing is about the memories made, or the fun had, the good food eaten (lots of snacks!), not to mention the sense of accomplishment you get when you catch a fish.
If you're feeling a tiny bit convinced by our persuasive arguments above, there are a few things you'll want to know before going for the first time.
Keep in mind that any local #rochmn sporting goods shop can help you with questions and get you equipped for your first trip out onto the ice.  If you're still feeling unsure, consider going with a friend for a day…you might just like it!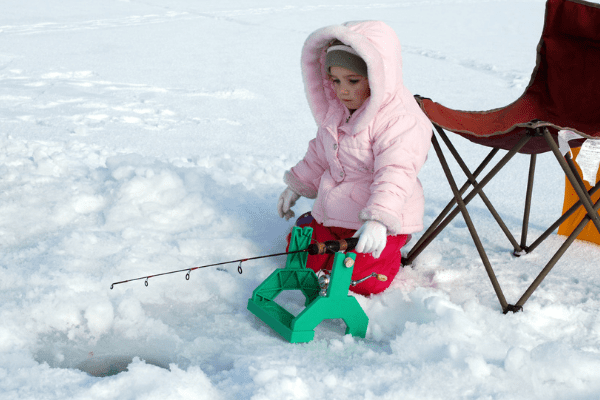 Fishing License Requirements
In the state of Minnesota, anyone 16-89 must have a fishing license.  Children 15 years of age and younger do not need a license if they are accompanied by a parent or guardian who is licensed to fish.  Adults can purchase an individual license or combination license that allows a married couple to fish individually or together. Licenses can be purchased online, but it is much easier to purchase your license in person.
Rochester MN Area Ice Fishing Locations
There are several popular spots to ice fish in Rochester including:
A Quick Start Guide to Ice Fishing in Rochester MN

Basic Ice Fishing Gear
For serious hobbyists, ice fishing can come with all sorts of specialized gear, rods, lures, shelter, and more.  However, if you're just looking to try it out a few times over the winter this can be done fairly inexpensively. You'll need:
Ice fishing rod (typically 2.5-3 ft)
Ice auger.  These come in manual and power designs.  If you are a novice or just starting out, a manual auger is the way to go.  Manual ice augers generally drill holes 4-6 inches deep
Buckets or camp chairs to sit on
Fishing line. 2 – 4 pound line if you're targeting smaller panfish species such as crappie, bluegill, or perch and 6 to 8-pound braided line if you're targeting larger more predatory species such as walleye, large-mouth, and small-mouth bass (note: gamefish can only be caught during certain times of the season).
Bait.  For starting out, worms, wax worms, or minnows will do great.  If you're ready for more advanced ice fishing, there are all sorts of jig heads, grubs, or hard baits to lure fish.
Tip-ups (optional).  A device to indicate a fish bit the line.  You'll need a bit of practice to set the line quickly and then do a hand-over-hand line retrieval pull up your fish.  These can be helpful if you have multiple holes you're fishing from!
SAFETY
We CANNOT STRESS THIS ENOUGH…ice is never 100% safe.  You are fishing on an unpredictable surface.  Every year in Minnesota, equipment, snowmobiles, ice sheds, vehicles, and people break through the ice when fishing.  Always, always, always check the ice thickness before ice fishing.  Please refer to the Minnesota DNR Ice Thickness Guide for appropriate ice guidelines.  The DNR does not record ice thickness on lakes.  Your safety is your responsibility. Some safety gear to consider:
Throw bag: this includes a rope and a foam float and can be tossed to an angler who has fallen through the ice.
Safety picks: These floatable handles are connected by a cord and worn on your body. Safety picks are designed to help you if you fall through the ice — grab them and jab them into the ice to help pull yourself out.
Safety whistle
Personal Flotation Device
What If I Catch a Fish?
DNR LakeFinder tells you the number of fish you may catch each day in a particular lake/body of water in Minnesota. No matter where you fish, the number of fish you catch each day is part of the total number of fish in your possession. Fish you have at home in a freezer is considered to be in your possession and counts toward your limit.
Etiquette + Tips
Bring these things: a thermos with hot chocolate, pringles (or other favorite snacks), and a good attitude.
Wear this: a million layers and bring the hand/feet warmer packs.
Don't drill your ice fishing holes too close to other anglers.
So get out and make some new memories on the ice with your family. #lakelife doesn't have to end when the water freezes!