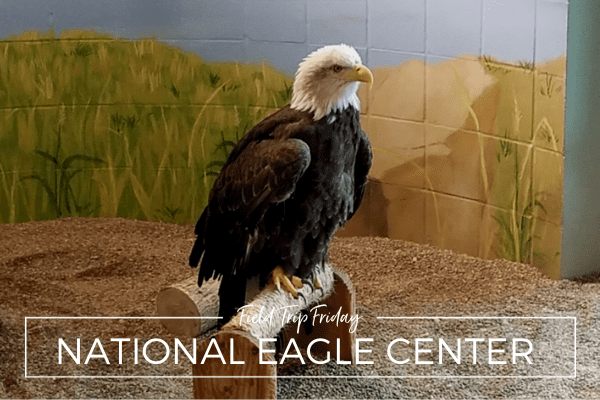 Last updated June 2023
One of the reasons I enjoy living just outside of Rochester is that I'm in between a lot of natural beauty and the city. It takes about the same amount of time to drive to Rochester as it does to drive to Wabasha or Lake City. There are quite a few hidden gems along the riverfront. One of the coolest, in my opinion, is the National Eagle Center.
Eagles are one of my dad's favorite animals. So, naturally, after having to cancel a family camping trip at the last minute (the forecast was for heavy rain) we planned to spend a day at the National Eagle Center. It was the perfect rainy day activity! Of course a great activity for any day too. They do lots of outdoor activities too.
The store front has an array of cute little Eagle-themed toys and merchandise. I'm always looking for educational stuff and picked up a booklet on all the different types of birds we can see in our area. For the squirrelly little kids, like mine, they had a table with a bunch of coloring activities which occupied them long enough for us to get our tickets and browse a little bit. There was also a life-size Eagle nest that the kids could walk in and out of.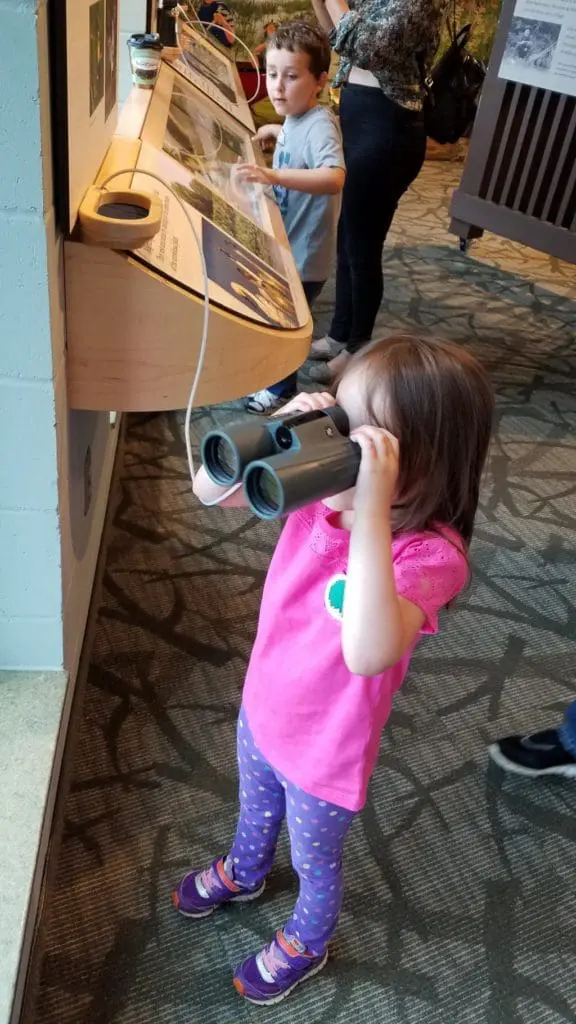 When you go upstairs you get to meander through a little museum all about Eagles. Besides seeing the actual Eagles, we got to see, feel, listen to, and read much more than we expected! You could even look through binoculars and maybe be lucky enough to spot an Eagle in a nest across the river.
Twice a day they offer Classroom Programs. In the program we went to, the Naturalist Staff member was very engaged with the kids and really knew a lot about the subjects. It was fun to learn more about the life of the Eagles and how each one came to be at the National Eagle Center. The program lasted about 45 minutes.
The kids got to stand up front and measure themselves next to a wing span stick to find out how big they would be if they were eagles. For my ultra-squirmy toddler, who couldn't sit through the whole thing, there were Eagle puppets in the back of the room that we played with while the instructor finished her presentation.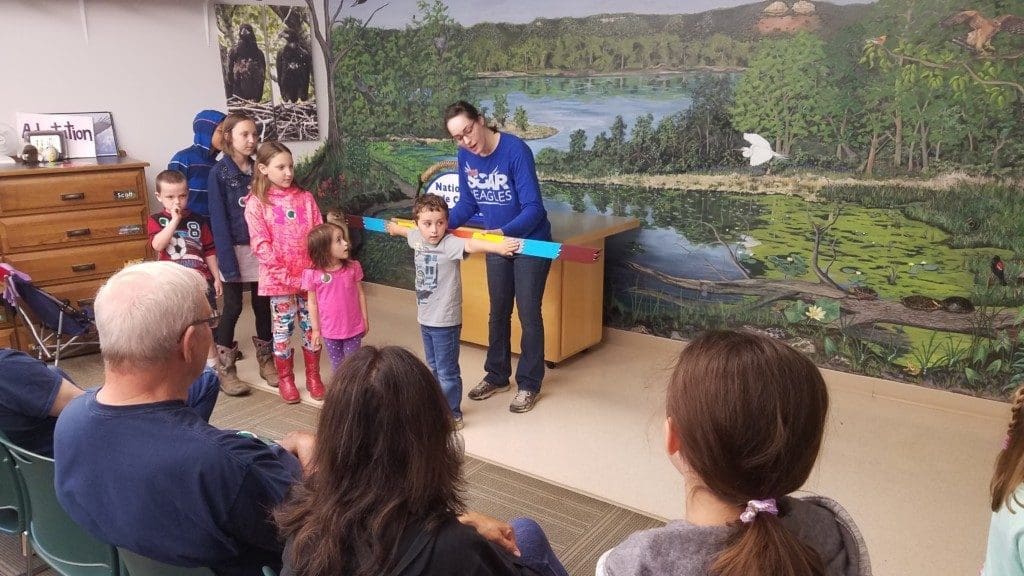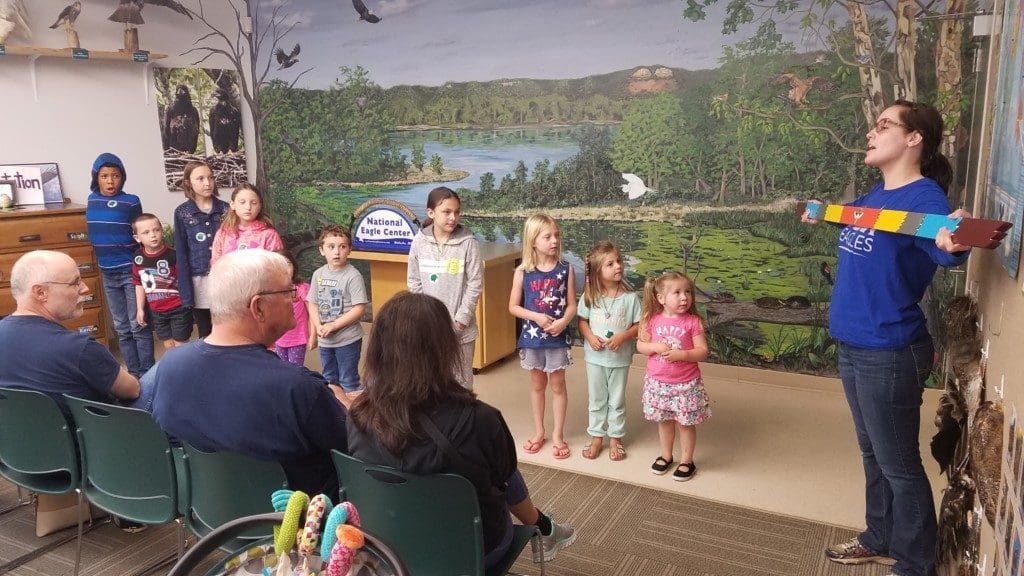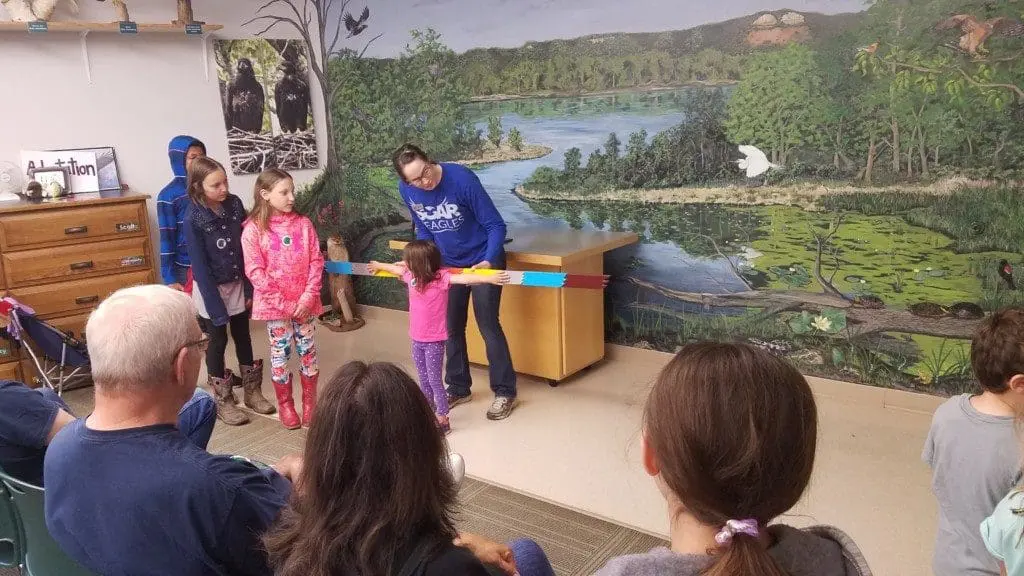 Of course, we got to walk through the room where they have the Eagles out for people to see and get really close to. This isn't like seeing Eagles at a Zoo where they are behind a fence or a glass wall. These Eagles were right there, just a few feet away!
At one point while we gazed at their beauty and listened to the trained staff tell us a little more about each one, one of the Eagles decided to open its wings up and then called out loudly quite a few times. We were all blown away and the entire room fell silent in response!
What I love most about this place is that its aim and purpose are not just focused on educating people about these beautiful wild birds. They are focused on preserving the lives of these birds who would not survive on their own. The National Eagle Center is basically a sanctuary for injured or sick eagles that were found and brought to safety. It is a nonprofit organization that not only is home to a handful of very special Eagles but also educates and inspires the public on conservation, ecology, and research on these birds and their natural habitats.
The National Eagle Center is open daily 10 am – 5 pm. Adults (17+): $12, Youth (4-16): $10, 3 & Under: FREE.
Visit their website for more information on tickets, hours, and events! The National Eagle Center is definitely worth a trip- at least once. The Eagles are mesmerizing and their passion is contagious. We all definitely enjoyed our time there and look forward to going back.