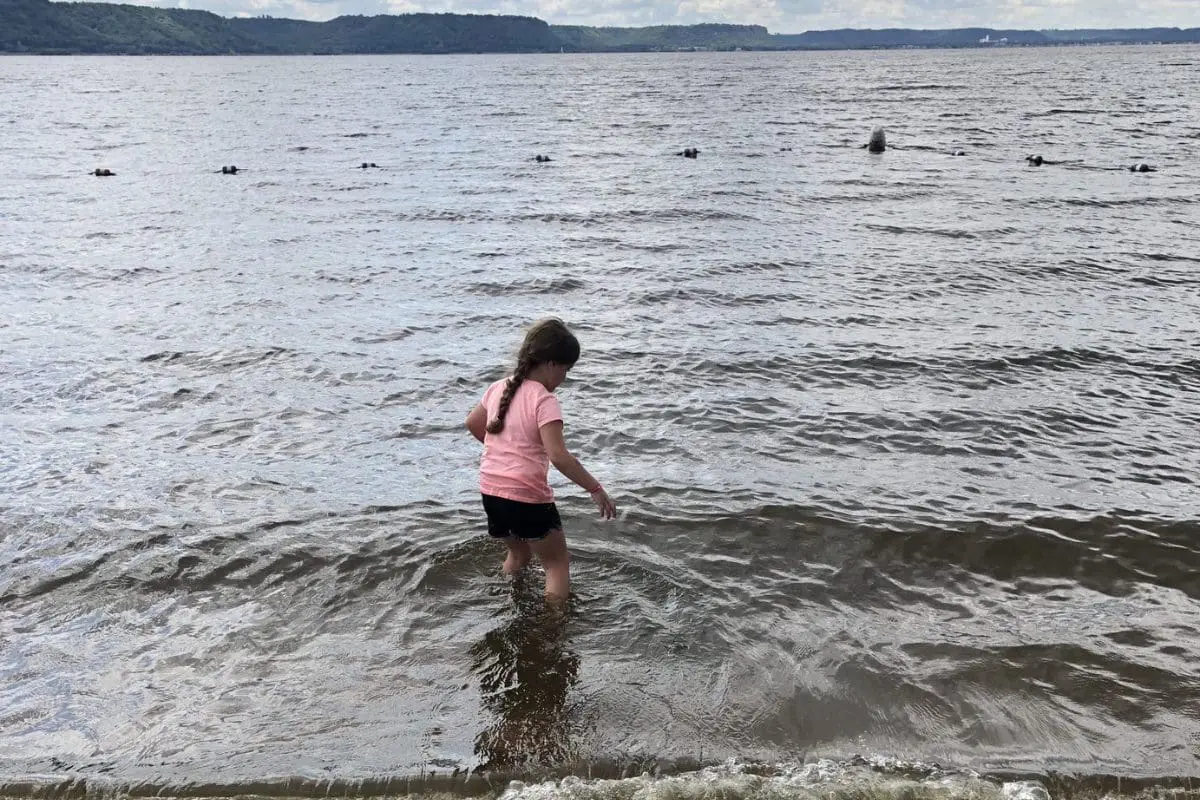 Several years ago, our family went on our first Adventure Day.  Little did we know that it would become a fun family tradition summer after summer.
It started with the overwhelming urge to get out and explore.  My husband and I are both adventurers.  We love seeing, doing, experiencing, trying new things. We've both traveled extensively.  After having our kids 19 months apart, it became a bit more difficult to up and travel like we were used to.
One Saturday morning in 2016,  I woke up and just needed to get out of the house.  We packed up the babies and drove east to Wabasha and just kind of went where we felt like that day.  And so Adventure Day was born!
This trip is so easy to do as it's a short 45-minute drive from Rochester.  All of the stops are kid and adult-friendly.  Parts are indoors, parts are outdoors.  You can make it as long or short as you want to!  Here's what Adventure Day includes:
Hours: 10 AM – 6:00 pm every day
Address & Phone: 63604 170th Avenue, Kellogg MN 55945 // (507) 767-3387
If you haven't been to Lark Toys (click here for our dedicated Fiel Trip Friday post), please put it on your list for this summer!  This toy shop and museum are pure magic.  Here are just a few of their awards: "Top 10 Best Toys Stores in the World" – USA Today, "World's Greatest Toy Stores" – Travel & Leisure, and "Best Toy Store in Minnesota" – WCCO Viewer's Choice.
Lark Toys is much more than a shop, it's an experience!  In addition to the most wonderful, unique, and never-ending toy shop, there is a bookshop, Memory Lane (a toy mini-museum!), mini-golf, a little candy shop, a resident toy-maker, a café, llamas (yes! llamas), and in the heart of Lark Toys: the majestic hand-carved carousel.  This carousel is unlike any other in the world.  It was lovingly and carefully carved from Minnesota basswood, and each animal is a rideable work of art.  The carousel runs every 30 minutes and costs $2 per ride.
We've learned some helpful tips about visiting Lark Toys.  Try to arrive right when it is opening at 10 AM.  The first carousel ride will be at 10:30 AM!  After that first ride, spend the next hour looking around at all there is to see.  We like to end our visit with one last carousel ride at 11:30 AM.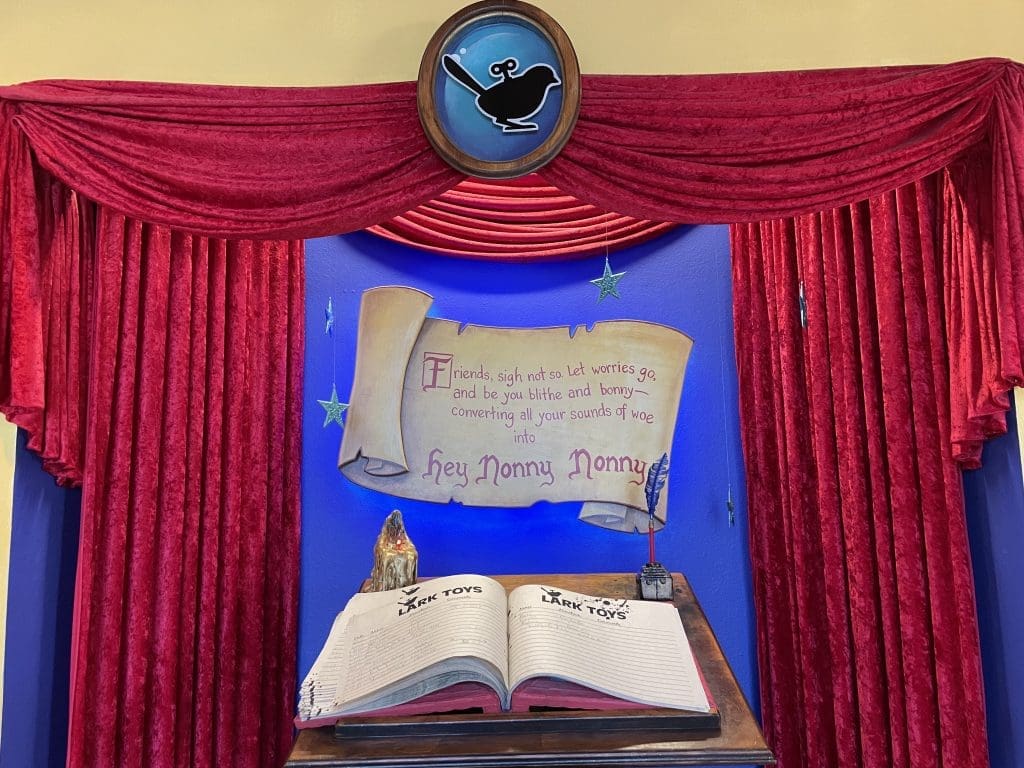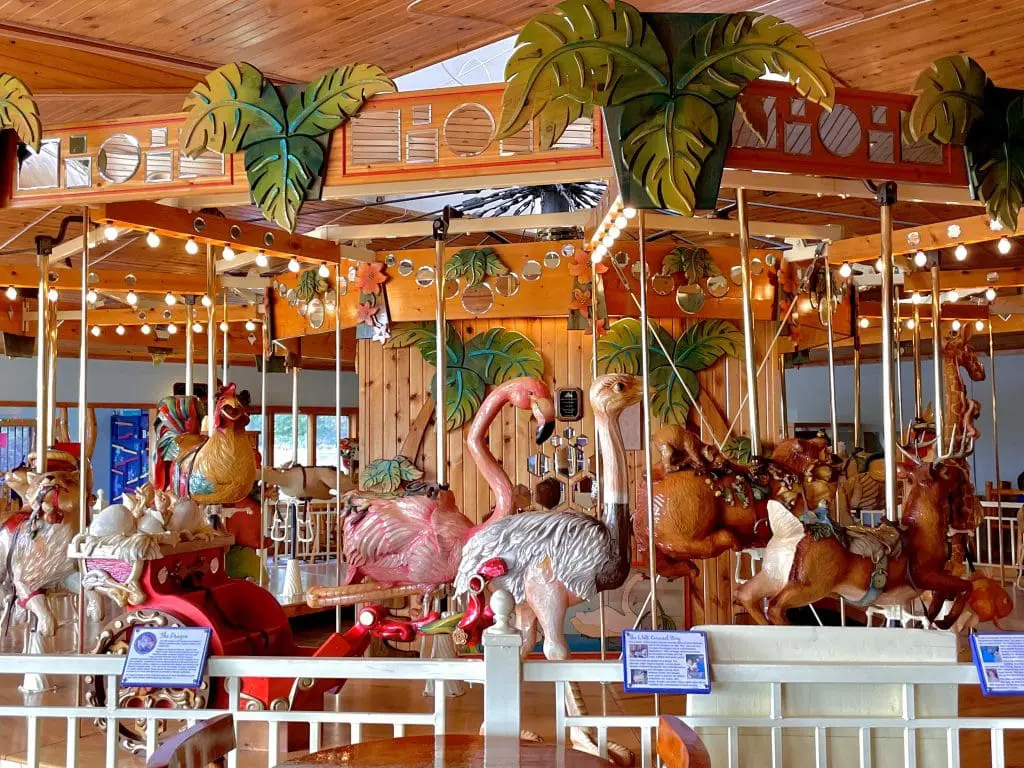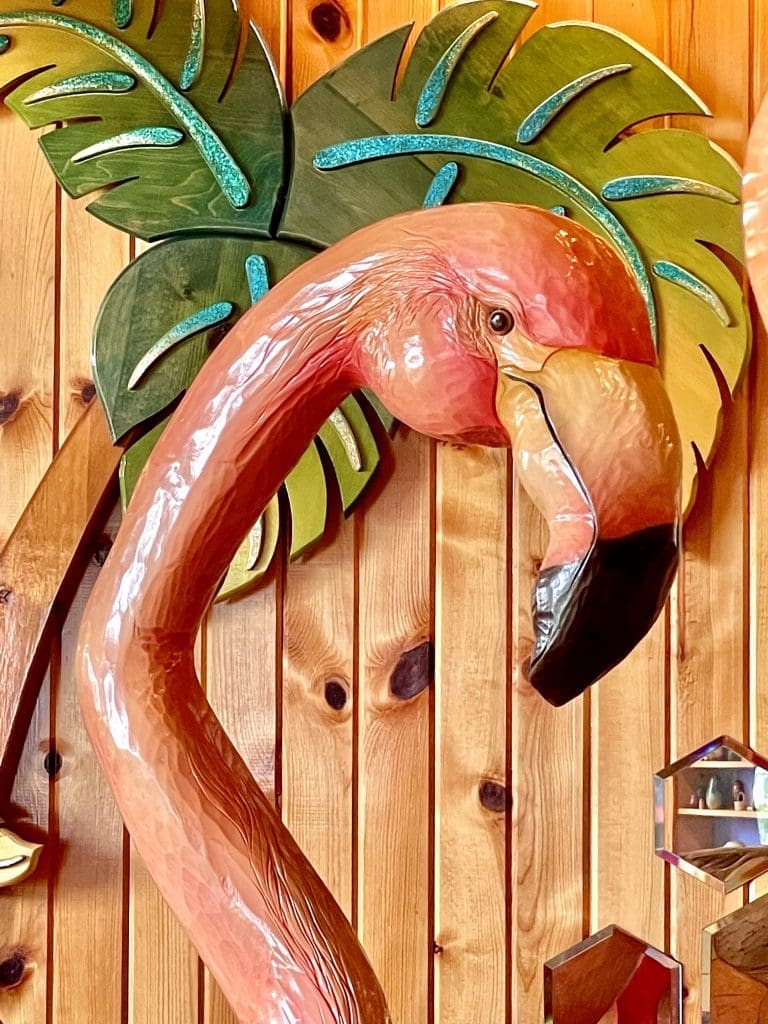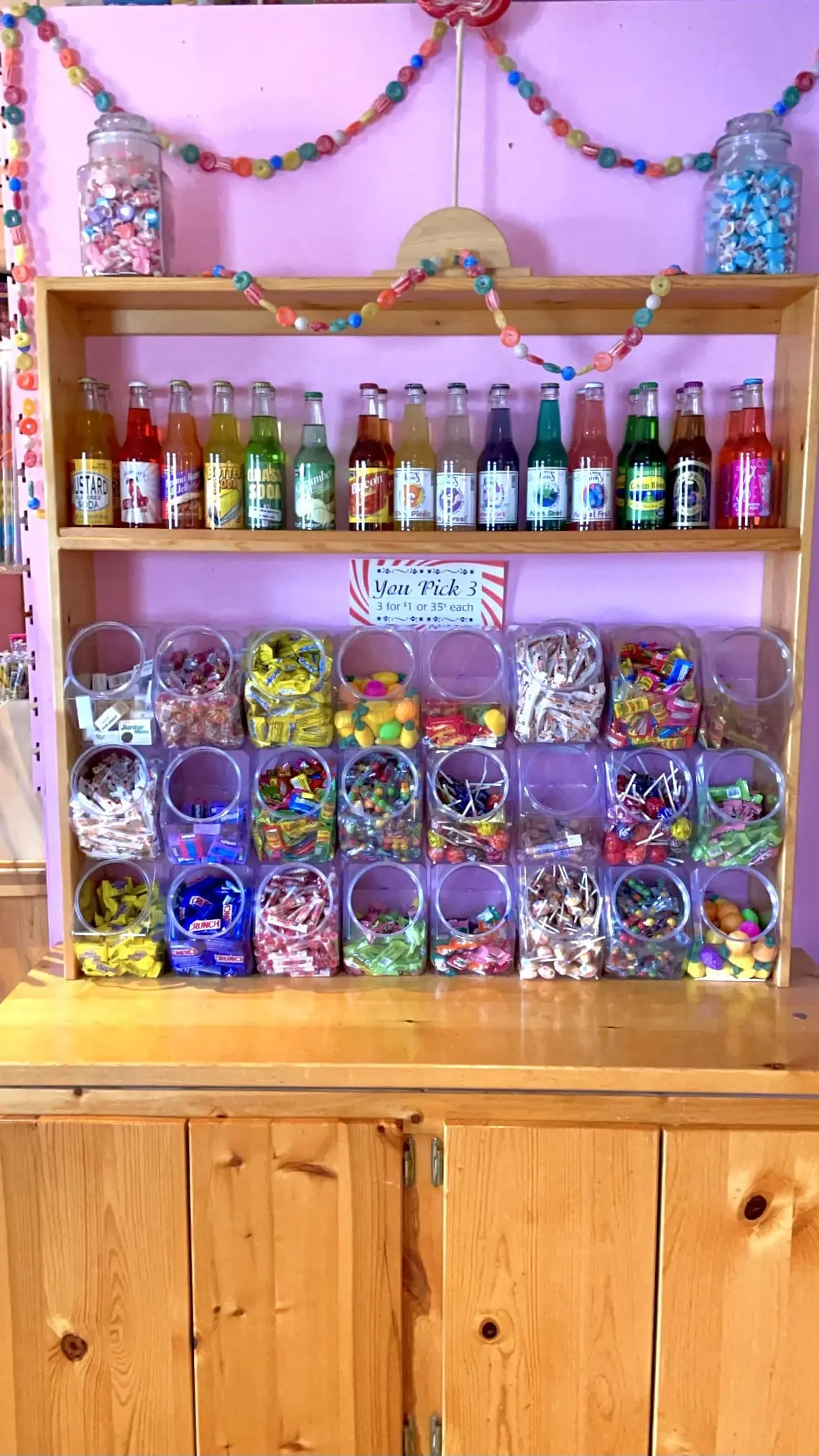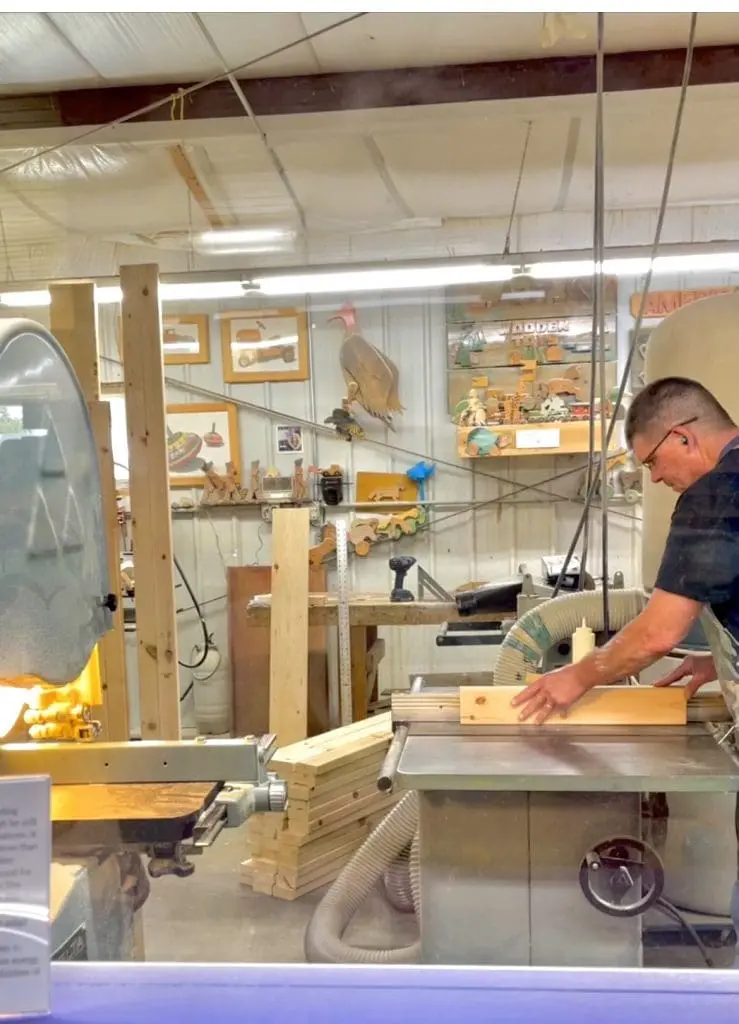 Hours: 9 AM – 5:30 pm every day
Address & Phone: S237 State Road 35, Nelson, WI 54756 // (715) 673-4725
For the next stop, we're heading up the road and over the Wabasha bridge to Nelson, WI where Nelson Cheese Factory is located.
The founders of Nelson Cheese Factory made cheese for over 100 years.  While that is no longer the case, they have expanded their shop to include all kinds of cheese from Wisconsin and all over the world!  They also have an extensive wine shop, pantry shop, and cafe.
We like to come here for the ice cream!  We generally pack a picnic lunch that we will eat in the car (or the trunk of the car for something fun!) and top it all off with an ice cream cone. The ice cream at Nelson Cheese Factory is made by The Chocolate Shoppe out of Madison, Wisconsin.  It's delicious!
Of course, we *always* pick up Wisconsin cheese curds while we're here.  If you have not enjoyed these before, they are truly special. Cheese curds are a product of making cheddar when the whey separates from the milk.  Wisconsin cheese curds are special because they are produced from Wisconsin dairy farms – some of the best in the world!  You know you are getting *fresh* cheese-curds if they squeak. This is caused by the proteins in cheese interacting with the enamel on your teeth.
We also really love the charm and character of this 100-year-old building with its ivy-covered brick walls.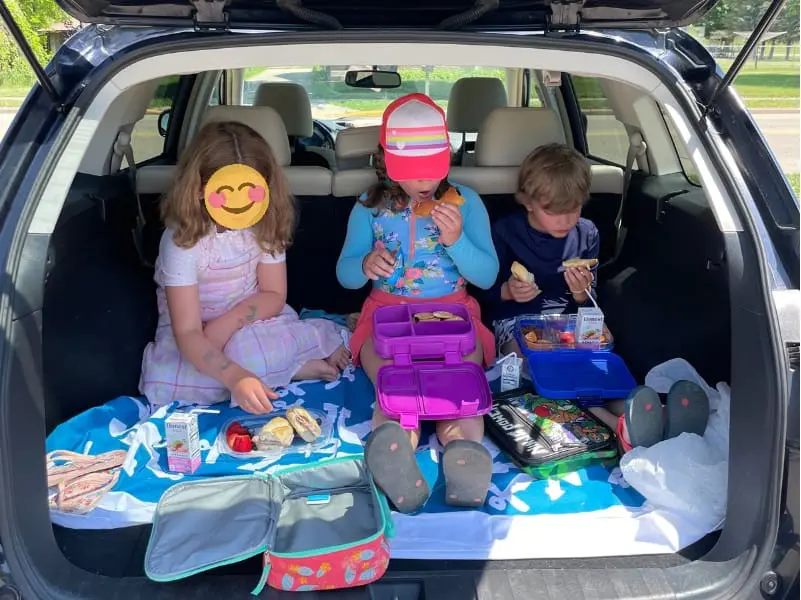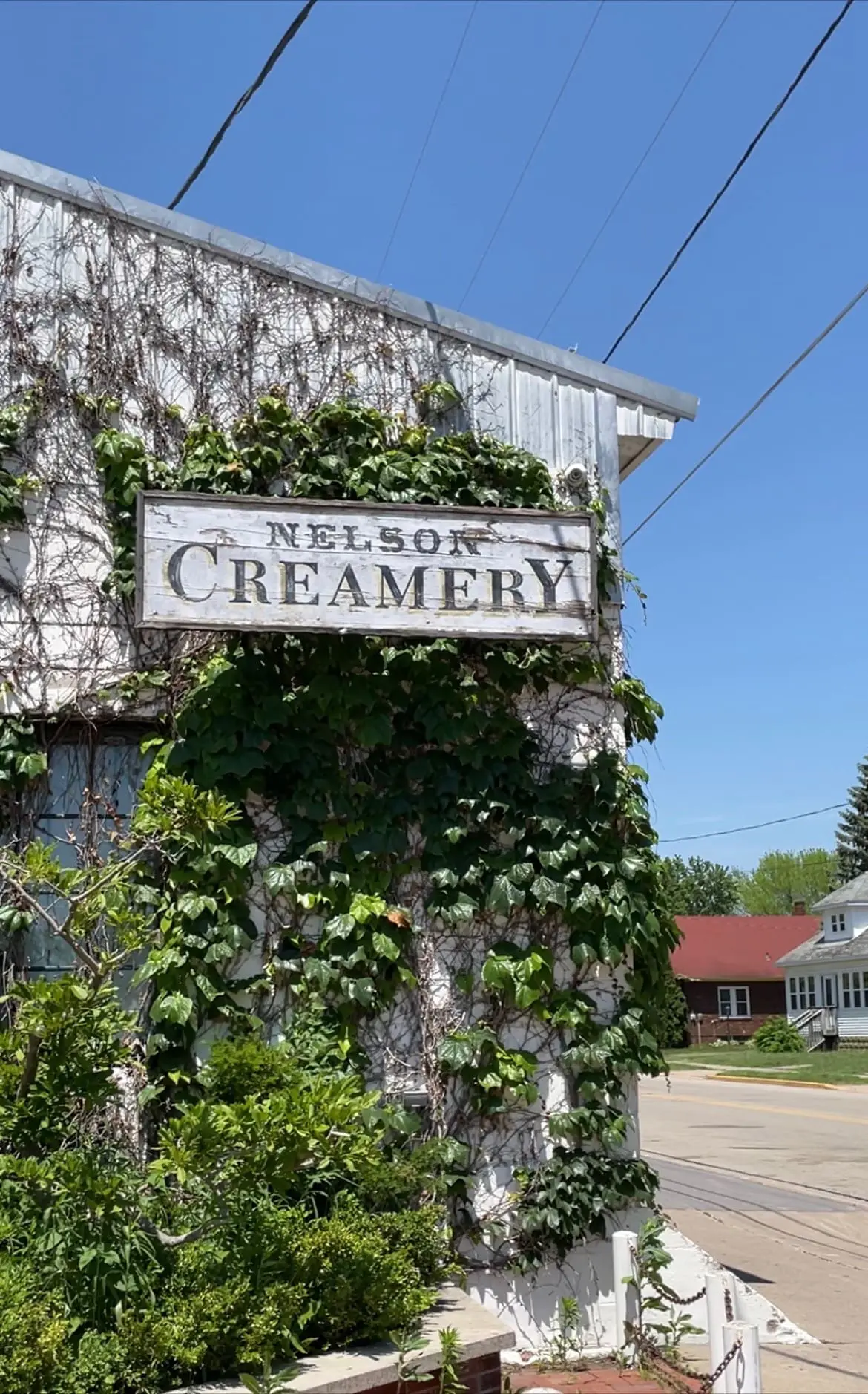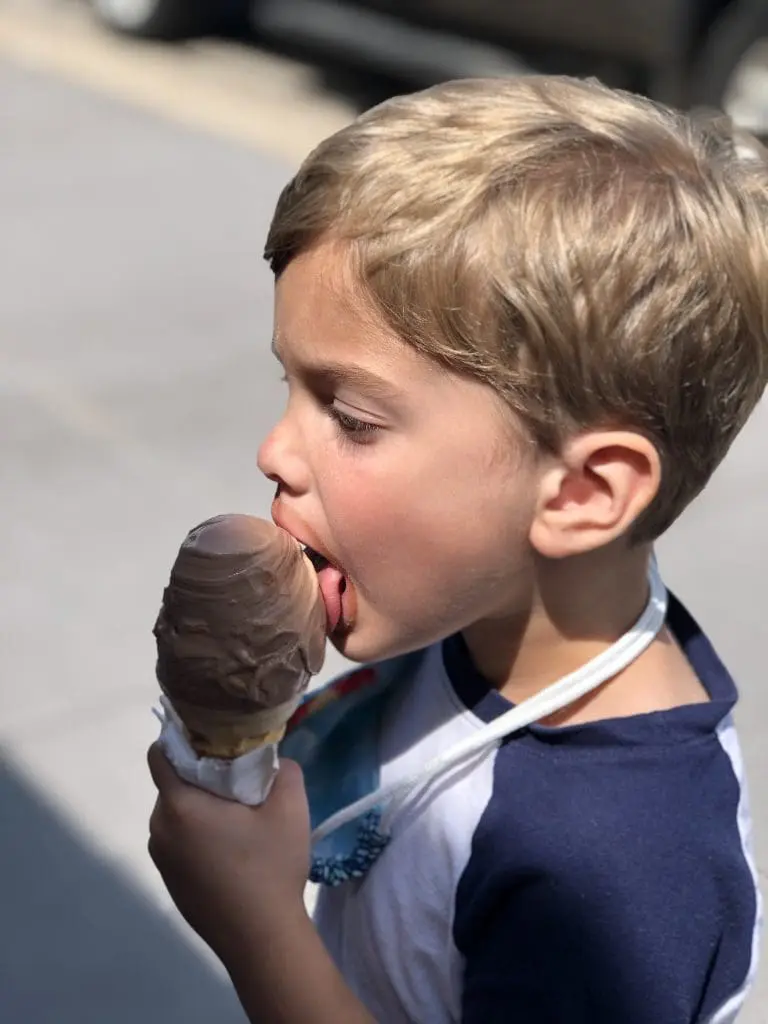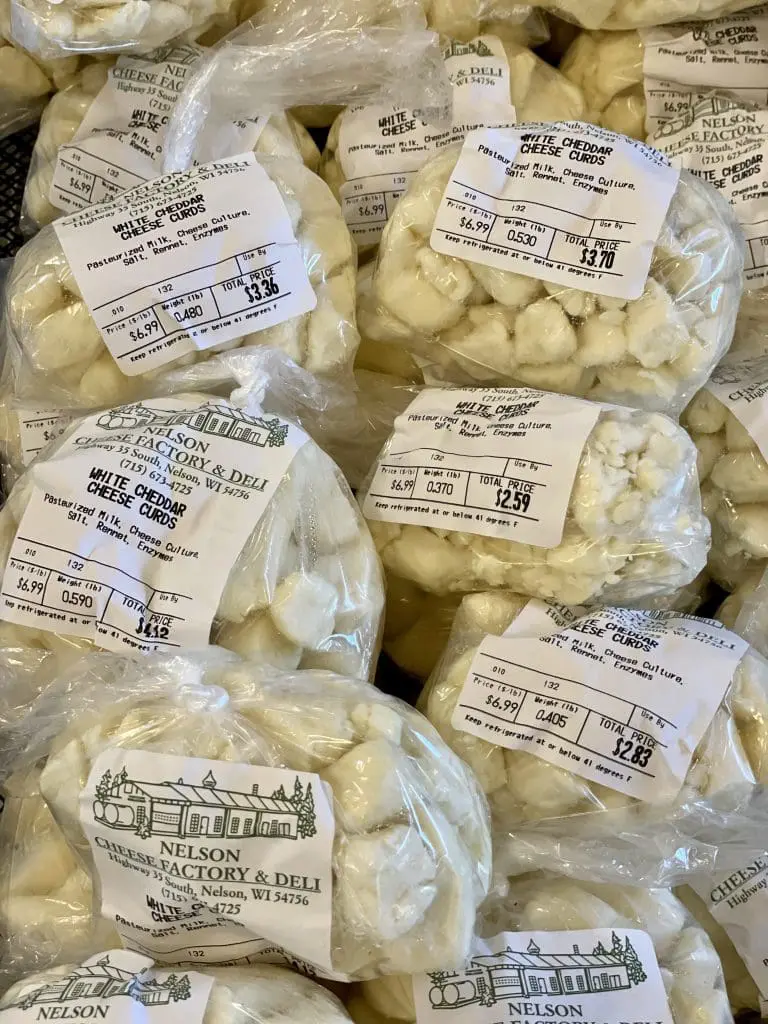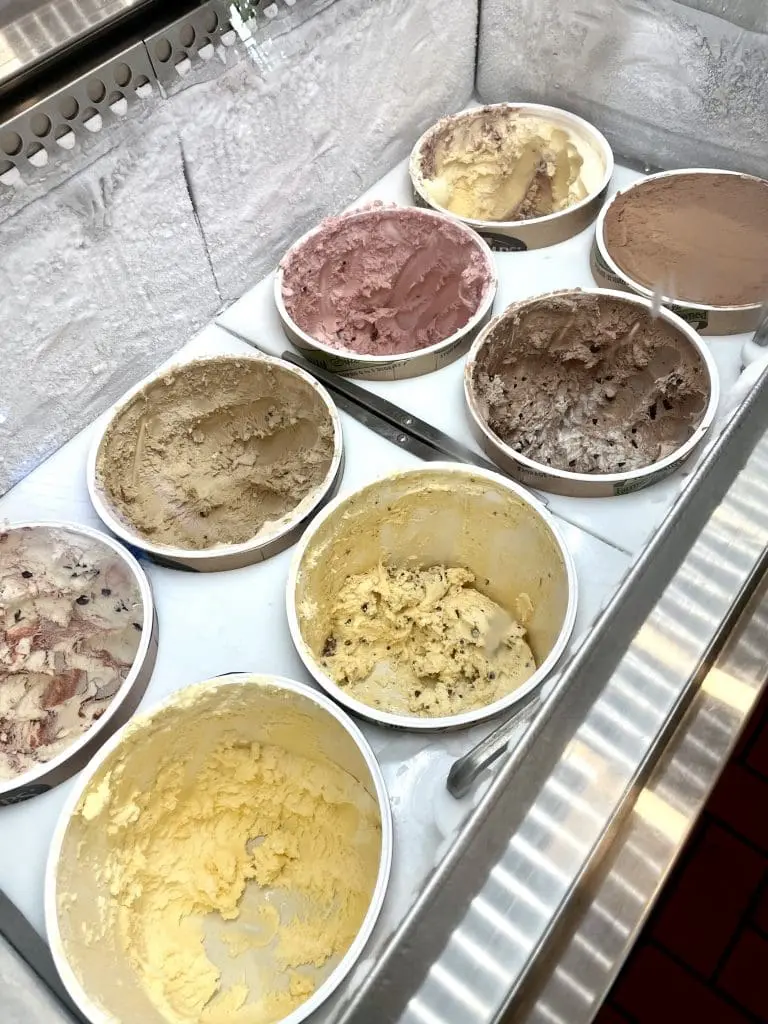 Bonus! Third Stop: Sunflower Fields
Address: Head northwest out of Nelson, WI towards Pepin, WI.  1-2 miles ahead on the left hand side you will see the Sunflower Fields.
Availability: late July / early August
If you are planning this Adventure day in late July/early August, you'll have the bonus of seeing the most beautiful sunflower field.  Head out of Nelson, WI towards Pepin, WI and about 1-2 miles up the road on the left-hand side, you'll see the most beautiful and vast field of sunflowers.  It's breathtaking!
There is a little road that you can pull into to get out and admire the sunflowers and take photos.  The property belongs to Village Edge Farms.  They've posted some sunflower-visiting criteria on a large sign at the start of the little road.
For an *honor system* donation, you can take as many photos of the sunflowers as you like!  But please do so carefully, this sunflower field is a crop and the seeds will be pressed for sunflower oil.  It is also private property, so please be aware of that and respect your surroundings.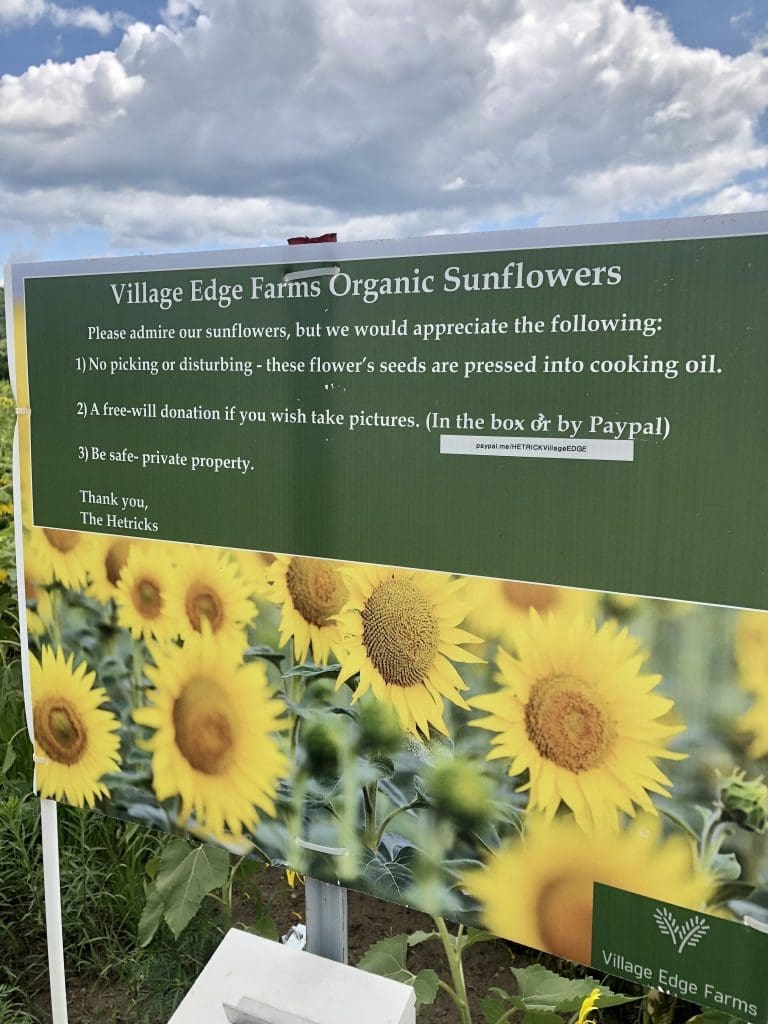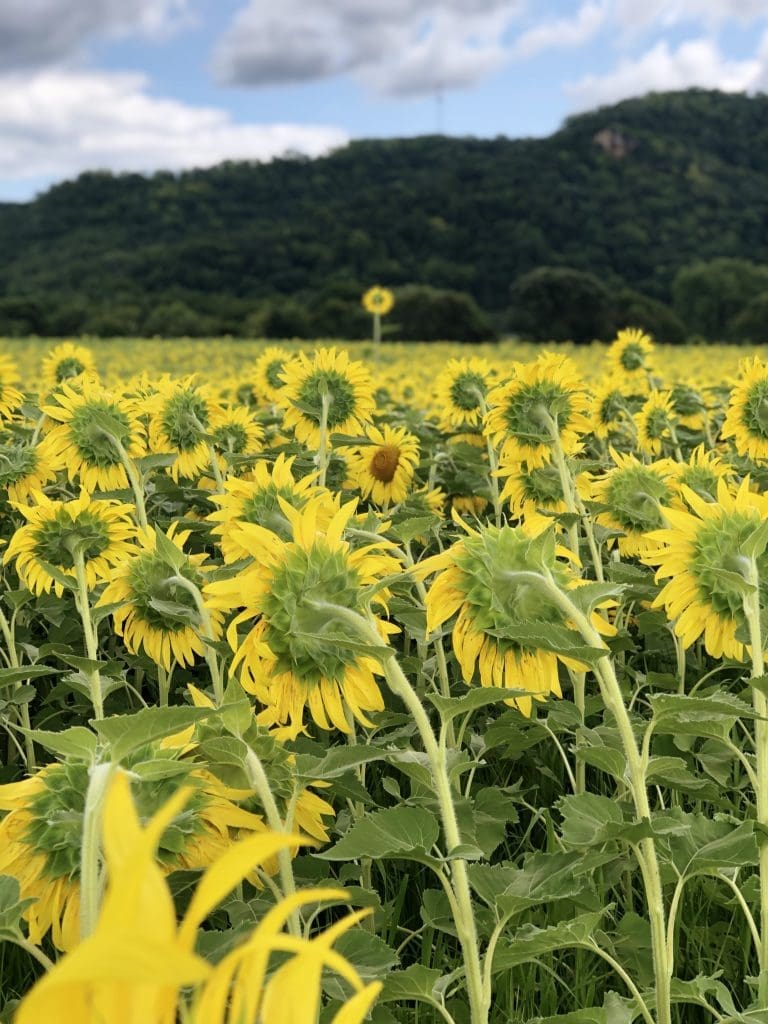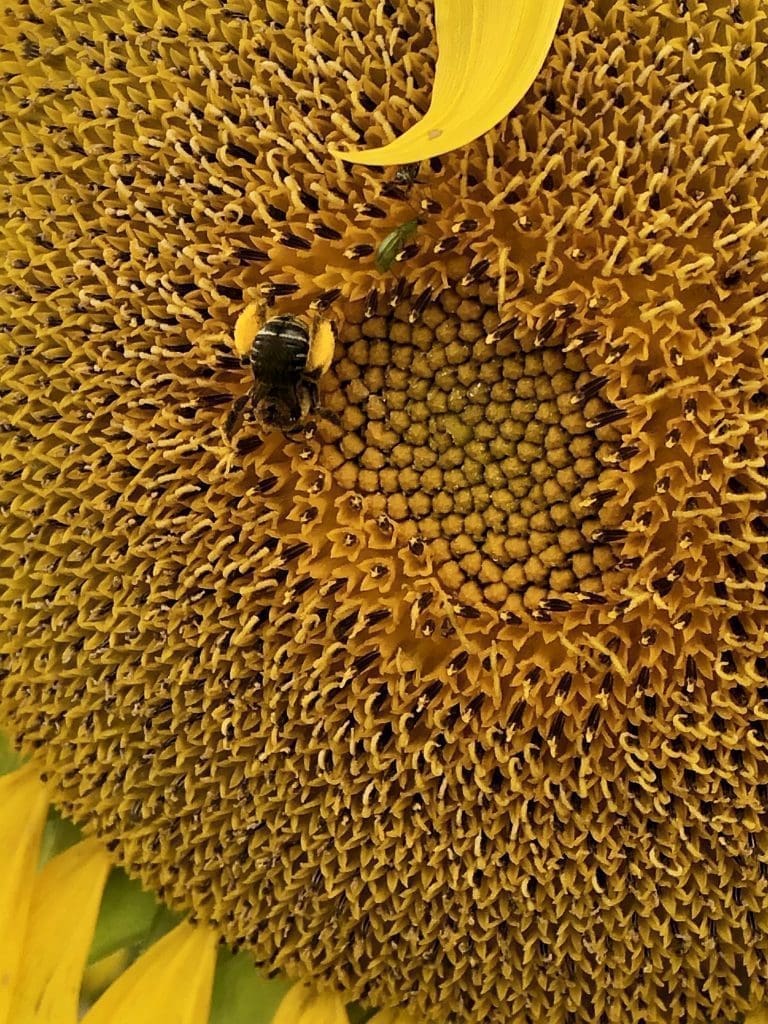 Hours: Seasonal.  Check the Facebook page before visiting for lifeguard information and closures.
Address & Phone: 1st Street, Two Block North of the Marina, Pepin, WI 54756
We love swimming at this quiet little beach in Pepin, WI!  Only 10 minutes up the road from Nelson, it's a great way to cool off after a day of adventuring.  Swimming in Lake Pepin is so fun.  The water is generally clear and cool.  The beach has lifeguards on duty (make sure to check the Facebook page before you go), a newly renovated boathouse with restrooms, a designated area for swimming, a shaded parking lot, and a nice sandy beach.
Bob in the lake and watch the sailboats go by, catch the occasional "wave" from passing boats, or watch for baby lake fish finding a bite to eat close to the shore.
Of course, you can make an entire day of visiting the cute shops in Pepin and further up the Wisconsin Great River Road.  Don't miss our Field Trip Friday to Maiden Rock and Stockholm…just up the road from Pepin.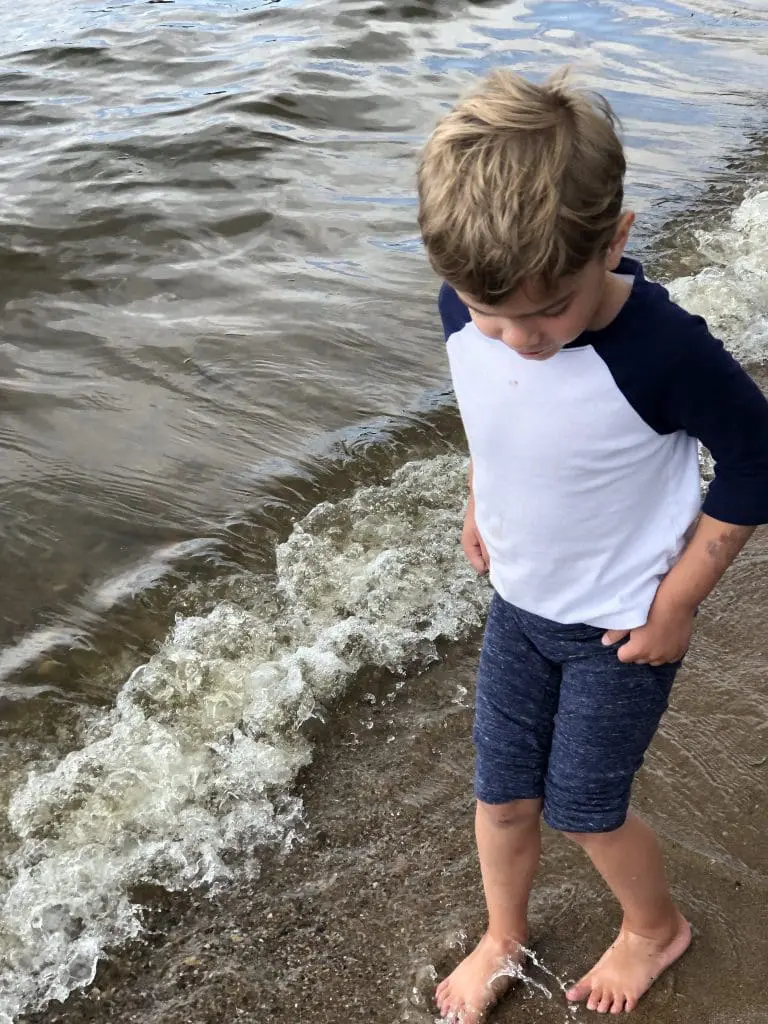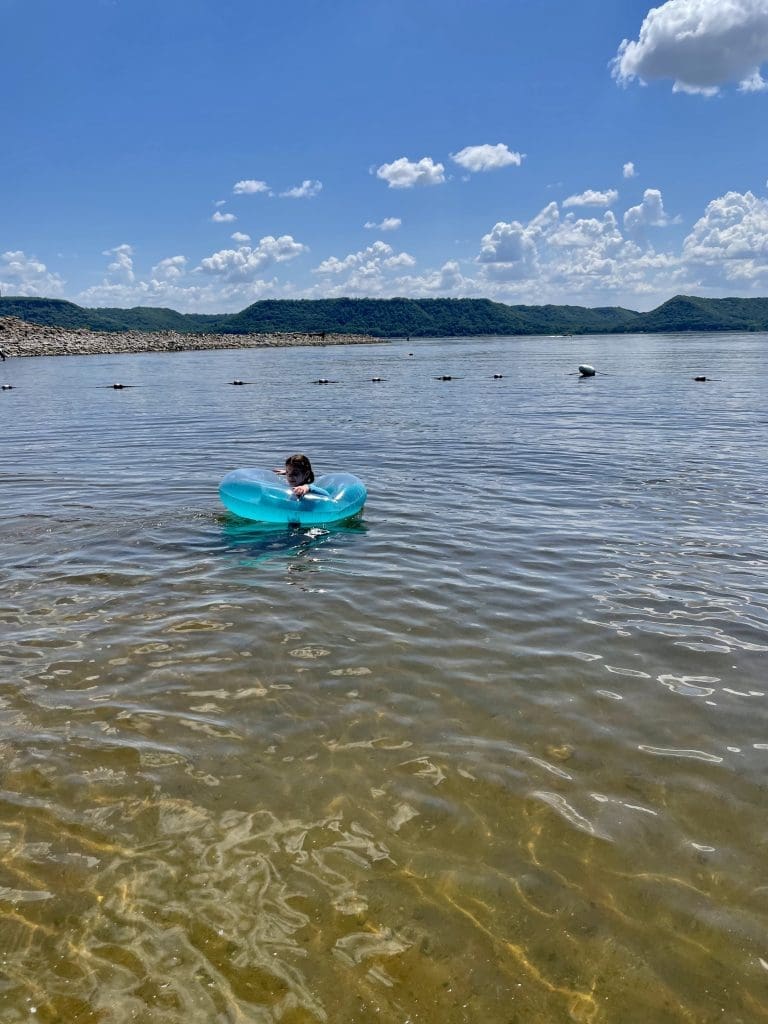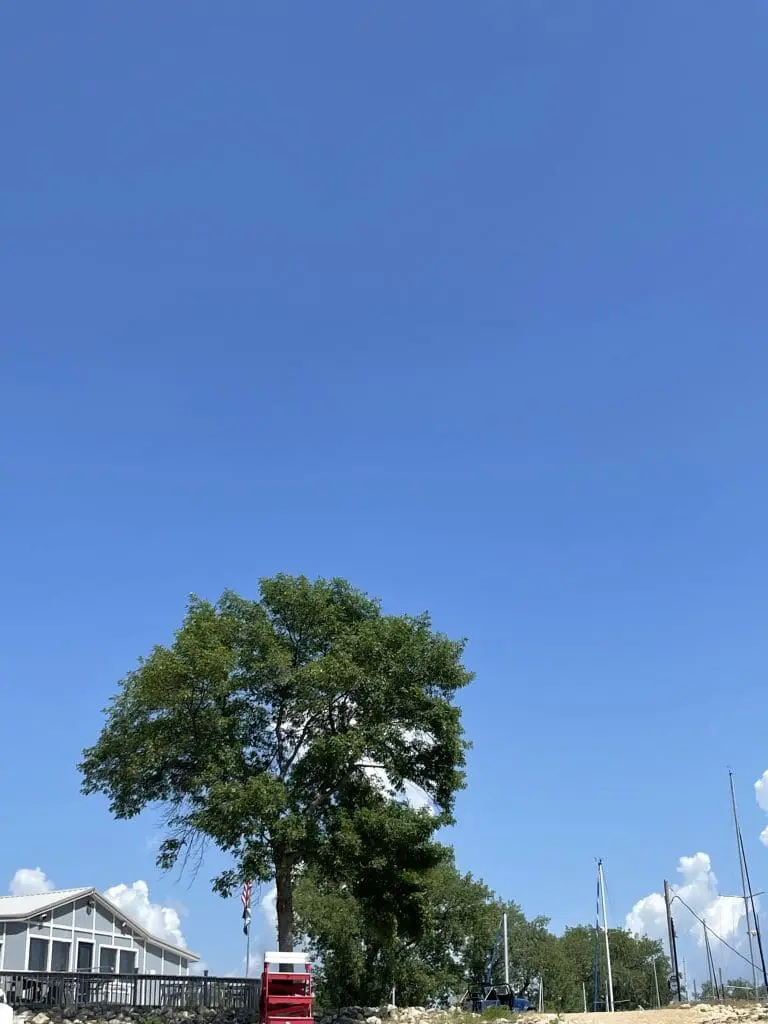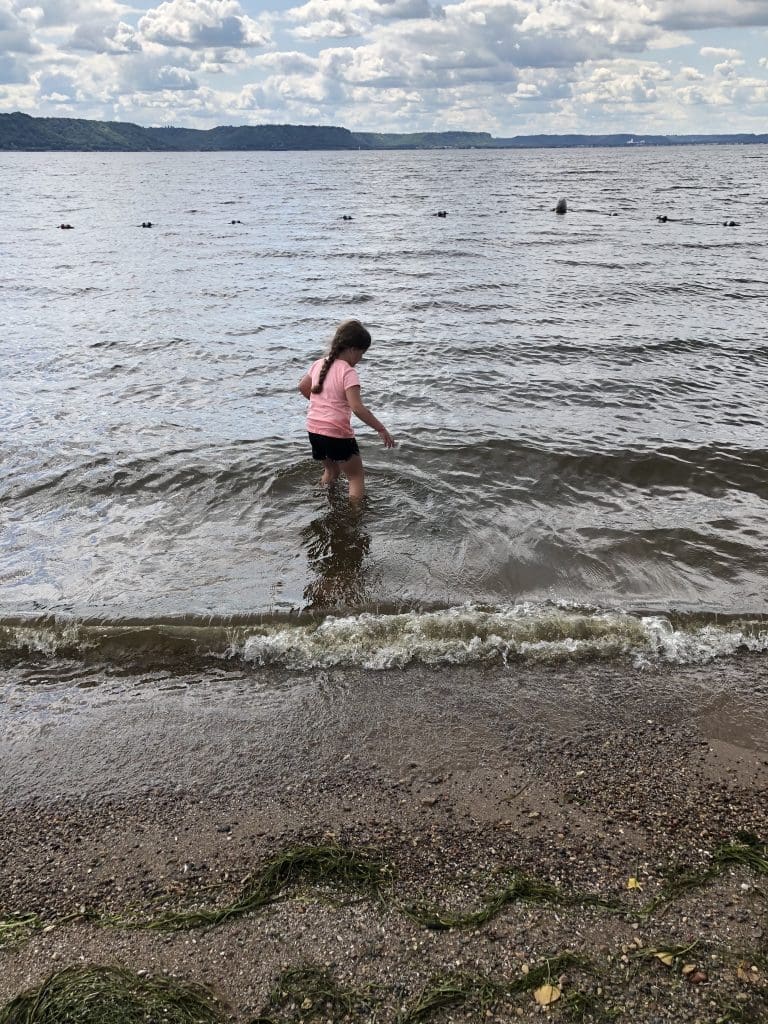 One More Bonus!
If you are feeling up for an extra-fun, extra-full day, you could also plan a stop at the National Eagle Center in Wabasha!
---
Enjoy Your Adventure!