This post contains affiliate links.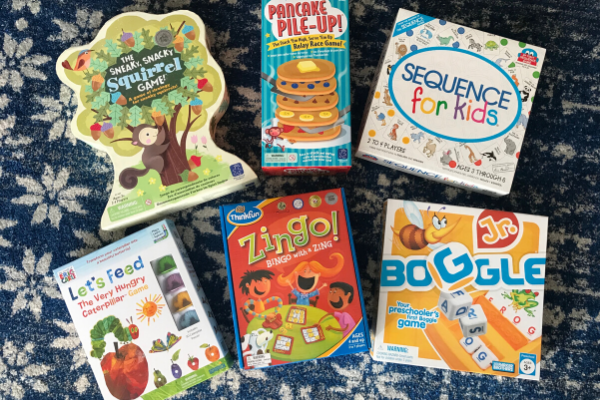 Games have always been a huge part of my life. Give me a cribbage board and a willing partner, and I'm set for the night!
This love of games has turned into a love for children's games as I've grown into motherhood. When my oldest (now 7) got his first game as a 2 year old, I was beyond excited. Sneaky Snacky Squirrel was his first, if you're wondering…  He played it at daycare every day, and he fell in love! I fell in love with the extra fine motor skills, color recognition and sorting, turn-taking, and patience he was practicing!
We now have an extra large closet FULL of children's board games. I went through and found my favorites for kids 5 and under. While kids older than 5 can enjoy these games, they really speak to pre-primary school skills! I broke them up into a few large categories, but the great thing about each of these games is they are LOADED with various pre-primary skills!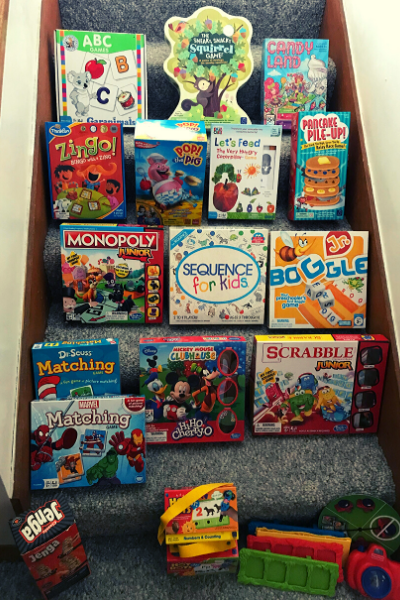 Letter Recognition
Hot Dots Jr– There are many variations of Hot Dots. We have numbers and counting, and letters and sound recognition. We first started this game when our son was 3. This was a great activity to sit and do together. Once he reached the 2nd year of preschool, he was able to play completely independently.
Scrabble Junior– Our 4 year old has started to play this game now, and our 7 year old still loves it too. The directions come with several variations to the game to meet your child where they are at developmentally.
Boggle Jr– The directions for this game have variations to play with all levels of letter and word awareness and decoding!
Numbers and Counting
Strategy and Cognitive Skills
As you can see, we have a few games in our house (and I left a few out…). Our kids can learn such valuable skills with these games not to mention all the wonderful bonding you can do while you join in on the fun!
What are your favorite family games? I'd love more ideas!
Post was originally published in March 2020 and updated January, 2021.