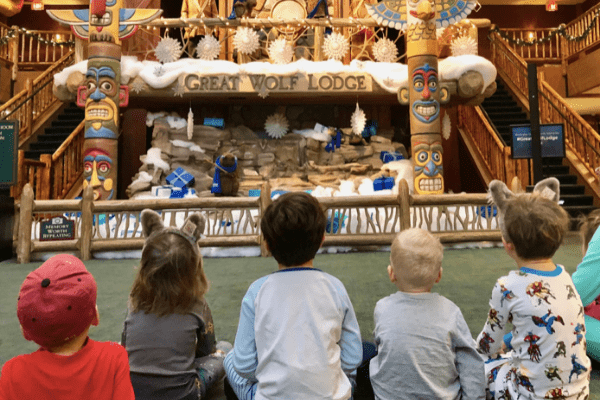 I'm a planner, especially when traveling. I like to research options, vet opinions, and carefully craft my packing list. But, that's a lot of work and requires time (which I have less of today). 
However, my husband was in between jobs last January and had more time on his hands than he prefers! Checking off the honey-to-do list wasn't as exciting as booking a trip outside of Minnesota. 
So, he choose the latter. 
But, it was only five days after clicking "BOOK IT" that we packed up our family for a two-night family stay at the Great Wolf Lodge in Wisconsin Dells, 2.5 hours East of Rochester. We agreed to travel light, go with the flow, and not overthink the trip. 
Turns out spontaneous travel was exactly what we needed after changing jobs and surviving a sick-riddled holiday season! This was one of the more relaxed trips we've taken, with no agenda other than to enjoy our time together as a family of four. Our kiddos had our full attention and felt the love. It was good for our marriage, too. 
If you're contemplating booking that stay for next week, here's five reasons you should just do it!
1. Lightweight Bags
I hate packing … especially when it requires lugging baby gear and clothing for more than myself. But, when staying at an indoor waterpark in the middle of winter — you don't need much! Swimwear, pajamas, loungewear, and a travel outfit for everyone fits into ONE suitcase. We also packed our wagon instead of the stroller. Both boys laid in it and it's more than spacious enough for life jackets, towels, and kids.
2. Better Pricing
Most know it's more affordable to travel in the off-season and during the week, but it wasn't until Tues., Jan. 7 through Thurs., Jan. 9, 2020 that I did it myself! By booking last-minute, we saved and upgraded to a Black Bear Condo which gave us two bedrooms (great for maintaining nighttime sanity) and a kitchenette (great for making morning breakfasts and eating low-key dinners).
3. Smaller Crowds
We never lost sight of our kiddos — or each other — which is easy to do in peak season. At max, I counted 30 heads in the wave pool and one person ahead of me in line for the lazy river. And, when navigating a waterpark with a sleeping baby and a sprinting toddler, smaller crowds are clutch.
4. Easy Meals
Great Wolf has restaurants, but we packed a small cooler with hearty snacks because paying for kid meals that kids don't eat gets old. And after swimming all day, tantrums by littles are not fun while dining out. We took our poolside plates back to the room and ordered pizza in. It was drama-free and delicious. Other fast-casual options are located across the street for easy take-out. Don't overthink the food.
5. No Toys
Did I say no toys? Yes! No toys! … Well, we did pack a balloon, Candy Land, and Left, Center, Right, and one teething toy for Crosby. But the waterparks, arcade, and activities for purchase could fill up your day. Gordon's favorite non-water activity was 9 a.m. story time and the hallway's patterned carpet (paw prints, rocks, and checkerboards!). Let the kids' imaginations soar and let them explore. Toys on vacation are overrated. Keep them at home; it makes traveling easier. 
We would definitely visit the Wisconsin Dells again – particularly in the winter – and on a whim. While an easy drive (I-90 for less than 3 hours), it still felt like a getaway. The slides, water toys, tubes, and splash pads were a blast, with plenty of things to do for all ages. I'm thankful my husband just BOOKED IT and didn't give me time to think about why we shouldn't go or what we should bring.
What impulse trip have you booked, and why did you love it or hate it? Comment below!