This post is sponsored by Olmsted Medical Center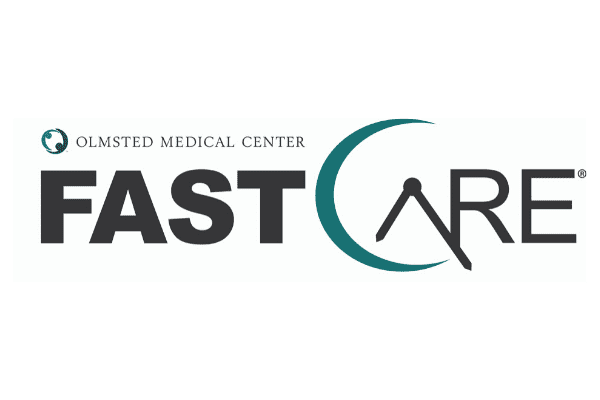 Two new FastCare clinics have opened up in Rochester, MN giving busy parents options when sickness hits.  'Tis the season for colds, strep, bronchitis, pneumonia, ear infections…and that's just for the kids.  Parents are just as susceptible to getting sick, especially if their kids are.
Olmsted Medical Center has two new, convenient FastCare locations for you or your children to receive non-emergent health consultations.  You do not need to be a Olmsted Medical Center patient to be seen. The locations are flexible and convenient to fit various schedules.  Each visit is $55 and can be billed to insurance.  (Extra charges apply for lab vaccinations and lab services.)
Hours
FastCare North and FastCare South
Monday- Friday //  8:30 AM – 8:00 PM
Saturday – Sunday // 9:00 AM – 5:00 PM
Closed on holidays
Please note: FastCare South caregivers' daily lunch break is from 1:00-1:30 PM and FastCare North caregivers' daily lunch break is from 1:30-2:00 PM.
Locations
FastCare North (Temporarily closed due to COVID. This is a COVID testing site)
102 Elton Hills Drive NW, Suite 200, Rochester, MN 55901
The new FastCare North is part of Elton Hills Plaza.  It is located a few doors down from where OMC's Rehabilitation Services is located.
FastCare South 
90 14th Street SW, Suite 200, Rochester, MN 55902
The new FastCare South is located in the Crossroads Plaza near Walgreens and across from the Olmsted County Fairgrounds on Highway 63 (South Broadway).
Conditions Treated
FastCare clinics are able to provide quick care for a variety of common illnesses and injuries. PLEASE NOTE: children must be 18 months or older to be seen at a FastCare location.  Here's a list of ailments treated at these locations:
Acne
Allergies
Allergic reactions (minor)
Bladder/urinary tract infections (UTI) for females ages 12-65
Bruises
Colds/flu symptoms including fever, cough, sore throat, and earache
Cold sores
Insect bites/stings
Minor burns and rashes (eczema, poison ivy/oak, athlete's foot, and sunburn)
Minor sunburn
Mononucleosis (mono)
Sinus infections
Skin infections, including impetigo and ringworm
Sore throat
Vaccinations including flu shot, tetanus and meningitis (extra charges apply)
Additional Services Offered
Pregnancy tests (18 years and older, extra charges apply)
Smoking cessation
Sports physicals (not billable to insurance)
Stitch removal
Testing for strep, influenza and mono (extra charges apply)
If a higher level of care is needed but still without an appointment, visit the OMC Acute Care locations.