When mother nature gives us snow, let the cross-country skiing and snowshoeing begin!
Rochester and Olmsted County have many winter trails for cross-country skiing and snowshoeing, some groomed, and some not. Some even have rentals available, if you're new to these classic winter activities and want to try it out before purchasing your own equipment.
Looking for more outdoor winter fun? Check out our Guide to Outdoor Winter Sports!
City Trails- Groomed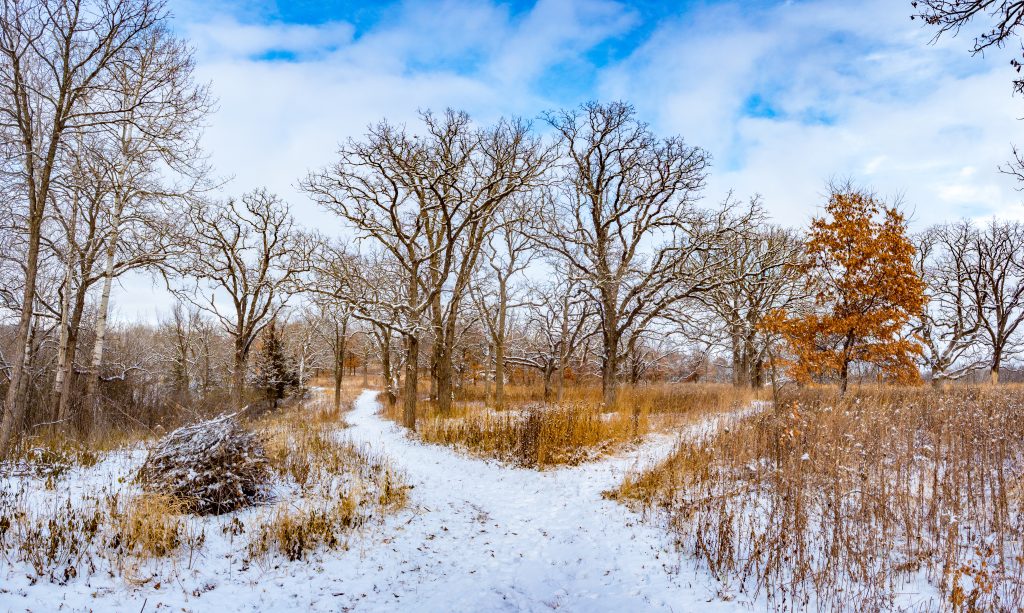 Quarry Hill: Quarry Hill has a wide variety of trails– multipurpose for hiking/biking, snowshoeing trails, and trails designated for cross-country skiing only. *Ski and Snowshoe Rentals Available at the Nature Center*
Eastwood Golf Course:  This course on the SE side of Rochester features several loops of varying lengths, from 0.5km to 3.9km, and varying degrees of difficulty. If you're looking for hills as a challenge, this course has them!
Essex Park: Essex Park in NW Rochester has several loops of trails all over the park, making it easy to customize to the distance you're looking for. Trails run through the woods and near the river, making for a scenic trip!
Olmsted County Trails
Chester Woods Park: Located a few minutes East of Rochester on Highway 14, Chester Woods Park has 12 miles of groomed trails, of moderate difficulty. No rentals available, so bring your own gear! No entrance fee.
Oxbow Park: Located outside of Byron, MN, Oxbow Park offers a short 2-mile easy course for cross-country skiing and snowshoeing on groomed trails. *Rentals for both snowshoes and cross-country skis are available at the Nature Center daily, from 10am-3pm.*
Root River Park: For more adventure, Root River Park has a great trail system that is not groomed, and not rated for difficulty. No rentals available.
Open to going a bit further from Rochester? Check out our Guide to Nearby State Parks, many of which have groomed and ungroomed trails.