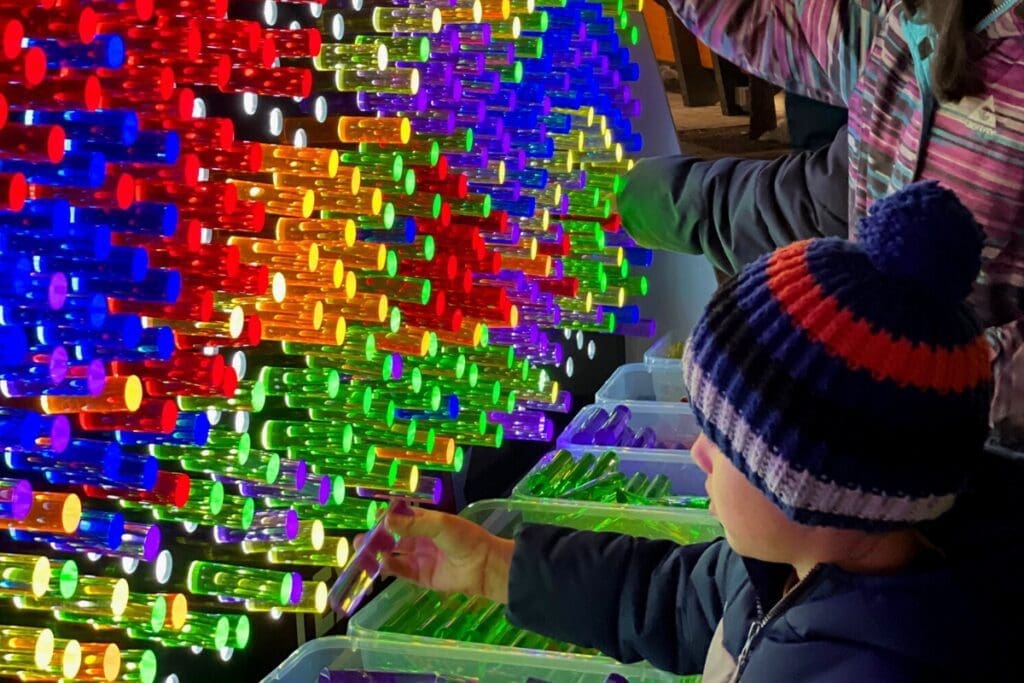 Since 2008, Social-ICE has been a quintessential winter tradition held in downtown Rochester MN.  For the first time since February 2020, Social-ICE is back to honoring a portion of the original format featuring ice bars from downtown restaurants and bars.
Themed bars and their creative cocktails remain a staple attraction of Social-ICE, along with nightly DJs and music, experiential activities, and more illuminating fun. This year check out all the new fun at Social-ICE!
Dates: February 24th and 25th
Times: 4 pm – 10 pm both days.
FAM JAM: Saturday, February 25th 1-4 PM
Location: Social-ICE is located in downtown Rochester MN in the Peace Plaza.
Event Map: There will be so many fun things to see and do at Social-ICE!  Below is the map of activities and where you can find all the fun.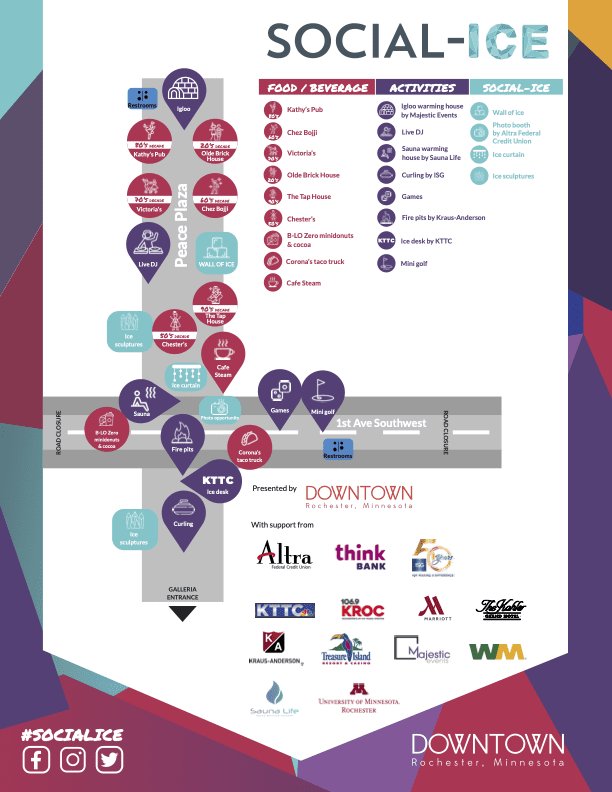 6 Themed Bars
6 downtown bars will serve drinks based on past popular cocktails through the decades. Check out the menus for each bars offerings before you head downtown! While enjoying your drinks find your way to the fire pits located along 1st Avenue SW to warm you up.
Olde Brick House – 1920s | Themed Drinks: French 75 (Beefeater gin, lemon juice, simple syrup, and prosecco), Sazerac (Rye whiskey, Angostura bitters, Peychaud's bitters, sugar, absinthe rinse, and lemon peel)
Chester's Kitchen  + Bar – 1950s | Themed Drinks: Sloe Gin Fizz (Sloe gin, lemon juice, simple syrup, and topped with soda water), Peanut butter whiskey hot chocolate (House-crafted peanut butter whiskey and hot chocolate), and more!
Chex Bojji  – 1960s  | Themed Drink: Pink Cadillac (Tequila, Grand Marnier, sweet and sour, cranberry juice, hibiscus salt rim, and lime wedge garnish)
Victoria's Ristorante + Wine Bar – 1970s | Themed Drinks: God Father (Scotch, Amaretto and orange juice), Dancing Queen (Dry gin, Benedictine, Grand Marnier, pineapple juice, bitters, and fresh lemon juice), and more!
Kathy's Pub – 1980s | Themed Drinks: Boombox (Hot chocolate with choice of peppermint schnapps, Rumchata, Screwball peanut butter whiskey, or Bailey's Irish cream), Walkman (Hot apple cider with choice of Irish whiskey, Smirnoff caramel vodka, Fireball whiskey, or bourbon).  All themed drinks from Kathy's come in a souvenir cup!
Tap House on Historic 3rd  – 1990s | Themed Drink: Pop Rocks (Vodka, Bacardi Limon, blackberry syrup, lime juice, lemonade, sour, and topped with Pop Rocks)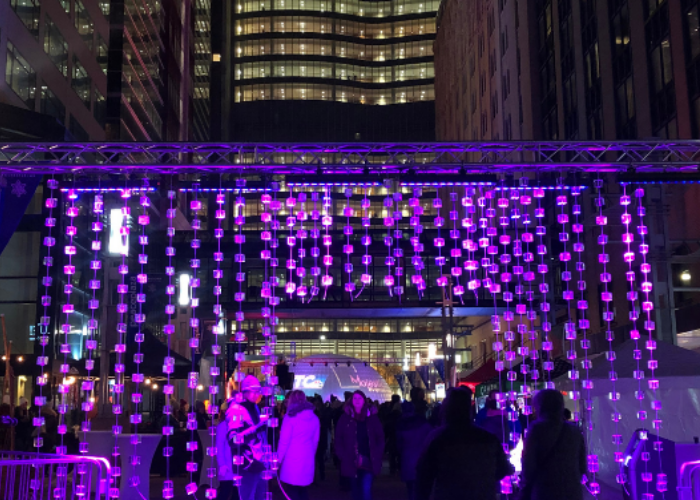 Activities
There is a lot to see and do at Social-ICE!  Fun for all ages can be found throughout the event.  Don't forget about FAM JAM on Saturday, Feburary 25th from 1 – 4 pm for the littlest of Social_ICE attendees!
Here's a sampling what to see and do at Social-ICE:
check out the themed decade life-sized ice sculptures next to the themed ice bars!
listen (or our preference – DANCE) to the music from DJs!
enjoy light-up activities like hula-hoops, Lite-Brite, jump ropes, and Skip-Its
warm up at fire bits along 1st Avenue
warm-up in the igloo warming house
sauna from Sauna Life
sled dogs. meet and greet
photo opps
an ice news desk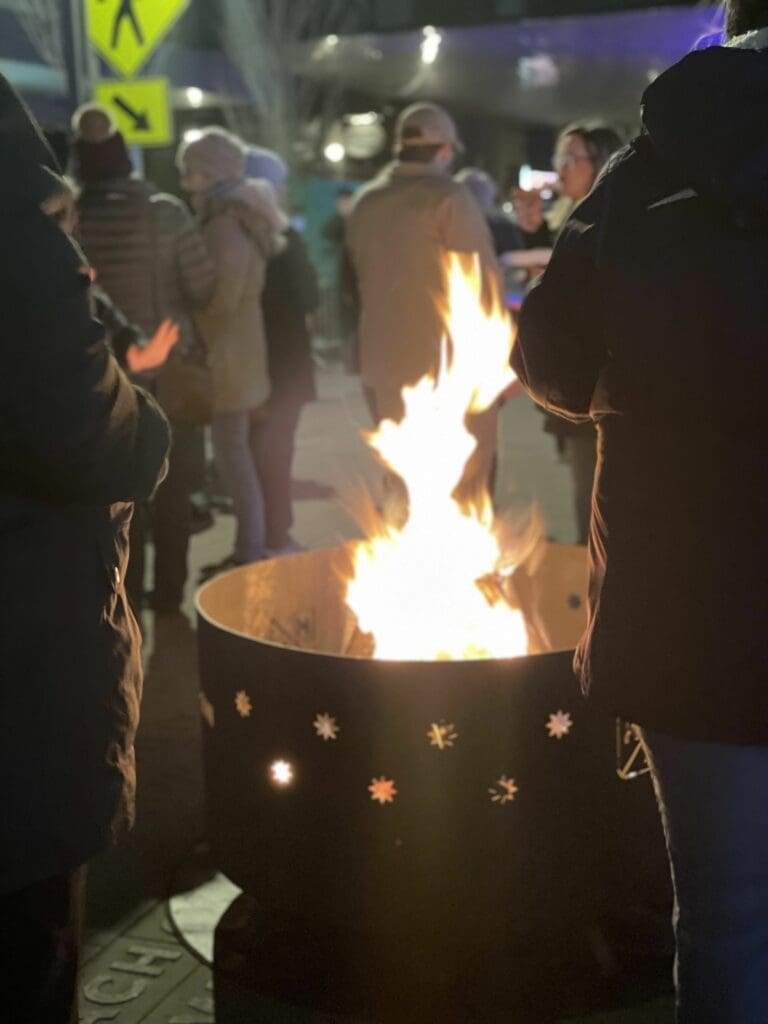 Music
Four DJs will be spinning music throughout the entirety of Social-ICE.  Enjoy the pumped-up music while enjoying the turned-up lights!
DJ Diesel | Friday, February 24th, 4 pm – 6:45 pm
DJ Supafly | Friday, February 24th, 7:15 pm – 10 pm
DJ izzie p | Saturday, February 25th, 4 pm – 6:45 pm
DJ Johnny D | Saturday, February 25th, 7:15 pm – 10 pm
DJ D.I.M.E. will also be spinning tunes from 2 – 3 pm on Saturday, February 25th for Social-ICE FAM JAM!
FAM JAM
On Saturday, February 25th, bring the kids down to Social-ICE between 1 – 4 PM for the Social-ICE FAM JAM! Enjoy fun family activities and things to do including
S'mores bar and fire pits
DJ Dance Party with DJ D.I.M.E. (2-3 pm)
Plinko
Ski lift photo booth
Meet n' Greet with Sled Dogs
Photo Opps
Warm-up Zones
Illuminated Games
Giant Lite Brite
Don't miss the Wall of Lights, the main entrance and photo booth, and the Social-ICE letters photo op!  Check out the map below to see where everything will be located for the Social-ICE FAM JAM.

Photo Contest 
There's so much fun at Social-ICE, we know you want to capture it all. Luckily, there is a fun photo contest to submit your best pics!  Three photo categories are:
You and/or your group in the photo booth or with the Social-ICE letters
The themed bars' ice sculptures (tag the bars, too!)
An onsite activity
The top winner in each of the three categories will win a $30 gift card to a downtown Rochester business. Second place received a $20 downtown business gift card for their winning photo.
Rules:
Parking
There is plenty of parking available in downtown #rochmn!  Many of the parking options are connected by skyway and lead you straight to the Peace Plaza where Social-ICE is held (simply follow the signs for Peace Plaza or Shops at University Square).  Refer to this map and the red boxes to know exactly where to park…and BONUS!  Parking is FREE under one hour during the day, any weekday night after 5 PM, and FREE on weekends. On-street parking is also free on the after 5 pm and on weekends