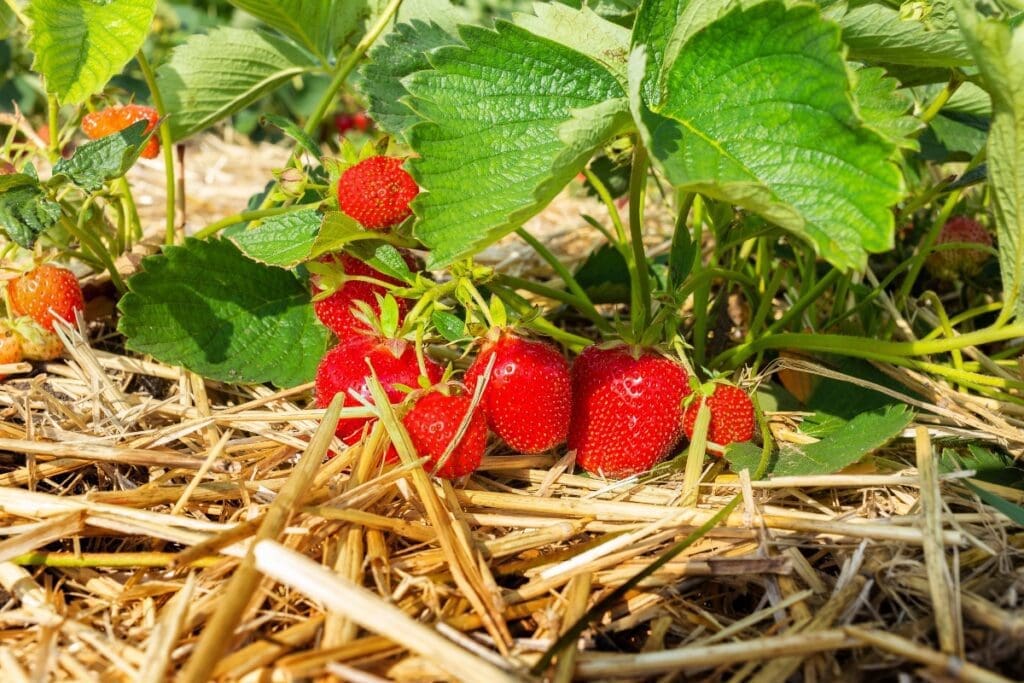 Rochester MN Guide to Strawberry Picking
Don't put it off, as berry picking is a short season!  You don't want to miss out on freshly picked strawberries straight from the field. 🍓
Details are as current as possible, but check websites or Facebook pages and call before packing the kids into the car, in case farms have changed their hours.
This post was last updated on June 9, 2023
ANNOUNCEMENT: Bear Creek Farm will NOT have u-pick or be selling strawberries off the farm. They may sell at Eyota Farmer's Market if they have extra from their smaller private patch. However, they will soon have asparagus and will continue selling it off the farm. Check back to their Facebook page for other available produce and eggs.
---
Address: 6225 10th Street SE, Rochester MN 55904
Phone number: (507) 269-4748
Estimated Opening Date: The farm is open for picked berries.  The U-pick opening date is dependent o the weather. Check their Facebook page for updated information.
Hours/Days: Hours vary based on the availability of the strawberries.  CHECK before you go.  (Monday-Sunday 9:00 am-6:00 pm)
Price: check their Facebook page
U-Pick or Pre-picked: both
Other information: Joe says, "Our fields will have weeds because we do not spray them so that the children can snack while they are out there and not get sick."
Their Facebook page also has strawberry recipes!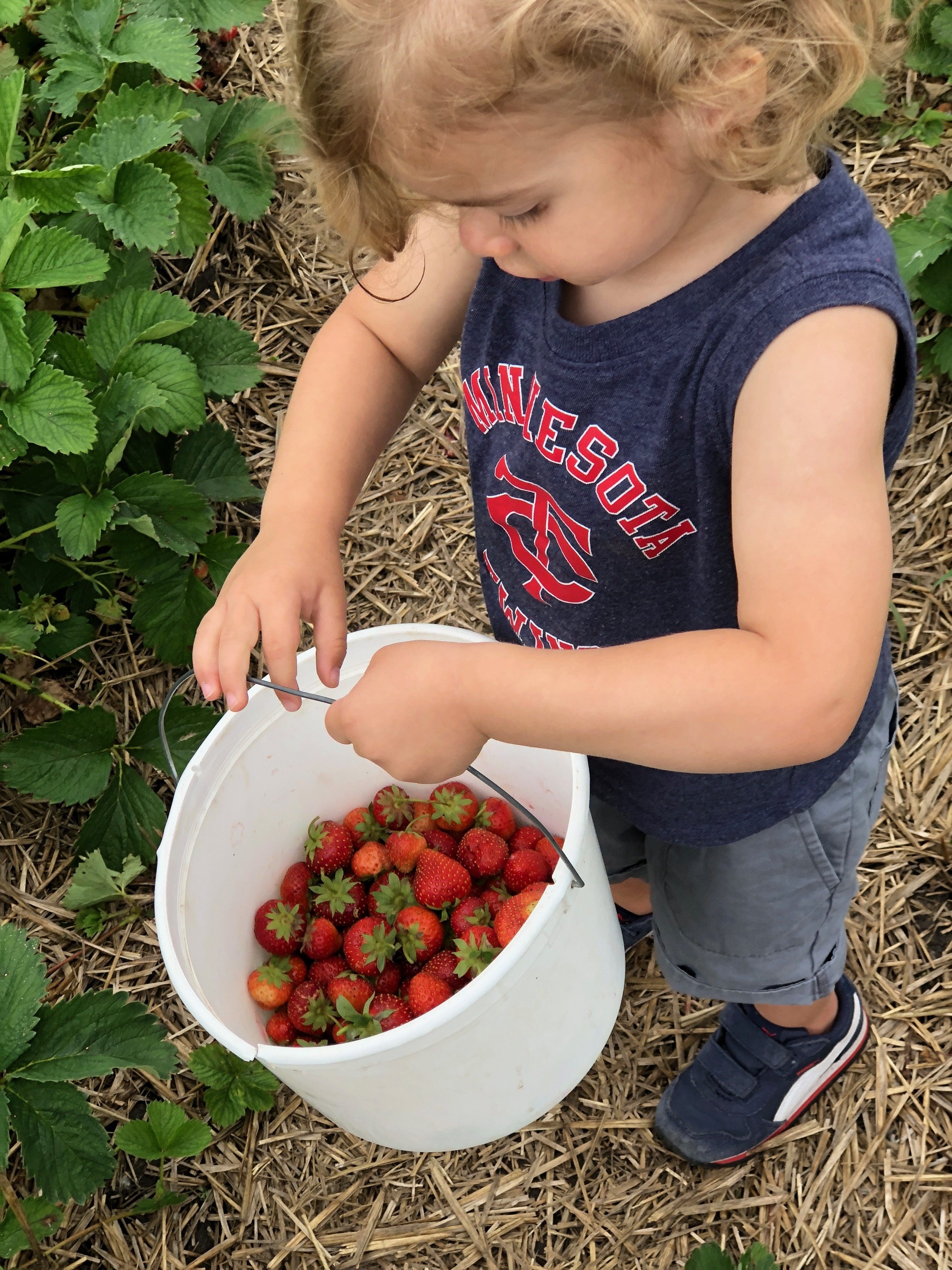 ---
Starting in 2023 Firefly Berries will NO LONGER BE OFFERING YOU PICK STRAWBERRIES.
They will continue to offer strawberries through their online ordering/curbside pickup system, as well as at the Rochester Farmers Market on Saturday mornings and the Eyota Farmers Market Tuesdays from 4-7 pm.
Once their harvest begins, Firefly Berries plans to pick and have fruit available for online orders or at a local farmers market five days a week. Check here for the detailed schedule of where/when they hope to have berries available. This schedule is dependent on fruit availability.
This may change depending on the crop, so please confirm via the Facebook or website for the latest information. 
Address: 542 23rd St NE, Rochester MN 55906
Phone Number:  (507) 252-1309
Online Ordering Date Opens: Estimated June 11th
Hours/Days: Pre-picked Only
---
Estimated Opening Date: Early variety ready for u-pick and pre-picked Tuesday, June 13, 2023 and the season will last for about 3 weeks. The jewel variety looks to be ready the 3rd week of June for u-pick and pre-picked!
Address: 60687 205 Avenue, Dodge Center MN 55907
Phone Number: (507) 884-7247
Hours/Days: Sunday: 7am to 2pm // Monday – Friday: 7 am – 12 noon // Monday and Thursday Evening: 5pm to 7pm // SATURDAY CLOSED
(PLEASE CHECK ON HOURS BEFORE HEADING OUT)
U-Pick or Pre-picked: both
Price:
U-Pick: $3.25/lb (10% discount for over 30 pounds).
Pre-Picked: $7 per quart and $39 for a 6 quart flat
---
Nothing kicks off summer like a day of strawberry picking! Succulent berries plucked from the plant and popped right in your mouth.  Your kids have red-stained fingers and faces from all that picking/eating in the fields. Everyone's happy after a day at the strawberry farm. So now what to do with your bounty? Of course, you can continue nibbling on fresh berries until they're gone, but if you want to feel like Martha Stewart without the effort, I've got a plan for you. Strawberry jam without canning.
I once dreamed of a larder full of canned produce; I let those aspirations fall by the wayside when I realized all that canning "stuff" was going to take up valuable real estate in my kitchen! Plus, I was convinced that I'd never seal those jars properly, and my family would end up hospitalized with botulism.
So I'm happy to simply make a small batch of "No-Canning Required" Strawberry Jam after a day of picking berries.
No Canning Required Strawberry Jam
Ingredients for 1 pint of jam (recipe crafted from multiple online sites)
1 pound of hulled strawberries
½ cup sugar (I'm not a fan of super sweet jam – so if you are, add more, up to 1 cup, if you like)
1 lemon, juiced
Directions
*Cut up your hulled strawberries (big pieces for chunky jam, a smaller slice for not-so-chunky)
*Put your strawberries in a wide-bottomed pot with sugar and lemon juice.
*Cook on low heat, stirring until the sugar dissolves.
*Cook on high heat until boiling. Time varies depending on the number of strawberries used. Stir occasionally to prevent burning on the bottom.
*If it seems too chunky, grab your potato masher and crush the fruit a little, if you are so inclined.
*Let it cool a little before transferring it to jars. OR warm your jars up (running them through the dishwasher does the trick). You don't want to transfer the hot jam to cold jars and risk breakage!
*Put the lids on the jars and store them in the fridge for up to 4 weeks!
And now you're a jam-maker!