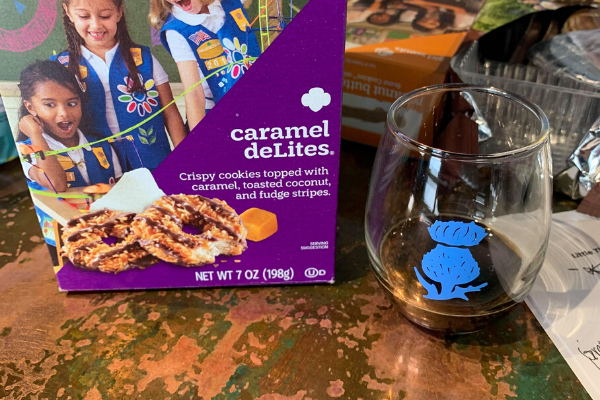 When the idea came up of pairing Girl Scout cookies with local brews and wines, I jumped on it! I immediately contacted my local Girl Scout cookie dealer mom for 8 boxes (1 of each kind) of sweet, delicious, Girl Scout cookies. I enlisted the help of a friend and we set out on our mission.
We worked directly with the experts at each brewery/winery to guide us in our tasting. For the tasting itself, we found the best method was to do the following:
Drink- Bite of cookie- Drink
The reasoning for this is your palate gets a taste of the beer/wine first. When you bite the cookie, the cookie will taste a bit different. But when you take the second sip, the combination between the two is fantastic. Both the cookie and the drink complement each other and bring out new flavors and tastes.
Here are our reviews and notes from our Thursday adventure to eat cookies and drink local beer and wine.
Salem Glen Vineyard & Winery
Salem Glen is a gorgeous winery set in the fields of SW Rochester. Best of all, their wines are sourced and made LOCALLY! We met with Carrie at Salem Glen and had the opportunity to pair each cookie (except for thin mints, I will get to that later), with one of their delicious wines.
Samoas/Caramel DeLites: pair with Brianna. Brianna is a white semi-sweet wine that has a fruity aroma of pineapple and peach. You will get a crisp pineapple finish with this wine and cookie pairing.
Lemonades: pair with LaCrosse. LaCrosse is a dry white wine with citrus and floral notes. We both agreed that it was refreshing to have these two together. It reminded me of a cool drink on a nice, warm summer day. If you can, save some Lemonades in the freezer for summertime to get the full effect!
Tagalongs/Peanut Butter Patties: pair with Dark Skies. Dark Skies is a chokeberry dessert wine, aka very sweet and tasty. When paired with the Tagalongs, the wine is more distinct, allowing you to really taste the sweetness of the berries.
Do-Si-Dos/Peanut Butter Sandwich: pair with Third Bridge Cider. Yes! Salem Glen does ciders! Third Bridge is a semi-sweet cider made from local apples. This pairing reminded me of the sweet crumble that you would find on an apple crisp or apple pie.
Trefoils/Shortbreads: pair with Seyval Blanc. Seyval Blanc is a semi-sweet white wine that has citrus and melon flavors. Be prepared for some citrus on this one! We both felt like we had a lemon burst in our mouths after the second sip.
Thanks-A-Lots: pair with Coyote Hill. Coyote Hill is a semi-sweet red wine with flavors of blackberry, mulberry, and black currant. With the chocolate in the Thanks-A-Lots and the richness of the wine, the cookie brought out "chocolatey heaven" (as my friend, Kelly, described it).
Smores: pair with Sabrevois. Sabrevois is a dry red wine with flavors of clove, dark cherry, and fig. Pairing these two brings the feeling of sitting around a warm campfire to mind. There is a dark chocolate cherry note that comes through when drinking the second sip.
Thin Mints: Kelly and I did not know this, but mint does not pair well with wine! Even when people come in for tastings and are chewing gum, it will distort the flavors of the wine in a not-so-pleasant way.
In addition to buying directly at the winery, Salem Glen wines are available at the following liquor stores in Rochester: Andy's Liquor Crossroads, Apollo Liquor, Hy-Vee Wine and Spirits, Silver Lake Liquor, and People's Food Co-op.
Forager Brewery
Forager Brewery is located right off of Civic Center Drive in Rochester. They partner with local farmers, producers, and businesses to create their food menu and brews. Check out the chalkboard in Forager which states the local businesses that they support! Forager has a full menu that routinely changes, so be sure to check their website. Their woodfire pizzas are divine! We met with head brewer, Austin Jevne, to pair three cookies with three of their amazing brews.
Samoas/Caramel DeLites:  pair with Pudding Goggles. Pudding Goggles is an imperial pastry porter that is brewed with "an absurd amount of chocolate malt." Forager conditions the final product on mountains of "house-toasted coconut, roasted cocoa nibs, fresh scraped vanilla beans, and a little bit of cinnamon." Austin told us that he brews this especially for cookie season! The pairing between the two was amazing. When you eat the cookie, the coconut flavor pops and the cinnamon on the second sip gives a refreshing finish. Pudding Goggles is only released three times a year, so be on the lookout for it!
Tagalongs/Peanut Butter Patties: pair with Conflagration Commando. Conflagration Commando is a rich porter layered with chocolate and caramel malts, then conditioned with macadamia nuts, toasted coconut, vanilla beans, and cocoa nibs, with fresh-ground Mostra coffee. This tasted to me like a nummy vanilla latte with a kick of peanut butter. Conflagration Commando is set to be released the first week of March.
Lemonades: pair with Gummies Makes Us Likeable: Paradise. Gummies Makes Us Likeable is a fruited sour beer that is brewed with a variety of grains and soured with lactobacillus. With notes of papaya, pineapple, passionfruit, banana, and basil, your mouth is in for a big treat with the cookie. This pairing literally tasted like a sweet tart, and we couldn't get enough! This brew is currently on tap.
Forager sells crowlers (25.4 oz cans) of their brews. Stop in to pick up a few to enjoy your new favorite pairings at home!
Little Thistle Brewing Co.
Little Thistle Brewing Co. is located off of 14th Street NW near the Valley High Drive Post Office and, quite literally, right off the Douglas Trail. Little Thistle was brought to life by a husband and wife duo, Steve and Dawn Finne. They have a variety of food trucks that stop by, and you can even bring your own food and snacks (Girl Scout cookies) from home! We met with Nate, who walked us through our tasting of the brews from Little Thistle.
Samoas/Caramel DeLites: pair with 150 Carrot Gold. 150 Carrot Gold is Little Thistle's popular chocolate stout that tastes like a piece of carrot cake from the local bakery Daube's. To make this stout, they use local carrots from Pearson's Organics! Drinking this brew with the cookie tasted exactly like a chocolate carrot cake with coconut. YUMMY!
Lemonades: pair with Strategized. Strategized is a Pale Ale with notes of tropical fruit and citrus.
Tagalongs/Peanut Butter Patties, and Smores: pair with Peanut Putter's Fluff. Peanut Putter's Fluff is a rich and creamy stout made with 15 gallons of marshmallow fluff. This pairing would be perfect next to a campfire with the marshmallow and chocolate. The peanut butter really brings out the chocolate flavors in the stout.
Trefoils/Shortbread: pair with Coffee Doug. Coffee Doug is a light beer that uses light coffee beans from local coffee company Trail Creek. The pairing reminded us of eating shortbread with a nice coffee.
Thanks-A-Lot: pair with Brave Woman. Brave Woman is a rich amber Scottish Ale that has notes of chocolate, caramel, and toffee. The pairing brings out the smooth caramel flavor of the ale. In addition to being an amazing beer, Brave Woman comes with an amazing story. The brew is in honor of the owner's great-great-grandmother, who saved a ship's crew as their ship was capsizing! Brave Woman indeed!
Little Thistle sells their beers in crowlers and growlers. They fill them every Thursday and tend to sell out quick, so head straight to the brewery to get yours before they're gone!
LTS Brewing Company
LTS Brewing Company (LTS = Life's Too Short) and is located off of 32nd Ave NW. At LTS, they want you to feel comfortable in their brewery and leave with a smile. In addition to great brews, they also have craft sodas on tap at the brewery. From the stack of games in the corner to the comfortable couches and the warm atmosphere, LTS is a fun place to be for everyone!
Tagalongs/Peanut Butter Patties: pair with Highlander. Highlander is a Scotch Ale that has strong flavors of caramel and malt, with a hint of smoke. The peanut butter in the cookie enchances the richness of the malt and caramel.
Lemonades: pair with What She's Having. What She's Having is a New England IPA that has notes of tropical fruits and a hint of coconut. Put the two together and it's just like having a pina colada!
Thin Mints: pair with DeLarge. DeLarge is an imperial milk stout that is rich, chocolatey, and strong. The pairing really brings out the chocolate in the Thin Mint cookie with a velvety chocolate finish.
LTS sells crawlers of their most popular beers to enjoy on your very own couch at home.
Go grab yourself a box or two (or eight) of Girl Scout cookies and head to the local breweries and winery! Don't know where to find the cookies? Click here to find a booth near you!
ENJOY!!