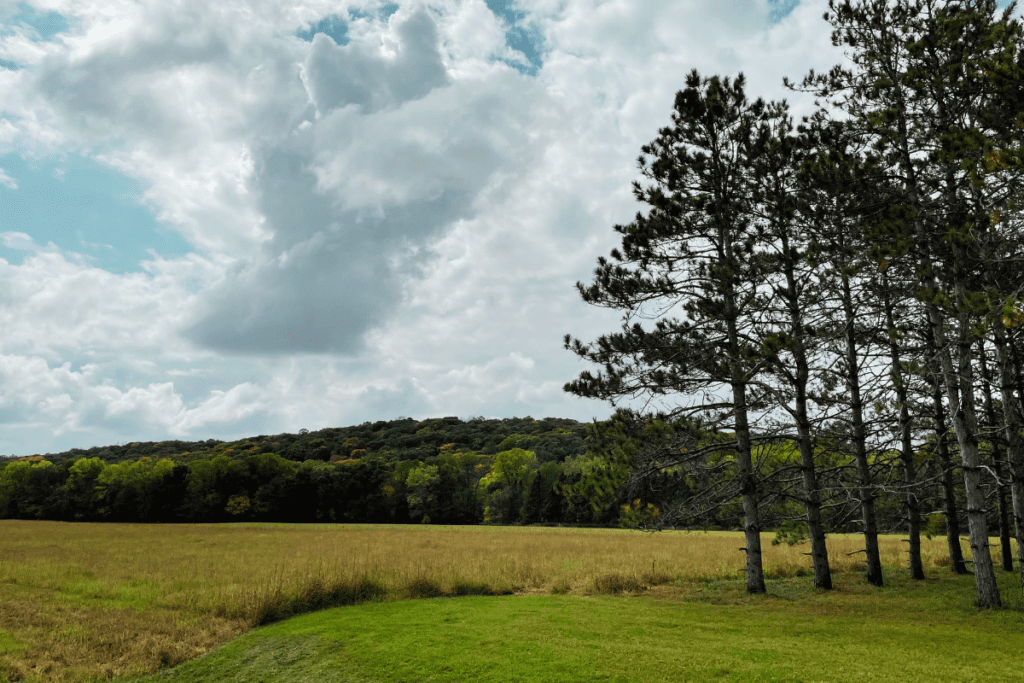 Fall is my favorite time of year for many reasons. The weather is cool, sweaters resurface, and yes I'll say it – pumpkin spice everything! Not only does my family enjoy updating our family photos this time of year, but it's also great for updating the Instagram grid as well. The Rochester area has many different spots for any kind of fall photo ideas you may have. From family time to views of the city, to candids of throwing leaves in the air – we've compiled a perfect list for everyone!
---
Tucked beneath the bridge as you head into downtown Oronoco, you'll find tiny Allis Park.  After the dam was washed out in the floods of 2010 eliminating Lake Shady, Olmsted County permanently removed the historic dam (the 4th to exist in that spot), restored the Zumbro River, and created rock arch rapids. The beautiful maple trees provide a backdrop to the gently meandering river.
Address: 1st SE, Oronoco MN, 55960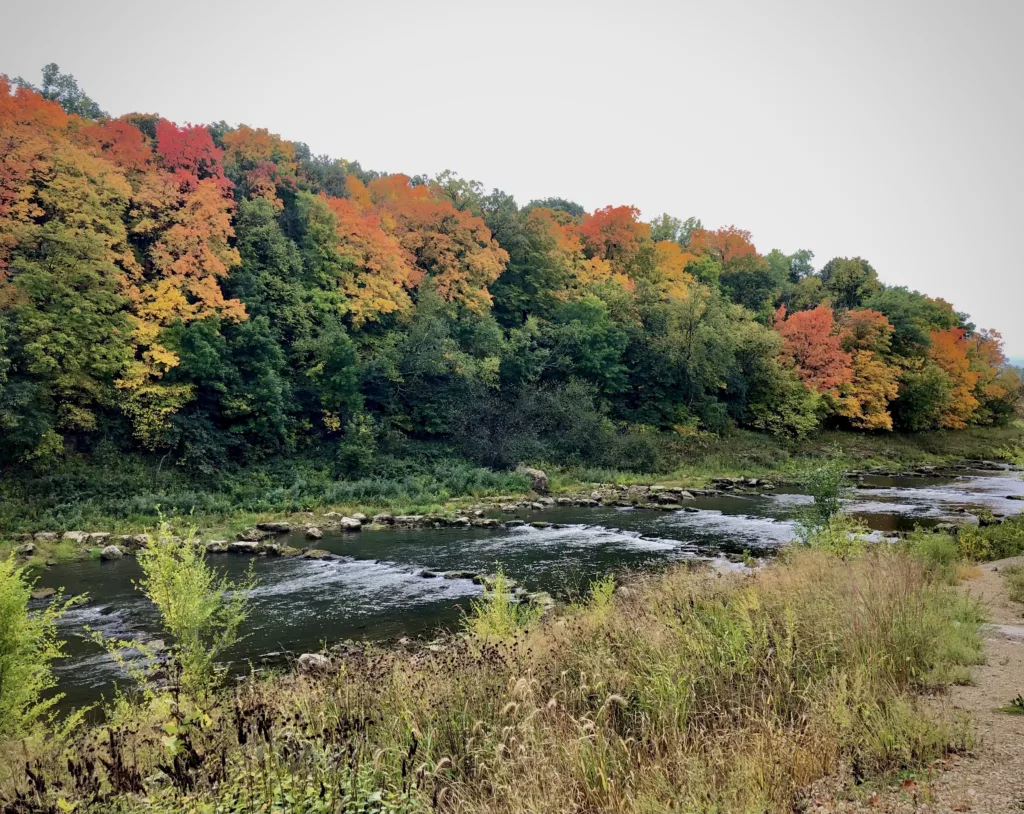 ---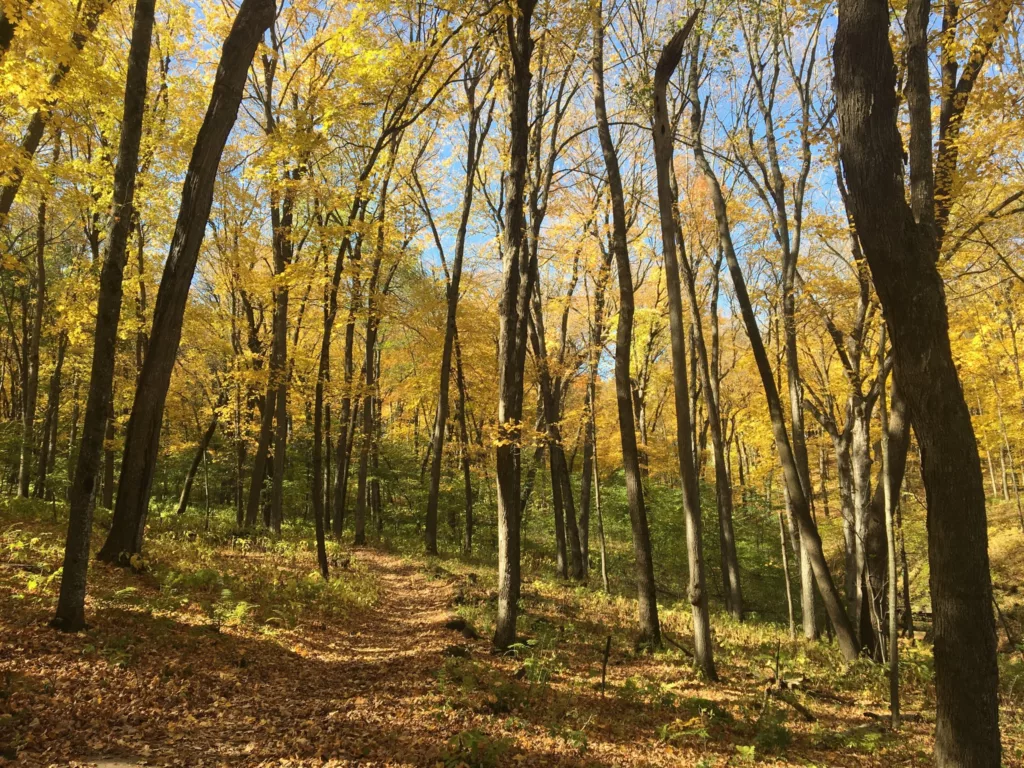 Our family is scheduled to take our photos here at the end of September, and man am I excited! If you live in the Rochester area, Oxbow Park is located right outside of town in Byron, MN. There are many different trails that take you into winding trees around the park! The winding hills and tall pines are sure to give you that perfect photo opportunity you're looking for. We decided to hire a photographer and she knows exactly what time would be best and already has the area scoped out. So helpful! Want to make a day of it? Check out the newly remodeled Zollman Zoo located on the grounds as well.
Address: 5731 County Rd 105 NW, Byron, MN
Phone: (507) 328-7340
---
Mayowood Loop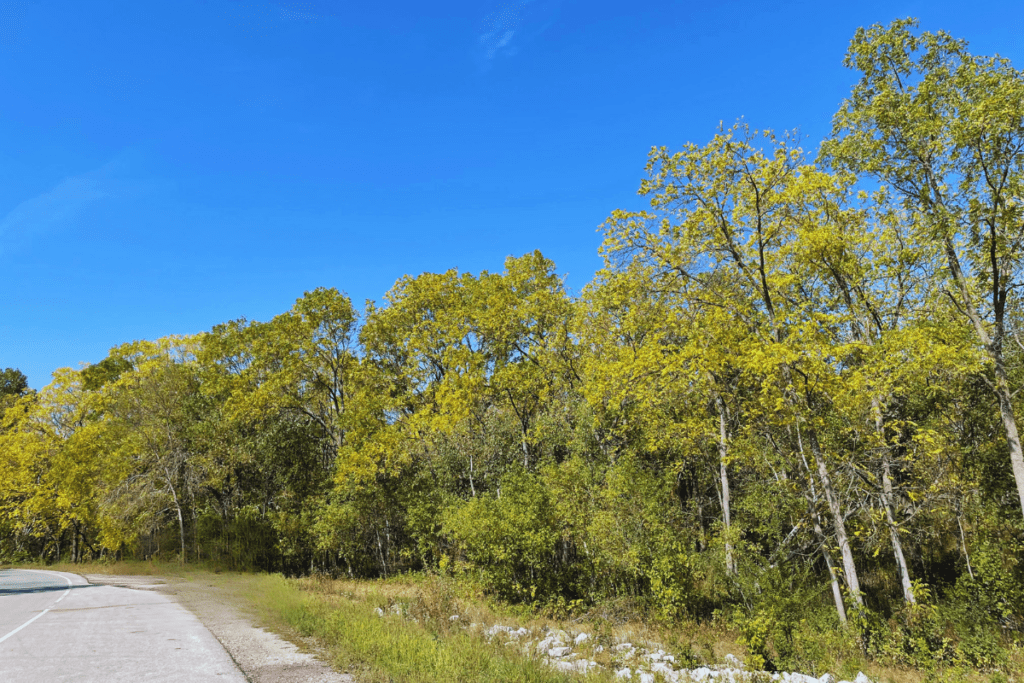 This trail is located in SW Rochester and is a 3.8-mile loop, with a few places to get on and off the trail. This shaded trail is full of beautiful scenery from many different trees and the winding river as you walk by. Not to mention, passing by the Mayowood Mansion is an added bonus! Along this trail, you are sure to find the perfect spot for any fall photo opportunity. This trail is dog-friendly, so a wonderful place to include your furry family member in your photographs!
This trail is easily accessed off of Mayowood Road in SW Rochester. There is a convenient small parking lot as well as parking alongside the road.  The trail winds around the South Fork of the Zumbro River as well.
---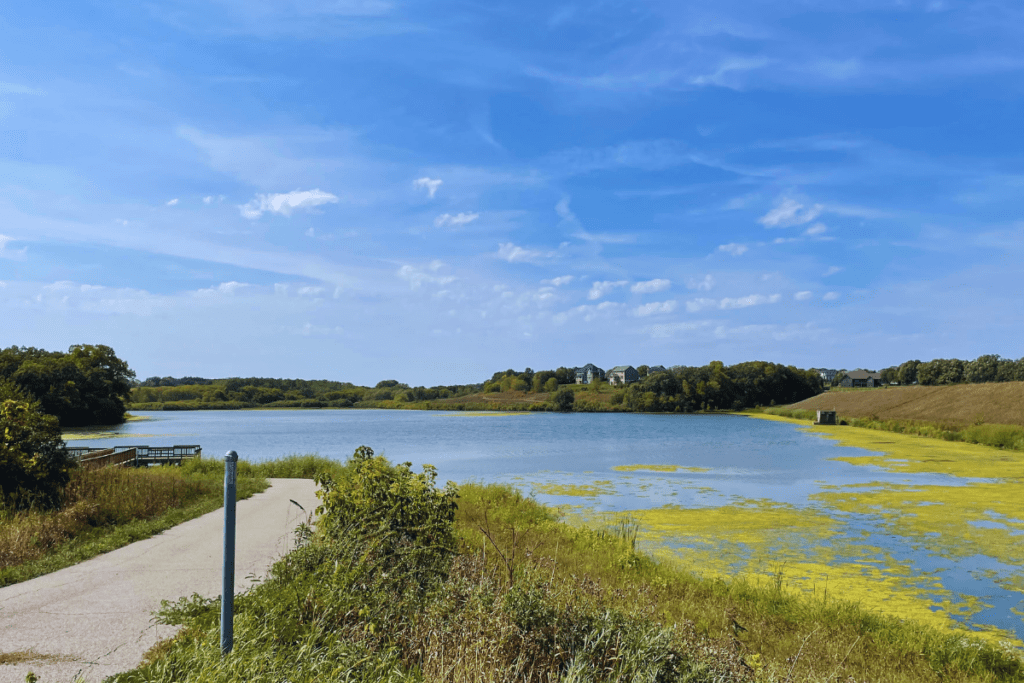 The reservoir is also located in SW Rochester with rolling hills overlooking a beautiful area of water. I could picture golden hour (5 PM) photographs here! The lighting, water, and trees changing color… BEAUTIFUL!
Address: 1343 Lone Pine Drive SW, Rochester, MN 55902
---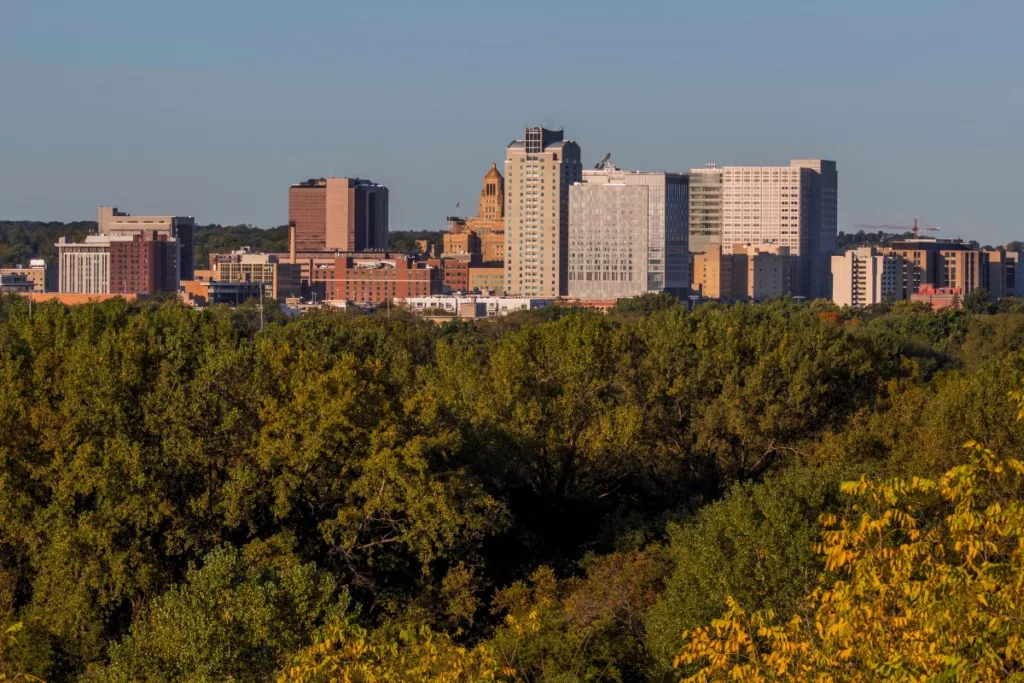 It's no secret that Quarry Hill Nature Center is one of Rochester's greatest treasures. When you step onto their grounds, you feel as though you've traveled far from the hustle and bustle of daily life. It truly is a breath of fresh air. The nature center has many different trails to take depending on what your photo desires are! From a view of Downtown Rochester to walking along Silver Creek, you can't go wrong here. Fun fact: my husband and I took our engagement photos here and are so very happy we did! Below is a list of the different trails you can find at Quarry Hill Nature Center:
Savanna Trails – ranges from hilly to flat depending on what your destination is. On this trail, you will find the view of Downtown Rochester and will see many trees and plants along the way.
Woodland Trails – along this hill you will see mosses, fungi, and more shade. At the south end of East Hill, you will find a view of the remnant of the "goat prairie".
Pond/Prairie Trails – this trail is grassy and flat, but allows you to sit right by the pond to enjoy the peaceful sounds and views of nature!
Stream Trails – this trail is grassy and flat and runs right alongside Silver Creek.
Check out a complete list of Quarry Hill Nature Center's trails here!
Address: 701 Silver Creek Road NE, Rochester, MN 55906
Phone: (507) 328-3950
---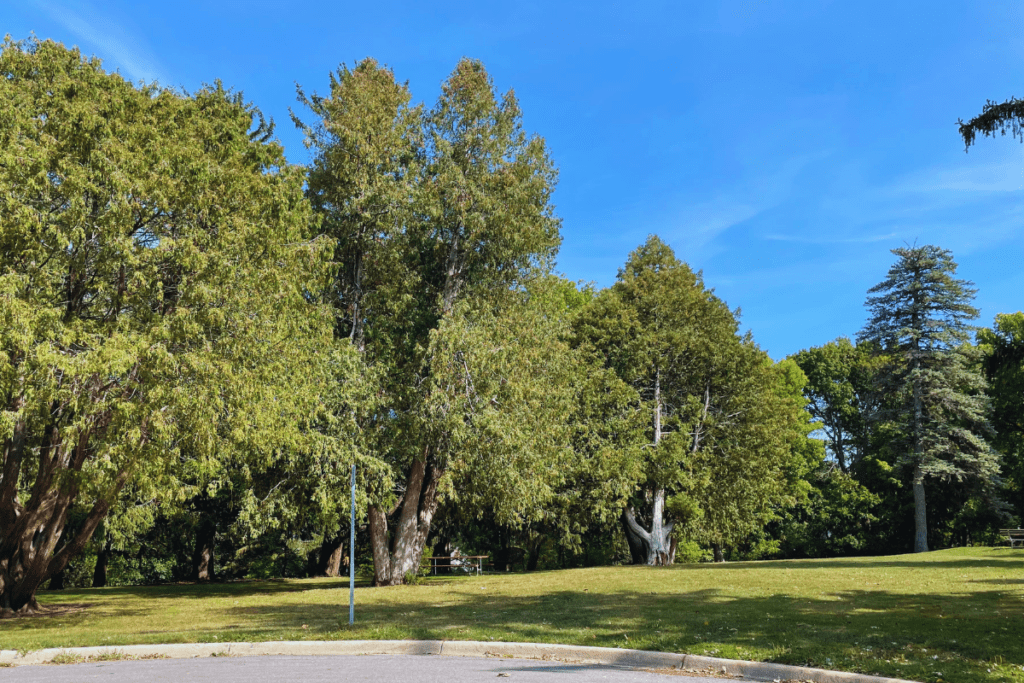 Tucked in the historic Pill Hill neighborhood of SW Rochester, you will find a beautiful park located near Saint Marys Hospital. This area of Rochester has so much history and beautiful architecture, and not to mention tons of fall foliage! At the right time of year, you may get a nice view of the city lights through the trees. You won't want to miss this fall photo opportunity.
Address: 901 4th Street SW, Rochester, MN 55902