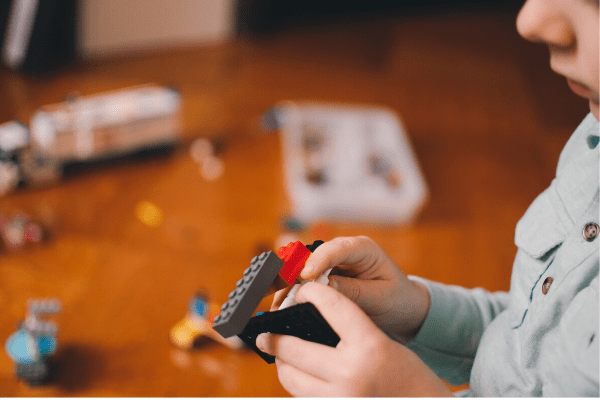 As the weather turns colder, this mama of 3 has to get creative to keep those little ones busy without overusing screen time. I still make sure the kids get outside at least once a day in winter unless it's below zero. Fresh air is so good for the soul!  I gathered up a few of my favorite indoor activities to use on rainy or below zero days.
1. Water Bead Play
Skills gained: fine motor, colors, sensory, creative art, measurement (to name a few)
My boys have loved water beads ever since we were introduced at a birthday party a year ago. I immediately went online and ordered my own. We've had the bag for a year and I still have a lot left! It's worth the $10! Here are a few different ways you can play with them.
Put the water beads in a bin along with containers and scoops. Allow children to free play with them for as long as they choose. This could be 10 minutes, or it could be 45 like it is in my house.
Add some shaving cream to the bin and let the kids explore! This makes for a little mess, so I like to put down a dollar store shower curtain underneath the bin.
When you're done with the shaving cream, your kiddos can do some cleaning with soap and water. You can add it to the bathtub, or just in the bin. This is usually an outdoor activity in my house, so not ideal for cold or rainy days.
When we're nearing the end of life of the water beads, I freeze them. Then we put them back in the bin with a few safe hammers or mallets, and the kids have fun smashing them!
2. Line Jumping
Skills learned: gross motor, spatial awareness, taking turns
Do you have masking tape? Do you have a floor? Then you're all set for this next activity. I take masking tape about 1.5 feet long and make lines of varying distances. The kiddos will then see which line they can jump to. OR, they go from line to line until they reach the end. Sometimes, we come up with silly ways to get to each line (turning in circles, hopping on one foot, skipping…).
3. Water Color Painting
Skills learned: fine motor, hand-eye coordination, colors, creative art
I love a good painting session, but it can really stress me out. SO, I've found a solution: watercolor paints! They easily wash out of clothes and off the table, they create beautiful little creations, and they keep my kiddos busy for up to an hour most times! My type-A self really wants to direct them to not mix colors, but it doesn't matter! You can take the tray over to the sink and clean out the colors when they're done. However, I do a little education on how to use watercolor paints each time we do them, so they know the "right" way to do it. If I'm really wanting to extend learning, I make colored marks and make big shapes on the paper. The kids then have to color in the shapes with the matching color!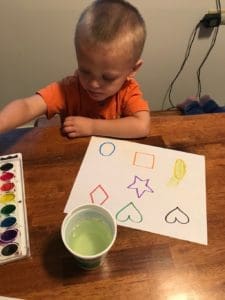 4. Froot Loop fun!
Skills learned: fine motor, colors, sorting, greater than and less than
Froot Loops are a special treat in our house. When we pull them out, we first start with some sorting activities. I give each kiddo a bowl of fruit loops. Then, they have colored construction paper or a piece of paper with different colored circles or shapes on them. They take their time sorting the cereal into the correct colors. If you really want to work on some fine motor skills, take out some jumbo size kid tweezers and have them use those to sort the cereal! Then, we do some counting and talking about which color has the most or what color has the least. The last thing we do is make a little Froot Loop necklace. Make sure you tape the end of the yarn so it's easier to string on! Sometimes, the kids wear them around for a bit, other times, they devour them immediately!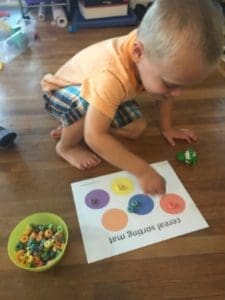 5. Puzzle and Sensory combined!
Skills learned: fine motor, puzzles, sensory, spatial awareness
This is the easiest, but sometimes the messiest, activity. I take a smaller bin (shoebox size) and fill it half full with uncooked rice. Then, I take some board puzzles that match my child's skill level and put the pieces in the rice. I shake it up a bit to mix the pieces around. Then, my child explores to find the pieces and match it to the correct puzzle. With my two-year-old, I started with easier puzzles and just one at a time. Then, I've added a few puzzles at a time. However, my five-year-old needs trickier puzzles to keep him busy!
I hope you enjoy these fun and educational activities with your kids! What are some things you do to keep your kids busy when going outside isn't an option?