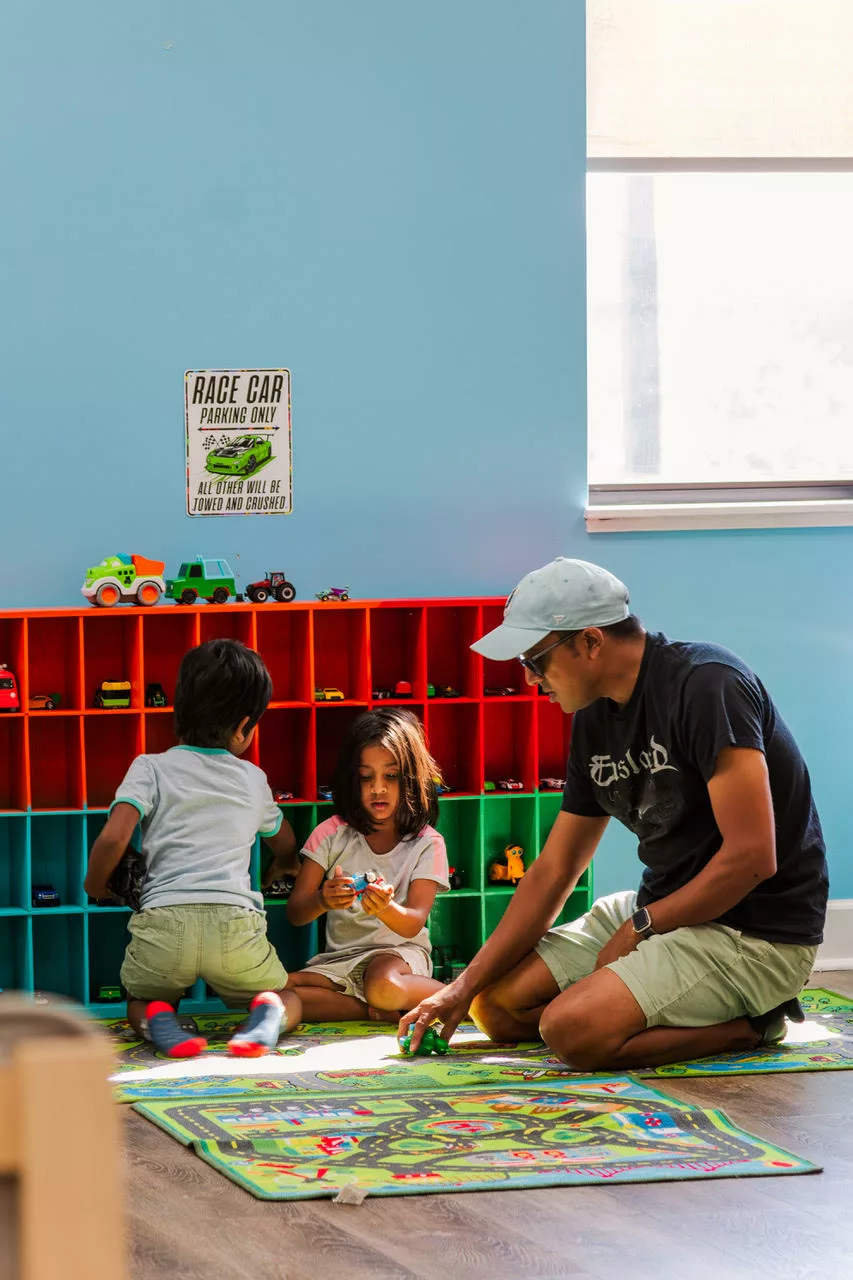 What Is A Toybrary?
Nana Gogo Toybrary is a place for families with young children (0-6 years) to play, learn, and interact with others. This family-owned business works just like a regular library, except you get to borrow TOYS!
"A Toybrary – Such a brilliant idea, especially for parents like us who don't like to clutter our home with expensive toys that are perpetual tripping hazards. Our membership allowed us to pop in and exchange 2 toys at a time– just enough to hold our 2-year-old's attention for about one week. Just as he starts to get bored, we swap out for 2 new toys. Perfection! We especially love the drop-in play time, which kept us sane during the long Minnesota winters. Pavs, the owner, always greets us with a big smile and remembers us by name." — Kate F., Member
Children Learn Through Play!
With 600+ toys in the catalog, the Toybrary meets all the developmental needs of children 6 and under from fine & large motor skills, building & creativity, problem-solving abilities, social skills, and most importantly soaring imaginations.
A child's attention span is 2-3 minutes per year of age. So a two-year-old should have an attention span of about 5 minutes and a 5-year-old has an attention span that lasts for about 15 minutes (Parents.com).
Studies show that TV reduces attention span, however, playing with a few toys at a time in a decluttered environment enhances attention span! Keep your child stimulated and engaged with an endless supply of toys that help them develop the necessary skills. Examples of toys that can be borrowed are; large forts, pickler triangles, ride-ons, puzzles, pretend play toys, and dress-up costumes! In fact, this Halloween, why not enjoy a monthly membership and borrow your child's costume?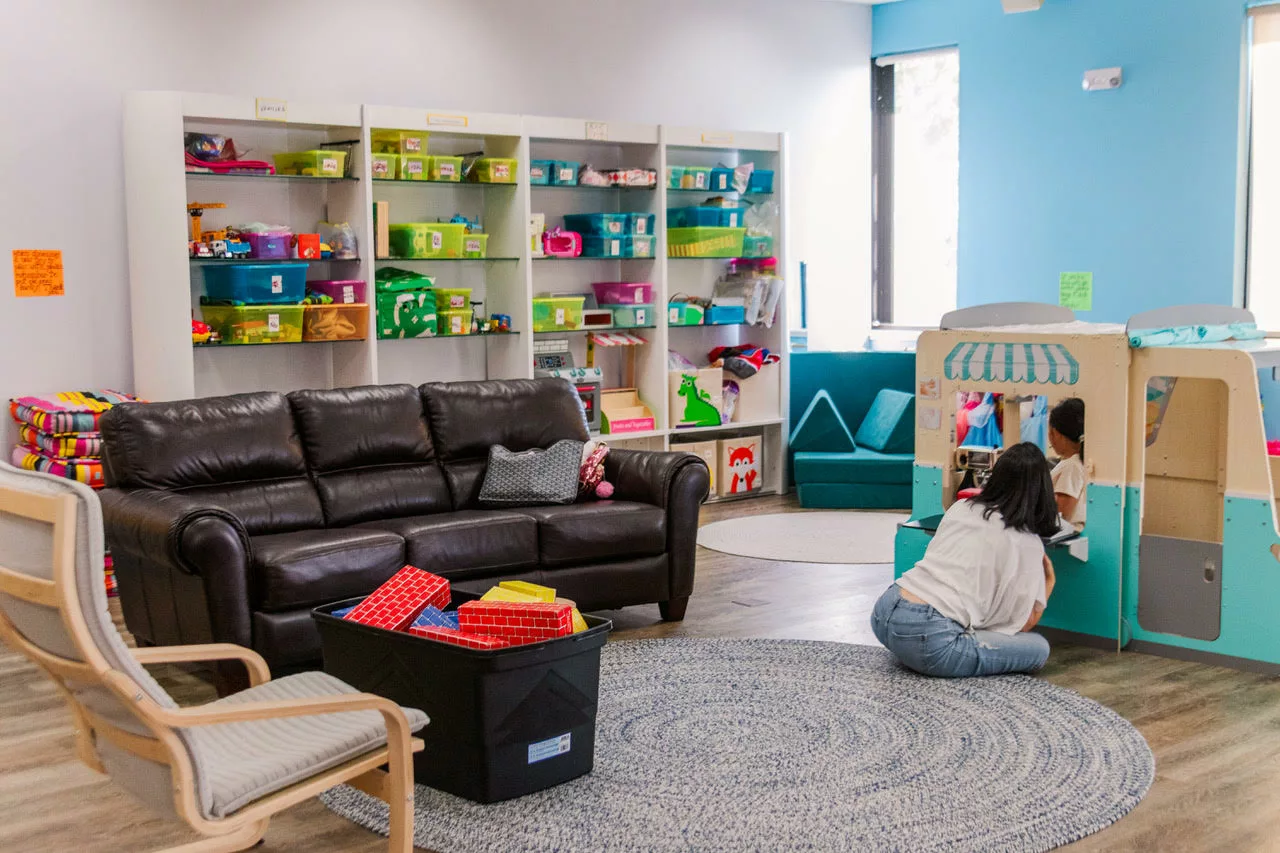 According to The World Counts, 90% of all toys are made of plastic and 80% of them end up in landfills. Utilizing a toy library is an eco-friendly and fun way to enhance your child's development and as a bonus, it saves you money.
"Absolutely perfect spot for young kids! Definitely one of our favorites in town. There is plenty to do to keep my 2-year-old busy, without being so overwhelming that I can't also juggle the baby! It is always clean, so many options to play with, free coffee for the adults, and everyone is always so friendly! We go almost weekly and they regularly have new toys to play with, as well as the usual favorites. Truly a must for littles!" —J.K. Sanchez, Member birthday party rental
Birthday Parties
Birthday celebrations are a special treat at the Toybrary! Cozy like home, but without all the icky sticky fingers!
A birthday party rental could be renting one of their adorable & brightly designed rooms for cake & presents while your party plays in the play space with the general public OR a private rental of the entire Toybrary space (available on Sundays).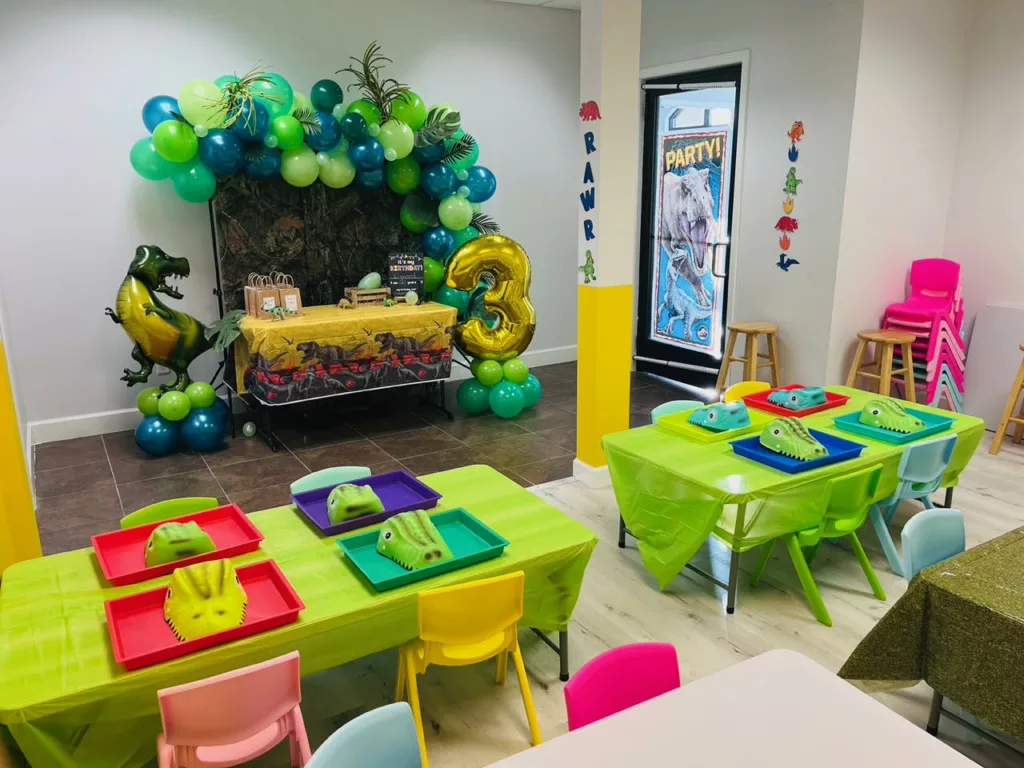 Nana Gogo also offers themed parties where they take care of the entire decor (backdrop & balloon arch), party favor bags & reusable tableware! What's more, there's a personal touch to everything with the owner and a small team taking care of your every need!
Planning to visit?
Walk in at 10 am on any Wednesday morning and you'll hear the gentle waft of music as littles excitedly waiting for Musical Storytime to begin! Some other regular events are Free Crafts and Sing-Along with Bob alternate Thursdays, and Yoga & Stories on alternate Fridays.
You can also experience the Toybrary at one of their seasonal special events! From pumpkin decorating, Halloween Photo Minis, and Little's Halloween Party to Photos with Santa and their now annual Noon Year's Eve party for some delightful bonding with your littles!
"WOW- I am beyond impressed!! We attended the Halloween party this year and while I came with high expectations, they were absolutely blown out of the water! Event was very organized with crafts, sensory bins, music and dancing, face painting, photo drops, yummy treats, and of course lots of toys! The area was clean, organized, and spacious, and the owner/employees were so sweet and fun! We will be back!!!!!" — Emily K., Visitor
Toybrary Adventure Quest Experience
First of its kind Escape Room-esque experience for children 3-8 years old and their families. Current theme is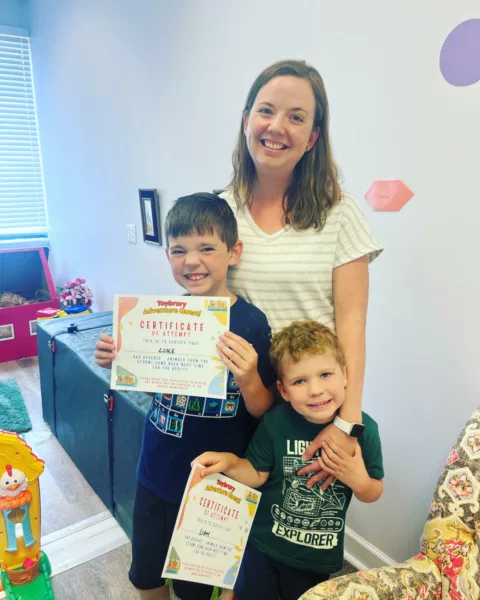 Farm – There's a storm coming & farmer Ted's animals have escaped their houses! Solve 15+ puzzles & riddles in 45 minutes to save all the animals in time! Kids leverage all they know about letters, counting, shapes, animals & logic, work together to solve the mystery to complete the mission!
"Challenging & fun for the whole family including my 3 and 6-year-olds! It was so exciting – they gave us walkie-talkies, flashlights, and clues – such an adventure! The kids were completely immersed in the story and were so invested in finding the animals! We highly recommend it!"— Nicole R., Visitor
---
 Want to check out the Toybrary?
Get 10% off your Daily Day Pass or Adventure Quest Ticket if you mention this article!