The Night Crawler Fun Run | Little Thistle Brewing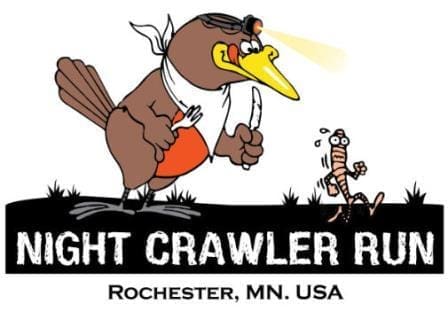 This is a fun run/walk/bike ride/roller-blade event in Rochester, Minnesota.
The event occurs at night.
The courses start and finish at The Little Thistle Brewery.
Runners and walkers follow a paved bike trail around Cascade Lake offering a fantastic night view of the Rochester's city skyline (the 5k is one lap and the 10k is two laps).
Biker and Roller-bladders will head north on the bike trail toward Douglas. They can ride or skate as far or as little as you want. Thoe that make it to the Douglas Saloon will receive a ticket for a free Apple Pie shot.
All participants are required to wear headlamps, and cyclists please use headlights and taillights.
Glow-in-the-dark, LED lights and light-up costumes are welcomed and encouraged.
ANYONE and EVERYONE is welcome…. bring your kids, bring your dogs, bring your headphones…. all are welcome!
At the finish line there will bonfires, s'mores, live music, micro brews and more!
The first 100 to register will receive a Little Thistle Identity Crisis Pint.
This event is a fundraiser for the Rochester BANDITS Hockey Development Programs, an organization with set goals of providing all of ALL kids of ALL skill levels and ages a safe environment to learn how to play hockey and develop into better players during the off season. You can check them out here: 
rochesterbandits.com
The Night Crawler will take place regardless of ANY weather. Rain, snow, hail nor a hurricane will stop the Night Crawler! *** there are no refunds because of weather cancellation
There will be on-site registration but it is more expensive.
Bring a hoodie or something warm to wear after the run.
You can start anytime between 2:00am – 9:00 pm. The official, mass start time is 8:00pm.
This is a NON-timed event.