SeptOber Fest | Wabasha – Kellogg
Event Navigation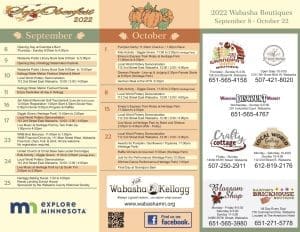 An explosion of color you will remember for a lifetime.
Wabasha-Kellogg's SeptOberfest Celebration has so many things going on, that it literally takes weeks to get them all in! This year's festival will be held from September 8th thru October 22nd. Join us for our Annual SeptOberfest Celebration. Relax and meander through our small midwestern Rivertown that showcases the season of fall like no other. Enjoy artistic displays of thousands of pumpkins, cornstalks, flowers, bales, and gourds among the natural beauty of the Winding River, Vibrant Trees, and Majestic Bluffs. An explosion of color that you will remember for a lifetime.
Stay tuned for updated schedules & events.