Nillerzzzzz Bottle Release & Party | Forager Brewery
May 20 @ 10:00 am

-

5:00 pm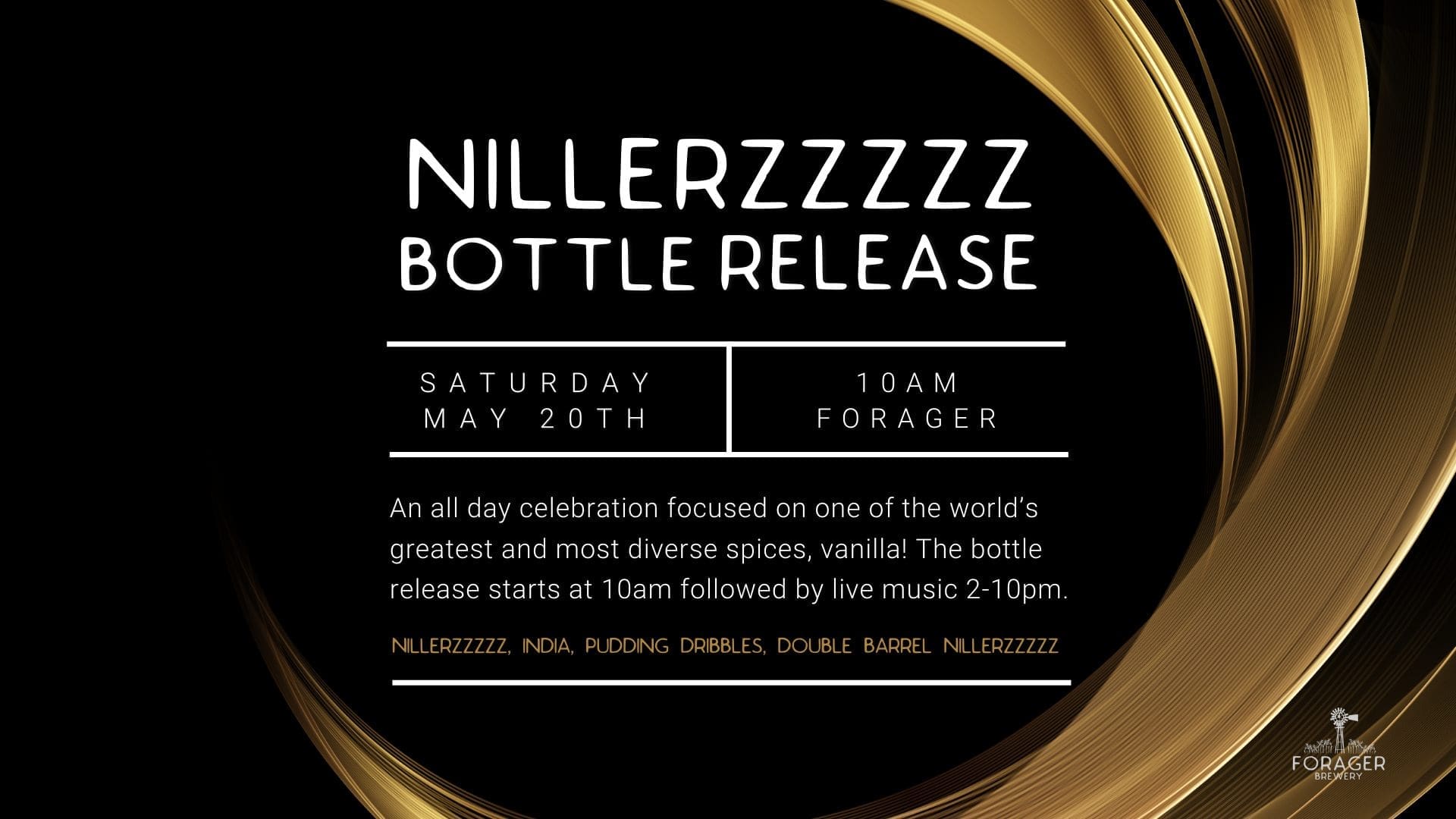 We are absolutely thrilled to offer yet another barrel-aged release party on Saturday, May 20th. This celebration is focused on one of the world's greatest and most diverse spices, vanilla!
The bottle release will begin at 10am at Forager Brewery and will be followed by live music, barrel-aged beers on tap, and lots of patio fun!
Bottle Release Beers (sold individually):
Nillerzzzzz Blend #6 (Vintage 2023)
Stout Imperial Double 15% ABV 750ml Bottle $55
Nillerzzzzz is our barrel-aged, vanilla bean double stout. For our 2023 Blend 6 we took multiple small format Rock Filter barrels and blended them with two large format bourbon barrels. This stout was then conditioned on a blend of freshly scraped vanilla bean caviar from Costa Rican pompana, Mayotte planifolia, Marquesas Islands tahitensis, Mexican bahiana and Hawaiian planifolia beans.
India
Stout Imperial Double 14.3% ABV 750ml Bottle $50
With help from our friend Ted, we were able to source some incredible vanilla beans this year. In 2023 we found the beans from India to be utterly fantastic and exciting on their own. We found these beans to carry an extremely sweet vanilla aroma, notes of smokey campfire smores with hints of caramel and aged rum. This barrel-aged blended stout is loaded with these beautiful beans.
DBD ZZZZZ (Double Barrel Nillerzzzzz)
Stout Imperial Double 14.9% ABV 750ml Bottle $60
This double barrel-aged stout is a collaboration with our friend Ted Jones, from Vanillas of the World. Ted hooked us up with two amazing vanilla barrels which held his handmade vanilla extract. We selected four barrels ranging in age from twenty-four to thirty-two months for the double barrel treatment into these vanilla barrels. Ted also helped us source seven different vanillas from the South Pacific region of Indonesia for this blend. Java, Flores, East Timor, West Paupa, Sumatra, Sulawesi and Indonesia made their way into this double barrel vanilla stout.
Pudding Dribbles (Vintage 2023)
Imperial Porter 13.8% ABV 750ml Bottle $25
It's Back! Our maple sap imperial porter Pudding Dribbles. We took a trip this spring to our Amish Friends, the Millers, in Cashton, Wisconsin to bring back 4 IBC totes of fresh maple sap to brew with. Pudding Dribbles got a slight makeover this year. The ABV is bigger, and the liquid is thicker. We added the customary treatment of toasted coconut, roasted cocoa nibs, vanilla caviar, barrel-aged maple syrup, toasted cinnamon and aromatic coffee. We hope you like this as much as we like brewing it each spring.
—–
Live Music:
2pm-5pm: Murder Turtle Firing Squad
7pm-10pm: Thomas and The Shakes
—–
All of the beers from the bottle release will also be available on tap.
Thank you for exploring this beautiful spice with us!