High Ropes Challenge | Eagle Bluff Environmental Learning Center
May 20 @ 1:00 pm

-

4:00 pm

$40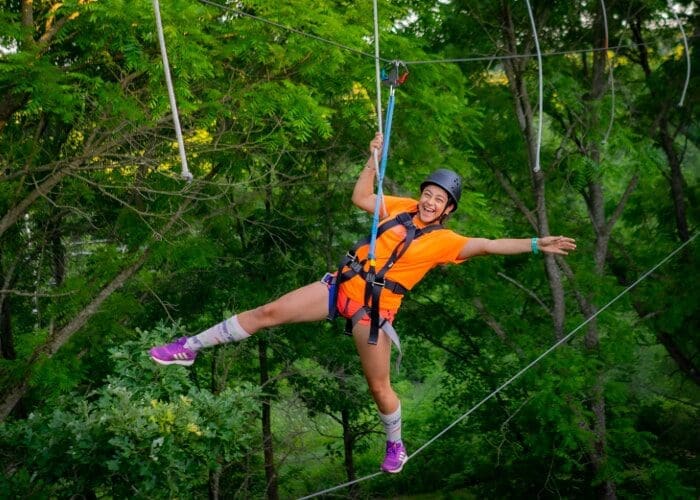 Maneuver 30 feet in the air through a series of towers connected by various cables, ropes, and log events!
Do this all while enjoying the best view of SE Minnesota! This confidence building experience is great for family outings, reunions, scouts, youth groups, and individuals.
Pre-registration and moderate physical ability are required. Online ticket sales end once the event starts. Walk-in registration is accepted when space is available.
The course itself presents a safe atmosphere that encourages participants to recognize and conquer their fears (while having a blast!).
Experiencing success on the course is a powerful experience with a lasting effect! While our instructors are there to ensure your safety and help/encourage you to complete the course, you will not be asked to do anything you aren't physically able/willing to do.
What to expect:
The time for the event can take anywhere from 1-3 hours.
Included in the time for the high ropes course event:
—walking the hill up to the course (5 min walk from visitors center)
—explaining the equipment and safety protocols
—each individual enters the course
Your exact amount of time is usually determined by when you ascend the course in relation to the other participants as well as how many times you choose to go through the course in the allotted time.
The course itself takes anywhere from 10-40 minutes for each individual. Once you (and any individuals you came with) are finished with the course, you are free to leave.
*Closed toed shoes are required to participate!
Please note: You will be grouped with others registering for the same time slot. If you would like to reserve your own private session you may purchase the entire time slot.
Also: this event has a minimum number of participants in order to run. If that minimum is not met, the event may be cancelled.
—————————————————————————————————————————————–
Frequently Asked Questions
When should I arrive?
We ask that everyone arrives 5-10 minutes before the start time. You can use this time to get a drink of water or use the restrooms. If you are running late, please give us a call at 507-467-2437.
Can I just show up and pay at the door?
We strongly advise pre-registering online to ensure you get a spot! There is a maximum number of participants allowed at each session, so if all spots are already filled for the day/time you show up you will not be able to go on the course.
Is there an age limit to enter the event?
Height is more important than age for the course. We require a participant to be at least 28" tall from the ground to their belly button. (Shorter participants will be unable to stretch their tether from the harness to the above belay wire, and therefore, unable to safely attach to the course.)
Participants under 18, accompanied by someone other than their parent/guardian, must provide a medical form signed by a parent/guardian to participate. Please print and sign this form and present at check-in.
Is the high ropes course safe?
Short answer: yes! An instructor will be on the course the entire time with the participants. Also, we use the latest safety gear and protocols to ensure every participant has a fun, safe, and enjoyable time! Participants are strapped in via a harness and smart snap safety system (rated to 20,000lb), which ensures you are strapped to the overhead cables the entire time you are on the course. Additionally, our staff are trained extensively in facilitation of the high ropes course, including safety training.
Prior to getting up on the course, you and the group will go through equipment and safety protocols, and watch an instructor demonstrate the course.
Additionally, our high ropes courses are compliant with Association for Challenge Course Technology (ACCT) Standards. Our courses are periodically inspected by internal specialized staff, and annually by an external ACCT Professional Vendor Member.
What are the physical requirements for high ropes course participants?
—We don't have a weight or age limit, see below for our height limit:
—Height is more important than age for the course. We require a participant to be at least 28" tall from the ground to their belly button. (Shorter participants will be unable to stretch their tether from the harness to the above belay wire, and therefore, unable to safely attach to the course.)
—Participants must be able cognitively to follow rules and instructions.
—Participants must be able to stand up on our ground school via a deep squat.
—Participants must be able to wear all safety equipment, including a helmet and full-body harness.
—Participants must be able to maneuver the SmartSnap system to lock/unlock it with their hands or have someone with them to can help with this.
—Pregnant participants are not allowed on the course.
—We are accustomed to accommodating for participants with varying abilities – please reach out to know if we can make a specific accommodation by emailing events@eaglebluffmn.org.
What if there is bad weather?
The course will be open rain or shine. Please dress appropriately for the weather conditions. The event will only be called off if the instructors deem the weather unsafe (we will close the course due to lightning in the area, or winds of 35mph+, are the most common reasons for cancelling the event). In the instance of an event being cancelled due to inclement weather, if you have not attempted the course prior to the cancellation you will be provided a refund.
What else can I do at Eagle Bluff?
There are lots of trails to hike or mountain bike at Eagle Bluff. Maps are available to guide you on you exploration of deciduous woods, rolling prairies, coniferous woods, or the Root River. Besides hiking, we have several very unique overlooks at the bluff. There are also picnic tables around campus for public use.
What is the cancellation policy?
To receive a full refund a cancellation must be made at least 24 hours prior to the start of the event or by 4pm Friday for a weekend event, whichever comes first.
How can I contact the organizer with any questions I have?
507-467-2710 or gg@eaglebluffmn.org
May 20, 9AM
May 20, 1PM
May 27, 9AM
May 27, 1PM
May 28, 1PM
June 3, 9AM
June 3, 1PM
June 10, 9AM
June 10, 1PM
June 24, 9AM
June 24, 1PM
July 8, 9AM
July 8, 1PM
July 10, 1PM
July 22, 9AM
July 22, 1PM
July 29, 9AM
July 29, 1PM
August 5, 9AM
August 5, 1PM
August 12, 9AM
August 12, 1PM
August 19, 9AM
August 19, 1PM