Chronicles of the Chronic | Rochester Art Center
November 8 @ 11:00 am

-

11:00 pm

$5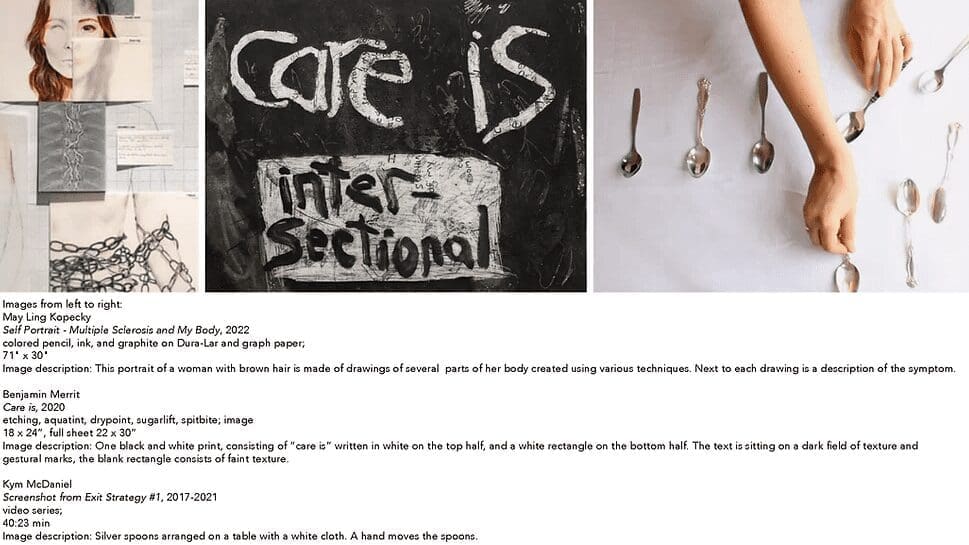 Chronicles of the Chronic is a group exhibition that features regional, national and international artists whose experience of living in chronically ill bodies directly influences their artistic practice on a physical, emotional and creative level.
This exhibition approaches the subjects of illness, pain and disability through the lens of intersectionality. It promotes care and visibility by prioritizing narratives of self-representations, advocacy and community building. The artworks presented reflect on the multi-layered and complex experience of living with chronic pain: How to communicate invisible bodily limitations and pain while coping with biographical disruption? What relationships does a sick individual develop with medications, caretaking and with the larger medical system? Where to look for healing when the illness is chronic? And most importantly, how does one turn the most isolating experience of all into a fertile ground of connection and belonging?
Illness is commonly regarded as a private matter but when one member of the community is ill, the effects extend beyond the individual to relatives, friends, coworkers and more. So why is illness yet to be discussed as a communal matter rather than kept a taboo? When pain is chronic and perhaps incurable, this discourse assumes even more structurally urgent connotations for a society that strives to be inclusive. In a city such as Rochester, where care, health and illness are part of the daily experience for many residents and visitors, the Rochester Art Center offers an opportunity for all to embark in a transformative journey that normalizes conversations around pain with the ultimate goal of finding healing as individuals, communities and as a society.
The exhibition features emerging and established artists, most of whom identify as women, non-binary, BIPOC or belonging to marginalized groups. Among the exhibiting artists, several were invited to participate by the Art Center Curator, and some will be selected through an international juried process by a diverse jury of curators, artists and healthcare practitioners. This open ended curatorial approach aims to increase accessibility and inclusivity.